A row over a disturbing image of an Australian soldier shared by a Chinese official online, which was doctored and represented an outrageous slur, has escalated to Chinese social media censoring a message by Australia's Prime Minister Scott Morrison.
The Chinese Foreign Ministry posted the photo on November 29, allegedly an "art" depiction showing an Australian soldier holding a knife to a child's throat, apparently trying to capitalize on a negative public sentiment amid an investigation in Australia into allegations that its forces had committed war crimes in Afghanistan.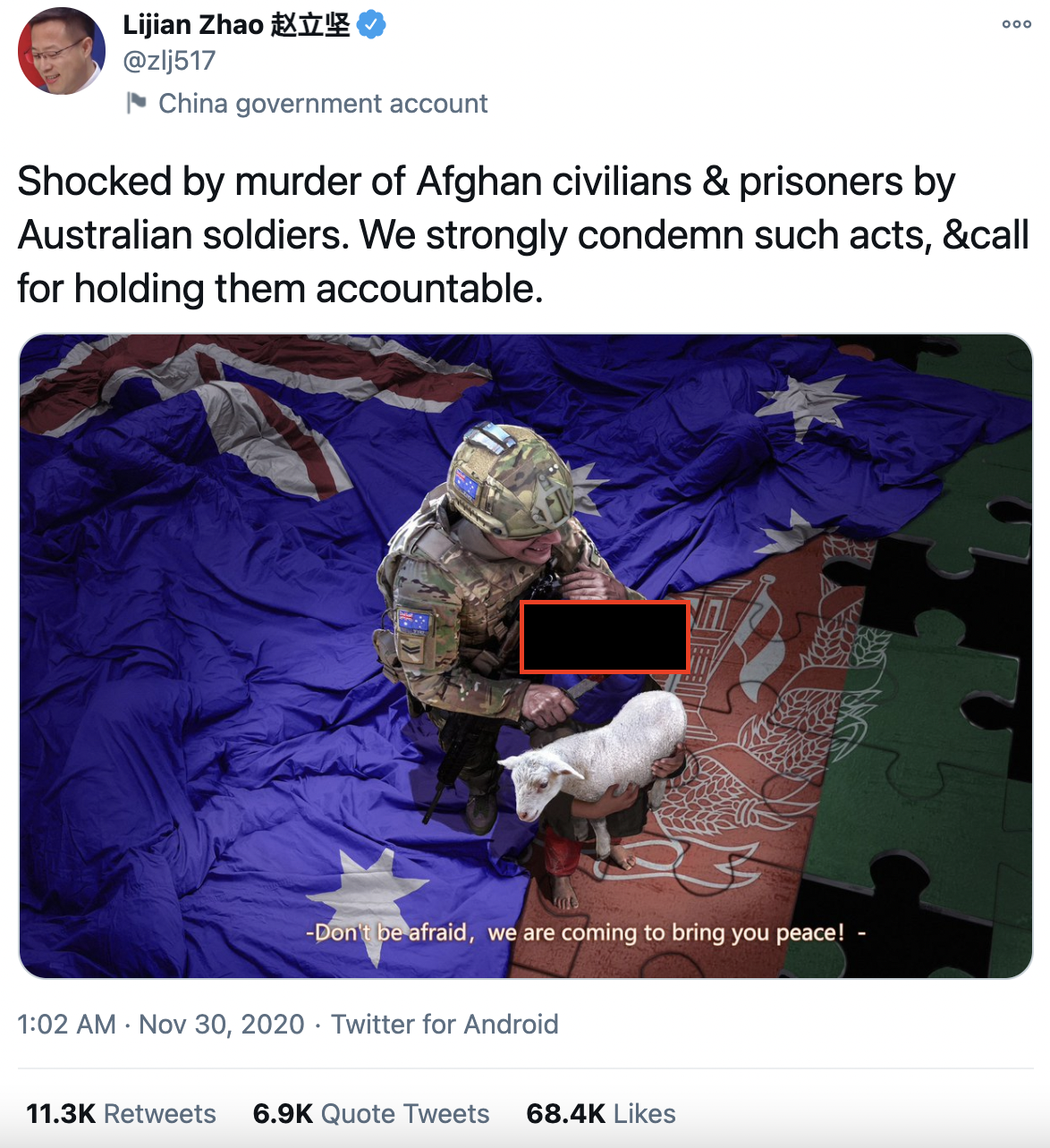 As major western social media platforms remain banned in China, Morrison in early 2019 created an account on the Chinese giant WeChat, that has about a billion users, and proceeded to post regularly.
But when he on Tuesday tried to denounce what he said was a fake image of an Australian soldier appearing to be about to decapitate a child, and explain his government's policy and stance, including that regarding the investigation into 19 soldiers suspected of killing 39 prisoners and civilians in Afghanistan, WeChat deleted it.
Previously, Morrison asked for a formal apology from Beijing, but his WeChat post seemed to have been made in a more reconciliatory tone, declaring respect for Australia's own Chinese community, Chinese people in general, while describing his country as free, democratic and liberal, and how it intends to handle the Afghanistan war controversy.
But WeChat replaced his post with a message reading that it was removed for using "misleading words, distorting historical events and deceiving the public."
Australian officials reacted by saying that this act of censorship was unnecessary, while a Chinese Foreign Ministry spokesman maintained that WeChat implements its own content policy and that the ministry is not aware of the incident.
While WeChat, as well as another platform, Weibo, are loosely similar to Twitter and used by foreign officials, the removal of Morrison's post is by no means a first. In the past, critics said that these officials continuing to use the platforms as the only way to directly communicate with China's online users face direct censorship and at times self-censor, something that runs contrary to their countries' declared democratic values.