A day before Gigi Sohn's confirmation hearing for a place in the Federal Communications Commission (FCC), Senator Thom Tillis penned a letter to President Biden asking him to withdraw the nomination.
But Tilli's opposition wasn't based on the fact that Sohn is overtly pro-censorship.
The Republican senator – known as a strong protector of corporate rights holders' interests – branded Sohn as an "anti-copyright activist."
The letter shows that Tillis, who is the ranking member of the Senate Judiciary Subcommittee on Intellectual Property, expressed his dismay at the nomination, given what he called Sohn's past anti-copyright activism, describing her also as a radical open content activist who doesn't care about IP rights.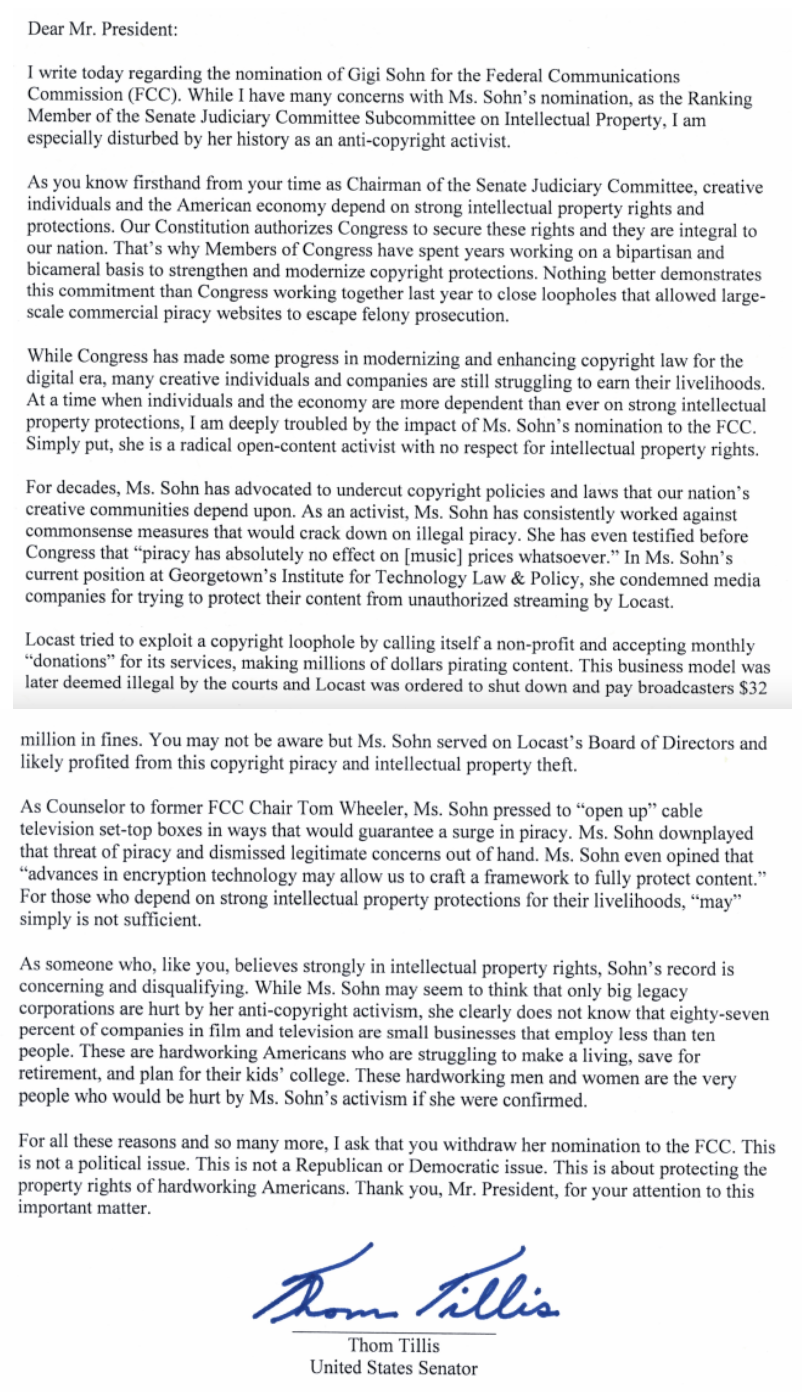 Tillis makes a case of strong IP rights protections being central for the country's economy and mentions that this is confirmed by bipartisan and bicameral work in Congress to "modernize and enhance" these protections in order to allow for criminal prosecution of piracy websites.
Tillis blasts Sohn's past work as a decades-long effort to "undercut" corporate copyright policies, and quotes her as telling Congress in a testimony that piracy was not affecting music prices in any way.
He also takes issue with Sohn's stance in the Locast case, where she is said to have spoken against those media companies that were "trying to protect their (streaming) content." Tillis then accuses Sohn of "likely" profiting from what he calls Locast's piracy and IP theft, because she was on the Board of Directors.
Further, Sohn, who is now a fellow at Georgetown Institute for Technology Law and Policy, is denounced as unsuitable because she advocated in favor of opening up cable set-top boxes while serving as counselor to former FCC head Tom Wheeler. This, according to Tillis, would have "guaranteed a surge in piracy."
For these reasons the senator calls on Biden, as a fellow strong believer in intellectual property rights, to withdraw Sohn's nomination for the empty FCC seat.
Related: How the DMCA has become one of the biggest threats to online speech
In the past, Tillis drove the effort to adopt the Protecting Lawful Streaming Act, making what was described as for-profit piracy streaming a felony, and proposed changes to the DMCA that, among other things, envisage "replacing the notice-and-takedown system in existing law with a notice-and-staydown system for complete and near complete works."