The outcome of the US presidential election has not yet been certified, but Joe Biden is considered its winner by the majority of mainstream media; at the same time, President Trump continues with his legal battle to contest the result in a number of key states.
On Sunday, the White House issued a memo distancing itself from Sidney Powell, one of the attorneys involved in the effort to prove that wide-scale election fraud had taken place. As soon as that happened, Twitter temporarily suspended Powell from the platform, as President Trump's former national security adviser, and Powell client, Michael Flynn announced on the same social network.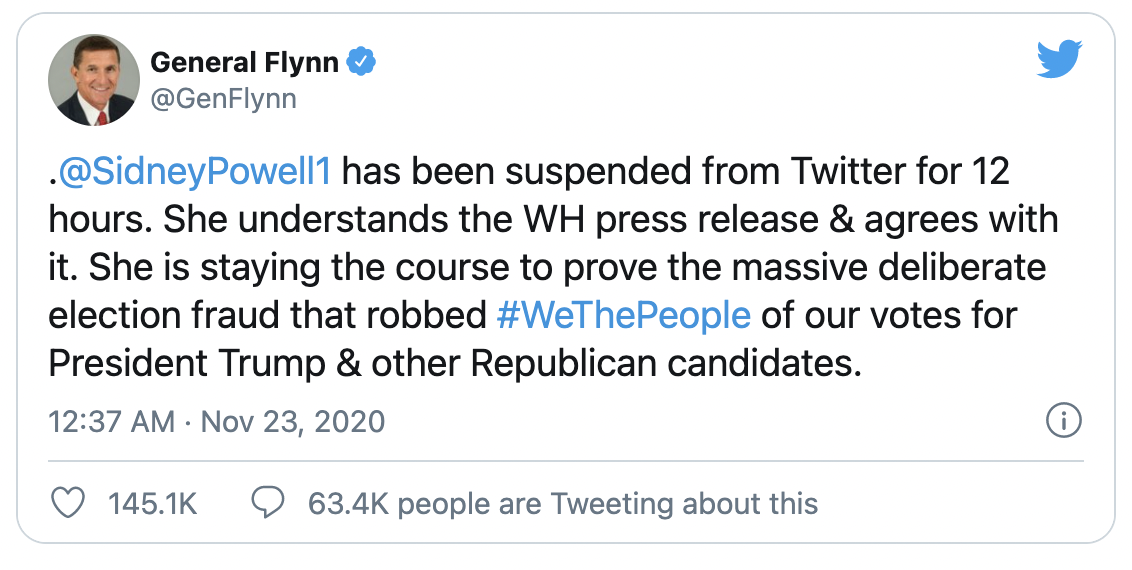 According to Flynn's tweet, the suspension will last 12 hours, while the reason, though not stated here, is likely the attorney's position on the integrity of the vote. Flynn also said that she understands and agrees with the White House memo and would continue to work to prove that election fraud aimed against Trump and other Republicans had indeed taken place.
The memo, signed by Rudy Giuliani and Jenna Ellis, Trump's attorneys and legal advisers, said that Powell is practicing law on her own and is not a member of the president's legal team, nor does she act as Trump's personal lawyer.
It's not clear if the timing of Powell's suspension – considering that her claims of mass election rigging, particularly using voting machines, are not new – has to do with what Twitter CEO Jack Dorsey told the Senate recently about "special rules" ceasing to apply to officials once they are out of office.
Namely, these rules mean that while they can be censored by fact-checkers and have their content labeled, officials are not banned.
Reports say that Powell previously appeared with Giuliani and Ellis in news conferences and was, based on statements coming from Trump and others, believed to have been a member of his legal team.
The controversy around Powell's work to prove that Trump had been robbed of a large number of votes goes back to her assertions about the Dominion Voting Systems, that Trump and the White House said were not backed up by evidence available to them.