The "future is uncertain" for the police officer who jokingly mocked LeBron James in a TikTok video that went viral. The officer, Nate Silvester, has been suspended pending an investigation.
NBA star LeBron James famously shared a photo of the Ohio police officer who shot Ma'Khia Bryant on Twitter, and wrote, "You're next. #Accountability."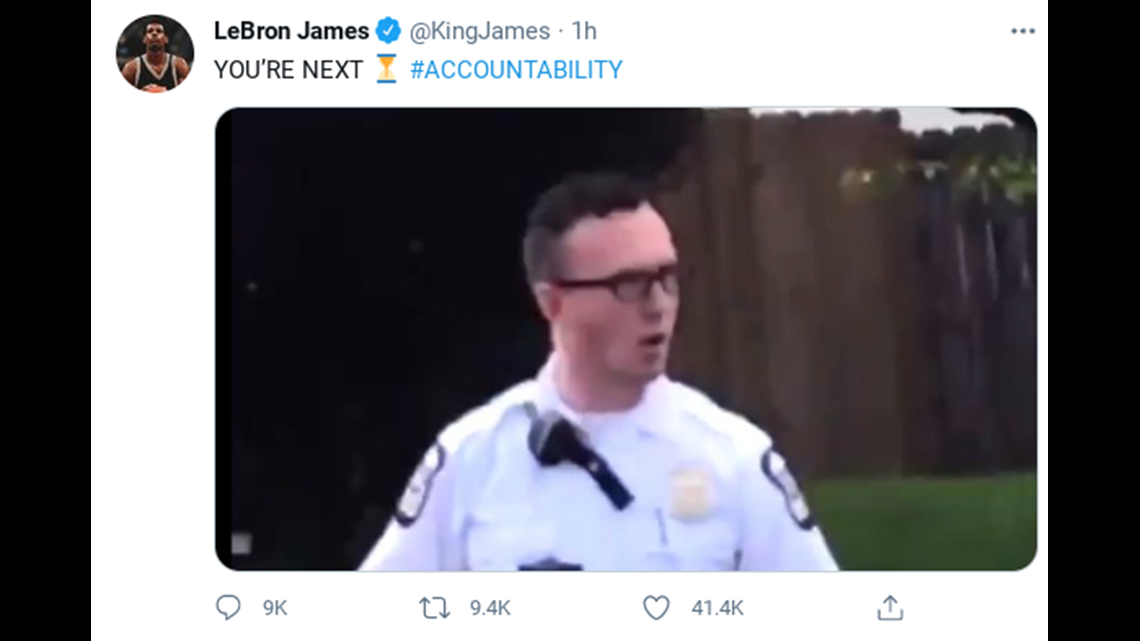 Bryant, 16, was shot on April 20 by a police officer in Ohio who was responding to a disturbance call. Footage from the scene showed Bryant brandishing a knife and charging two women. The teenager was pronounced dead shortly after arriving in hospital.
James' tweet was heavily criticized, especially by law enforcement officers, with some mocking the LA Lakers forward by creating videos where they are pretending to ask him for help on how to diffuse several situations when responding to emergencies.
One of the more viral of such videos was uploaded by Nate Silvester, an officer at the Bellevue, Idaho, Marshal's office, on TikTok. In the video, Silvester pretends to arrive at a potential crime scene and jokingly calls dispatch.
"Dispatch, I've arrived at that disturbance. Will you have LeBron call my cell phone right away, please? Thank you," Silvester then tells the people responsible for the disturbance to hold on since LeBron was calling.
"LeBron, hey, yeah, it's me again," Silvester continues. "Listen, I'm out here at this disturbance call and there's a guy trying to stab another guy with a knife. What do you think I should do?"
"Why does that matter?", he adds after a bit, "Okay, well, they're both Black. One guy is trying to stab another guy with a knife. Deadly force is completely justified." Silvester pauses and then says, "So, you don't care if a Black person kills another Black person — but you do care if a White cop kills a Black person, even if he's doing it to save the life of another Black person? I mean, that doesn't make a whole lot of sense, but then again, you're really good at basketball so I guess I'll take your word for it."
After the video went viral, Silvester was suspended.
"He's still got his job for now, but apparently the town where he polices didn't find his TikTok as amazingly comical, and accurate as the 4.5 million viewers did, including some major news networks. The future is uncertain" an insider's statement said.
The mayor of Bellevue confirmed that Silvester is under investigation, following a formal complaint filed by a citizen against him.
The Marshal's office issued an official statement, denouncing the comments Silvester made in the TikTok video. The statement read:
"The Bellevue Marshal's Office is aware of the extreme controversy regarding Deputy Marshal Silvester's viral TikTok. The statements made do NOT represent the Bellevue Marshal's Office. The Bellevue Marshal's Office always demands that our Deputies engage with our citizens in a friendly and professional manner. This is NOT how we expect our Deputies to act on duty or use city time. This is a personnel issue that is being dealt with internally."