A Twitter account known as "Sleeping Giants," billing itself as a campaign "to make bigotry and sexism less profitable" – while routinely calling for censorship, demonetization, and blacklisting of media and accounts on social platforms – has spoken against Twitter.
Love it or hate it, there aren't many out there who would refer to Twitter as a "champion of free speech" – not even the company behind it is known for making such claims – but in a series of posts now, denouncing a policy of unmasking users, Sleeping Giants has done just that.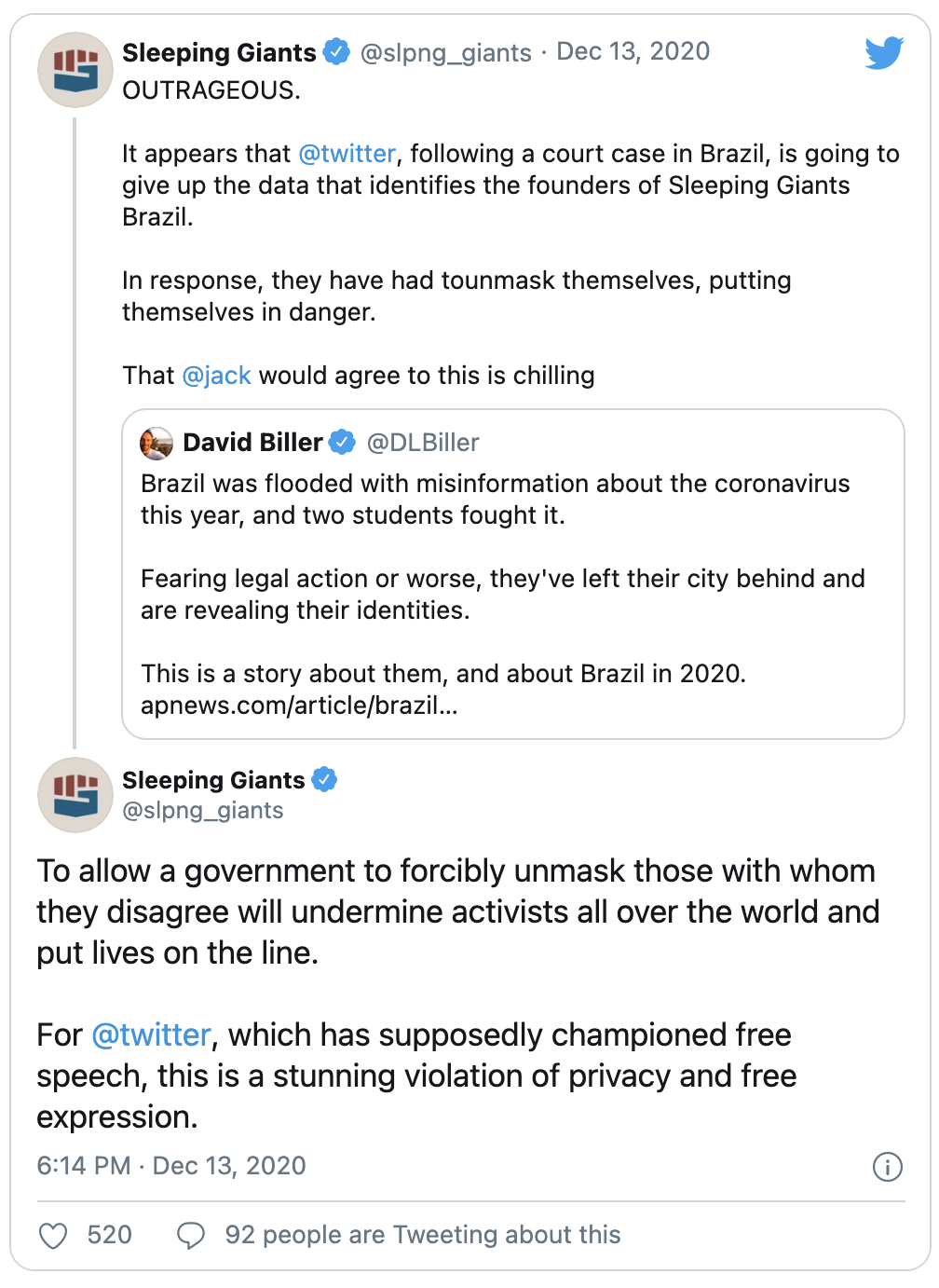 However, "the champion of free speech" has stepped out of line when it potentially jeopardized activists worldwide with the policy said to be a violation of both privacy and free expression.
This was on Sunday. Ironically, the same account – that in the past vigorously campaigned against media outlets like Breitbart – tweeted again on Monday, this time to reprimand Twitter for not muting free speech and censoring enough. That is because this time, the topic was not the rights of activists worldwide, but of those US voters and officials who use Twitter to dispute the regularity of the presidential vote.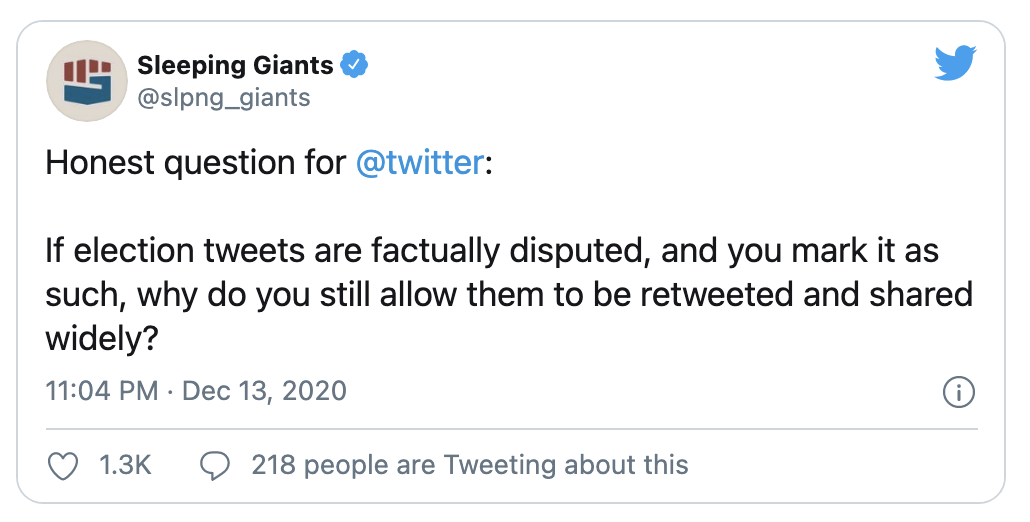 "If election tweets are factually disputed," write the Sleeping Giants – an apparent reference to "fact-checking," whose own factual merit is all too often disputed – why doesn't Twitter also kill retweet and share functions on these messages?
Even so, and even if raised in a manner that might be interpreted as hypocritical considering the source, the issue of Twitter exposing users' identities, such as those that are correlatable to their IP addresses while acting on court orders, is still a cause for concern with regards to free expression, even if Sleeping Giants doesn't always respect the free expression of others.
From AP:
"Scores of advertisers in Brazil — among them Dell, McDonald's, Facebook and Domino's Pizza — have responded publicly to alerts from Sleeping Giants Brazil and likeminded Twitter users about their ads appearing on Jornal da Cidade, saying that they would remove them because of the site's content or already had. State-run Bank of Brazil did the same, prompting a swift rebuke from Bolsonaro's son and his communications secretary, who said on Twitter that independent journalism is important.

Jornal da Cidade claimed reputational and financial damages and sued Twitter, demanding the platform turn over data associated with the Sleeping Giants Brazil account that could identify its users. Twitter last week provided the court with the account's I.P. addresses, according to a person with knowledge of the case, who isn't authorized to speak publicly. Twitter said in an emailed statement that it "vigorously fought this case through several different appeals" and will continue to defend free speech and privacy rights.

Jornal da Cidade's editor José Tolentino declined an interview request, and referred the AP to the law office representing him. His lawyer Simone Custódio declined an interview request, didn't answer questions sent by email about the case, instead saying they will await the right time to comment publicly in observance of their client's best interests."
Twitter is instead urged to stand up for its users' privacy even if that means jeopardizing the company's financial gains.
The Sleeping Giants account, however, manages to make it about themselves as well, saying those running it have been receiving death threats and that Twitter's policy of unmasking users might lead to violence and make the social network responsible for it.