The mayor of Snohomish, Washington, has been forced to apologize for sharing an anti-protest meme. The mayor was facing several calls across social media to resign. The mayor said he shared the meme thinking it condemned protesters who damage parked vehicles.
On Thursday evening, Snohomish's Mayor John Kartak shared an image showing a toy car hitting four people. "Coming this Christmas, New Hasbro 'Peaceful protest' Action Set," is written on the image. Kartak removed the meme after about 10 minutes of posting it after followers complained but the meme had already been screenshotted and shared around.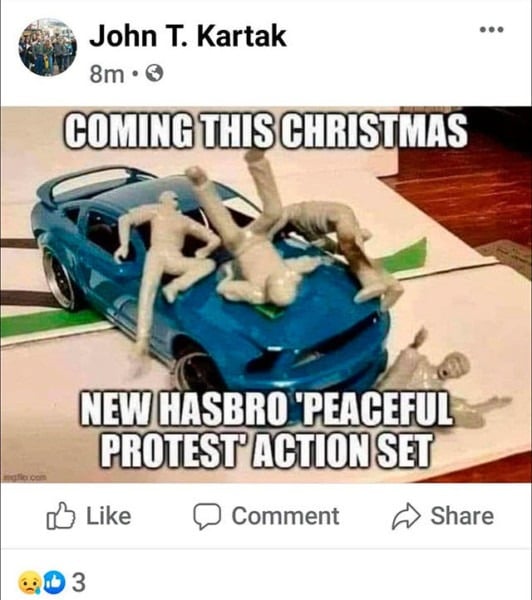 The Snohomish City Council President Linda Redmon was quick to disavow the meme.
"Our city is full of people who respect the First Amendment and the right to peacefully protest that is enshrined therein. A post depicting as humorous a car running into protesters is condoning the senseless murder of people practicing their Constitutionally protected rights. I can't begin to express how disappointed I am to see this," Redmon wrote in an email statement on Friday.
On Friday, Kartak apologized for sharing the meme, saying that he thought it was a meme about rioters destroying cars, not protesters getting hit by a car. He explained that he misinterpreted the image as one that was condemning damage to property by protesters. His defense was that, on the small screen of his phone, he did not see the person pinned underneath the car.
"I want to deeply apologize to anyone who was hurt or offended, that was not my intention," he said. The mayor added that he appreciated that people were holding him accountable.
"I never intended to post anything about people being hit by cars, I thought it was just about violence and riots that happen in streets where cars are parked. I thought it depicted a riot that spilled over on top of a car," he explained.
Kartak insisted that he respect the right to demonstrate peacefully. He added that protesters in Snohomish should feel safe, but they should be careful.
"There is tension, and you never know who may come into a city," he said. "There are people who are violent, and we are in difficult times right now."