Gab's founder and CEO Andrew Torba said that his company will not be complying with the internet censorship demands of Germany, despite the mounting legal pressure and the threat of fines from the government.
Germany has a well-known history of censorship and has a social media regulation law called the German Network Enforcement Act, aka NetzDG. The law was passed in an attempt to police fake news and so-called "hate speech." It applies to online platforms with more than 2 million users in Germany. It obligates platforms to delete "clearly illegal" content in less than 24 hours after a complaint is filed. Non-compliance with the law can result in fines of as much as 50 million Euro.
In a blog post, Torba said Germany had sent him a "huge packet of documents with fines and legal threats." But he added that his company is "refusing, and has refused for many years to comply with the German Network Enforcement Act."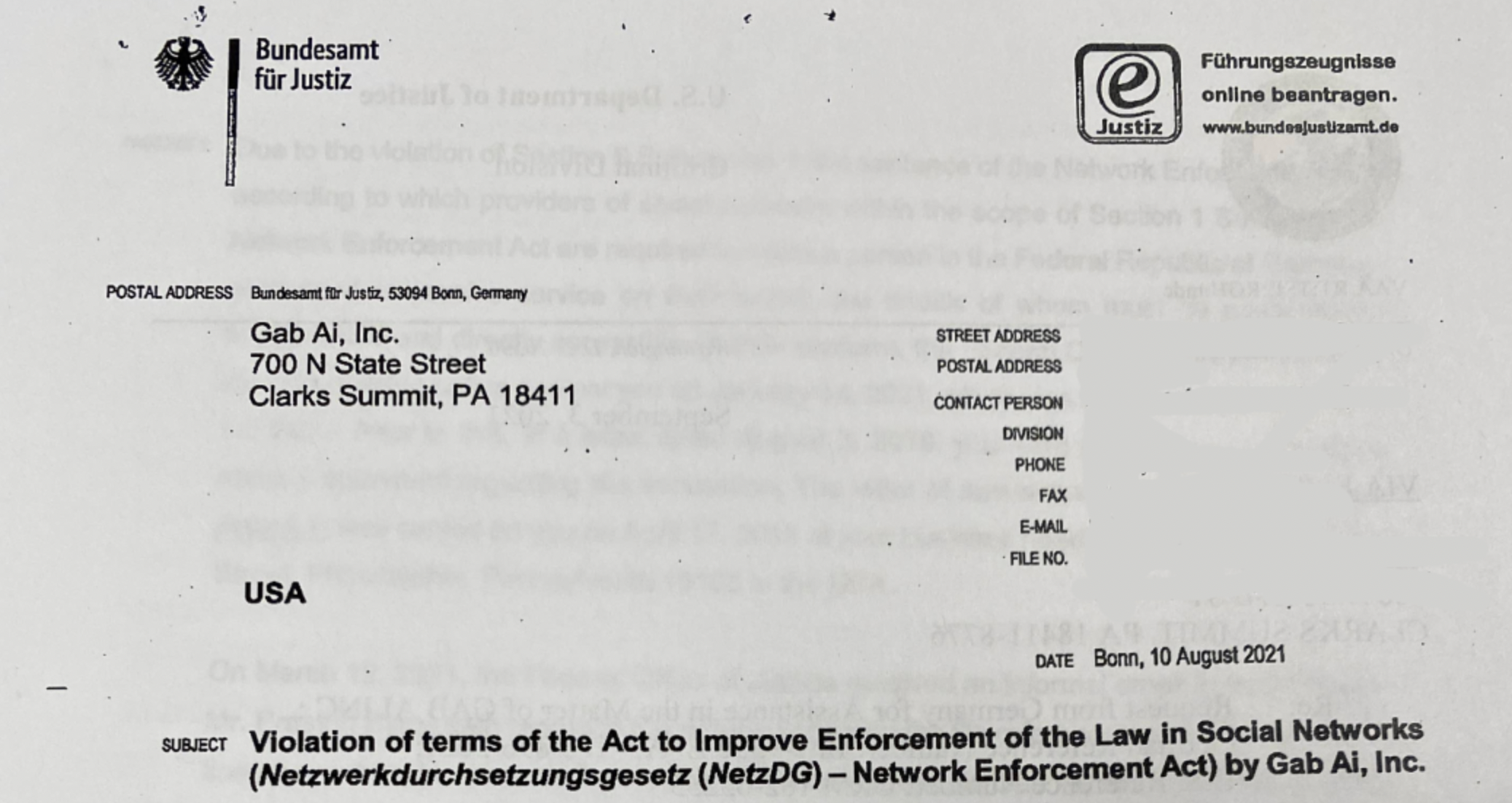 Torba described NetzDG as "a draconian German law aimed at combating 'fake news' on social networking websites," adding that "fake news is of course, whatever the German Government says it is."
"Gab is a US company and as such we are under zero obligation to obey foreign laws from tyrannical governments," he added.
"Because of Gab's unwillingness to participate in State-mandated censorship of free speech, the German government is now coming after our bootstrapped tech startup with heavy fines and other legal action," he continued.
Torba noted that his platform is "not a lawless website." It has content moderation staff that actively watch out for illegal activity.
"The German government isn't concerned about any actual criminal activity, they are concerned with Thought Criminals who dare to dissent against their globalist regime," Torba wrote.
Torba said that the German government had left him with three choices. Gab could comply with the "draconian" laws and begin censoring content, refuse to comply with the rules and pick a fight with the German government, or block the usage of the site in Germany.
"I hate everything about these choices, which is why we went public with this information to gather feedback and consensus from our community on the topic," he wrote.
Explaining that he didn't like the third option, he said: "Why should we block an entire country from accessing Gab because their government is sending us fines we won't pay and veiled legal threats that mean nothing to Gab as a US corporation? … The reality is the German government has zero authority or jurisdiction over how we operate Gab. We have no corporate entity in Germany, we have no employees in Germany, and we are not German citizens. We are Americans."
Though Torba made it clear he will not be complying with the censorship laws, he said that he would cooperate with German law enforcement agencies on "matters pertaining to serious crime."
"I'm not sure what will come of this decision, but I will not make an important choice like this from a position of fear. I leave the outcomes of this decision in the hands of God Almighty and I pray that the German people will take back their country and freedoms very soon," he wrote.