In an unprecedented gag order, South Australia's Health and Community Services Commissioner has banned a social worker from communicating any information about Covid and its vaccines, after she sent two emails contradicting the official narrative from public health bodies.
In one email, the social worker, Matilda Bawden said she would not provide her services to clients who had been vaccinated.
"My staff and I will not be exposing ourselves to the risks of shedding as I have family members with autoimmune illnesses and so do many of our clients," she said in the email.
"I also have a family member who was severely vaccine-injured and is at risk of further harm should she contract another infection."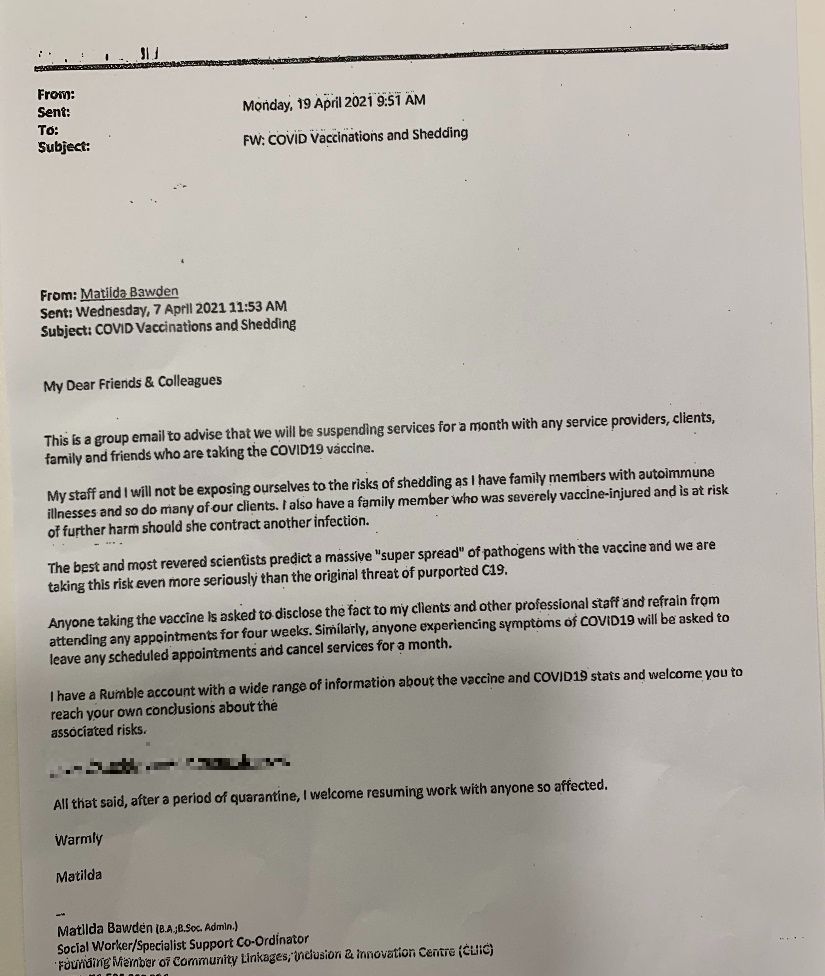 Public health bodies have disputed her claims and say vaccines do not contain the live virus.
In the email she sent, there was a link to her social media page, where she had posted content critical of the vaccines.
In another email, she said that the deaths from Covid vaccines were 210. But, the official number published by the government at the time, May 2021, was one.
A temporary prohibition order was issued last October. On March 24, the order was upheld, with the commissioner saying Bawden had "breached multiple clauses of the code of conduct for certain health care workers." As a result, she would be banned from "providing health education and/or providing information relating to COVID-19 and COVID-19 vaccines."
Bawden responded to the ruling on Facebook, saying: "Nothing inspires confidence in the 'safe & effective' kill shot like gag orders by public officials against professionals who speaking out!"