Southwest Airlines passengers witnessed chaotic scenes over the holiday weekend, as the reason behind what amounted to just under 2,000 canceled flights remains unclear.
According to some, the mayhem that left a large number of passengers stranded, including forcing children to sleep on airport floors, started when the union of Southwest Airlines pilots two days prior turned to a court to block the company's plans to impose COVID vaccine passports.
We obtained a copy of the lawsuit the Southwest Airlines Pilots Association filed against the airline for you here.
Some staff decided to make their voices and dissatisfaction regarding the matter heard by having a sickout, reports say – and that act of civil disobedience is what is interpreted by some as the reason behind mass cancellations, over 1,000 flights on Sunday and 808 on Saturday.
There have been further cancellations for Southwest on Monday, with almost 40 flights at Midway International Airport scrapped as of 11 a.m, CBS Chicago reported.
Allegedly, there was an organized sickout late on Friday by controllers after the Federal Aviation Administration (FAA) decided to compel all employees to get the COVID shot. This was later refuted by top company officials.
(A sickout is when employees all call in sick in protest.)
Reporting from Alex Berenson who claims to have a pilot source (verified by ID) at Southwest who has reported, "the union cannot organize or even acknowledge the sickout, because doing so would make it an illegal job action. Years ago, Southwest and its pilots had a rough negotiation, and the union would not even let the pilots internally discuss the possibility of working-to-rule (which would have slowed Southwest to a crawl)."
It was reported last month that unions were saying the introduction of vaccine passports would lead to staff shortages.
But the carrier maintains that the massive problem its business is encountering is a combination of (a sudden) onset of air traffic control shortages and bad weather.
This version of events was supported on Sunday by Jacksonville Aviation Authority COO Tony Cugno who penned a letter saying the delays were indeed down to staffing problems.
His explanation is that it takes several days for people to "recover" after getting their first and second COVID jab, and that a significant amount of air controllers have been getting vaccinated lately, forcing them to take days off.
Meanwhile, the president of Southwest Airlines Pilots Association stuck to the same story, telling local media that staffing issues and what he referred to as "poorly run operation" were behind the mayhem.
A Southwest spokeswoman told reporters that allegations that the COVID-19 mandate was the cause of the delay were "inaccurate."
"There's a lot of unfounded rumor and speculation circulating," she said.
But there were those who were less convinced by the "official version" of the unusual events that unfolded at Southwest Airlines over the weekend, Senator Ted Cruz being one of them. He took to Twitter to blame President Joe Biden for pushing for what he refers to as an "illegal vaccine mandate."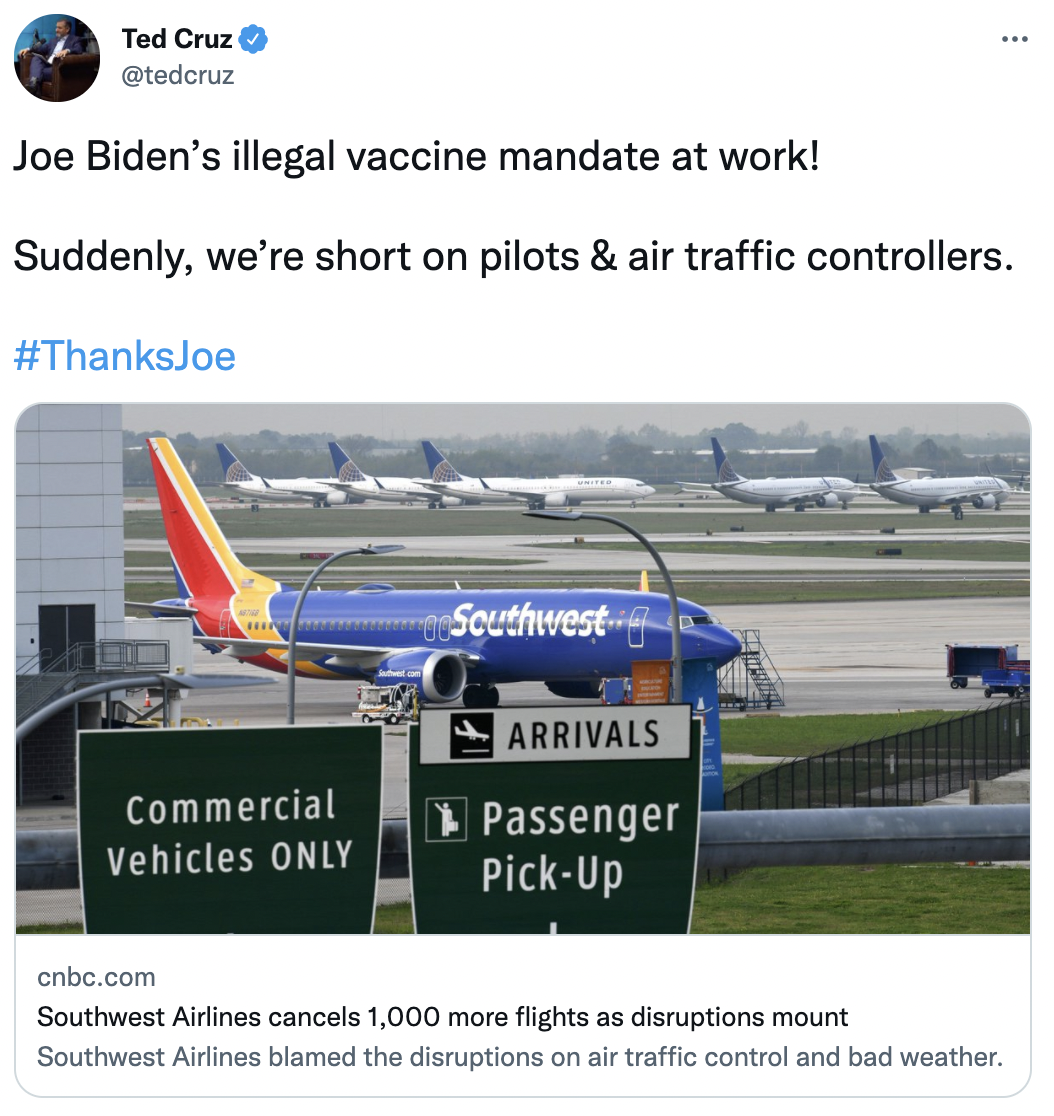 The US, like many other countries, face legal hurdles in their desire to make COVID vaccine passports mandatory, so more and more companies have been enforcing the rule for their employees, in line with the official "recommendation" coming from the authorities.