Spotify has removed an anti-lockdown song by Ian Brown, the former lead vocalist of English rock band The Stone Roses. The music streaming service claims the song violated its policies against COVID-19 misinformation.
Brown released the anti-lockdown song "Little Seed Big Tree" last September. "NO LOCKDOWN NO TESTS NO TRACKS NO MASKS NO VAX," he tweeted while launching the song.
On March 12, Brown took to Twitter to announce that Spotify had removed his song.
"SPOTiFY stream the streams and censor artists like they have with my last song TOOK IT DOWN just put it down the memory hole! FREE EXPRESSiON AS REVOLUTION," he wrote.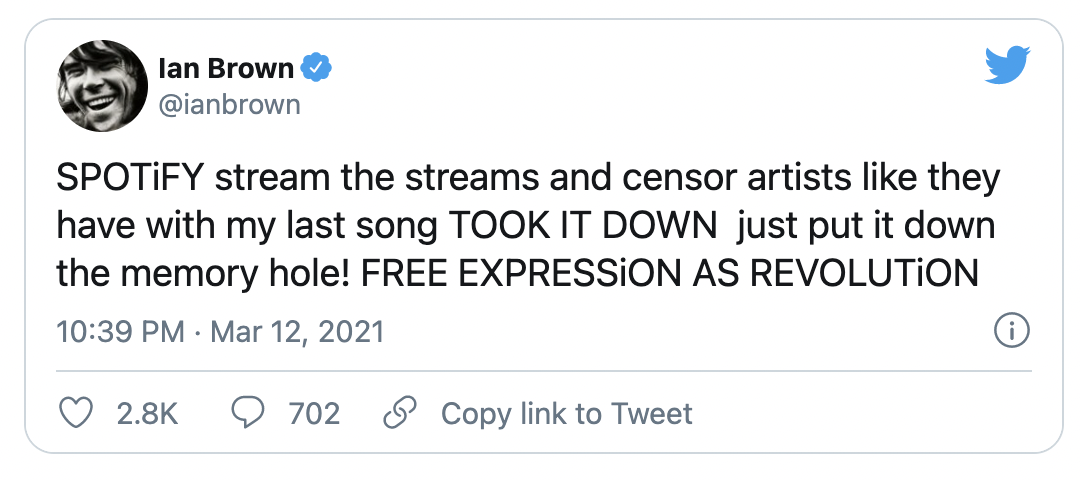 Since the start of the pandemic, Brown has been the subject of many calls for censorship for his skeptical attitude towards the coronavirus. He has supported anti-mask movements and, more recently, vaccine skepticism. The musician also believes that the pandemic was "planned and designed to make us digital slaves."
"To all of you asking about my medical qualifications, I have the same as the computer seller Bill Gates (biggest funder of the World Health Organisation)," he wrote in a Tweet last September, hitting back at critics.
Brown has even refused to be the headliner of Manchester's Neighborhood Weekender festival, because COVID-19 vaccination proof might be required for entry.
"My Saturday night headline show at NHBD Weekender Festival will now not happen!" he tweeted. "I refuse to accept vaccination proof as a condition of entry. Refunds are available!"
He had previously suggested he would not perform if COVID-19 vaccination proof was a requirement, saying he would "NEVER sing to a crowd who must be vaccinated as a condition of attendance. NEVER EVER!"
Spotify has followed in big tech's footsteps of censoring COVID-19 content, which is, according to them, any information that contradicts information provided by the WHO and other public health organizations. However, Spotify is the first to censor Brown's song, which is an interesting move for Spotify to step into the world of censoring art.
"Spotify prohibits content on the platform which promotes dangerous false, deceptive, or misleading content about COVID-19 that may cause offline harm and/or pose a direct threat to public health. When content that violates this standard is identified it is removed from the platform," a Spotify spokesperson told Reclaim The Net.
You can still stream Brown's anti-lockdown song on other sources, including YouTube and Apple Music.