Spotify is highlighting its rules around censorship, taking a leaf out of the book of other tech giants who like to find a way to limit speech that their rules don't actually "outlaw."
According to Spotify, the content the reach of which it can now decide to restrict is that which "touches" on what are described as sensitive topics – even though this content "does not cross the threshold which would require removal under our Platform Rules."
Reports supportive of this new policy say that it came in response to the reaction, outside and inside Spotify, to Joe Rogan's podcast, specifically an episode that looked into the safety and usefulness of Covid vaccines.
The episode produced outrage, amplified by the "friendly" media, branding Rogan as a peddler of misinformation, and agitating musician Neil Young so much that he presented Spotify with an ultimatum: either have him or Rogan on the platform. (Spotify chose Rogan).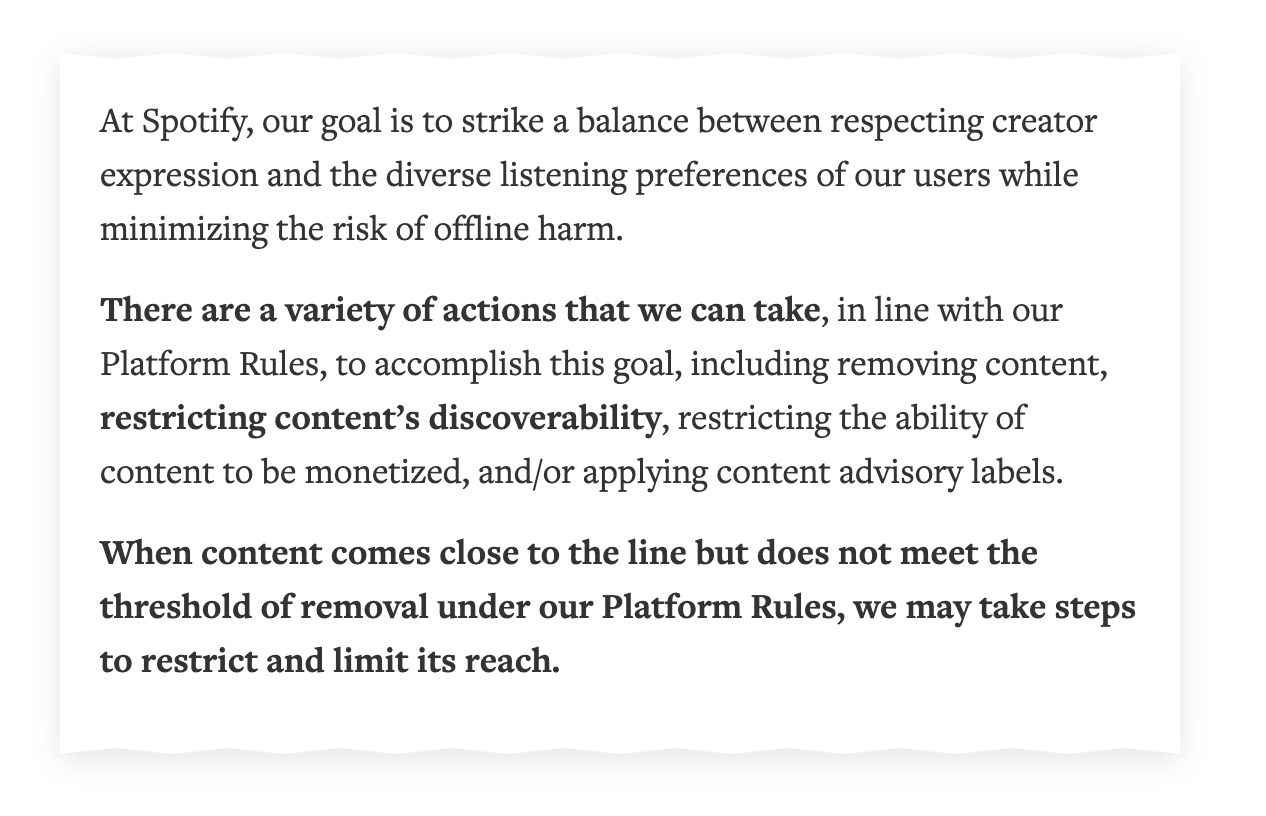 But the pressure was considerable, coming from other vaccine enthusiasts both among public figures, media outlets, and even the Biden administration.
Meanwhile, some Spotify employees were also unhappy with the developments, as were some less known podcast hosts such as those behind Science Vs., which even engaged in a "protest" vowing not to release new episodes until Spotify stepped up its censorship game – or, as they put it, until Spotify implemented "stronger methods to prevent the spread of misinformation."
And now it seems that Spotify has heeded the call to join other tech platforms in defining what it promotes and what it suppresses in murky terms, and by using a tool that restricts content discoverability.
The Rogan-hostile press sees it as a sign that Spotify will impose this kind of punishment against its biggest star with whom it has a $200 million deal if his content is caught in the cross hairs of "misinformation crusaders."
Ironically, just as the rules are becoming more arbitrary, and therefore opaque, these reports cite Spotify CEO Daniel Ek as reacting to the original kerfuffle around Rogan's content by apologizing for the platform's "opaque policies."
The Joe Rogan Experience episode in question is still on Spotify, so it remains to be seen if the downranking will actually be applied to it.