"Reylos," a segment of Star Wars fans that support a romantic relationship between the characters Rey and Kylo Ren, have been widely condemned for their behavior towards actors, directors, and Star Wars fans.
A few days ago, the behavior of Reylos hit the headlines again when The Washington Post was slammed for publishing an article that downplayed some of their past actions and claimed that Reylo death threats to Star Wars director J.J. Abrams were a "hoax."
And now, Reylos have piled on Star Wars social media manager Michelle Buchman after she tweeted that she has to favor content "that won't be so polarizing" when deciding what to post to the Star Wars social media accounts.
The incident started when Buchman tweeted that she's "starting to plot out some Star Wars social content for the year" and asked fans what they'd like to see.
https://twitter.com/michelledeidre/status/1219669161535623168
As Twitter user @saltandrockets documented in an extensive Twitter thread, Reylos then started to pile on Buchman after they took issue with her suggesting that she has to follow the numbers when choosing what to post.
https://twitter.com/saltandrockets/status/1220071828099452929
In the first set of replies to Buchman's tweet, some Twitter users requested Reylo content and Buchman told them that she has to abide by what the data tells her more often than not.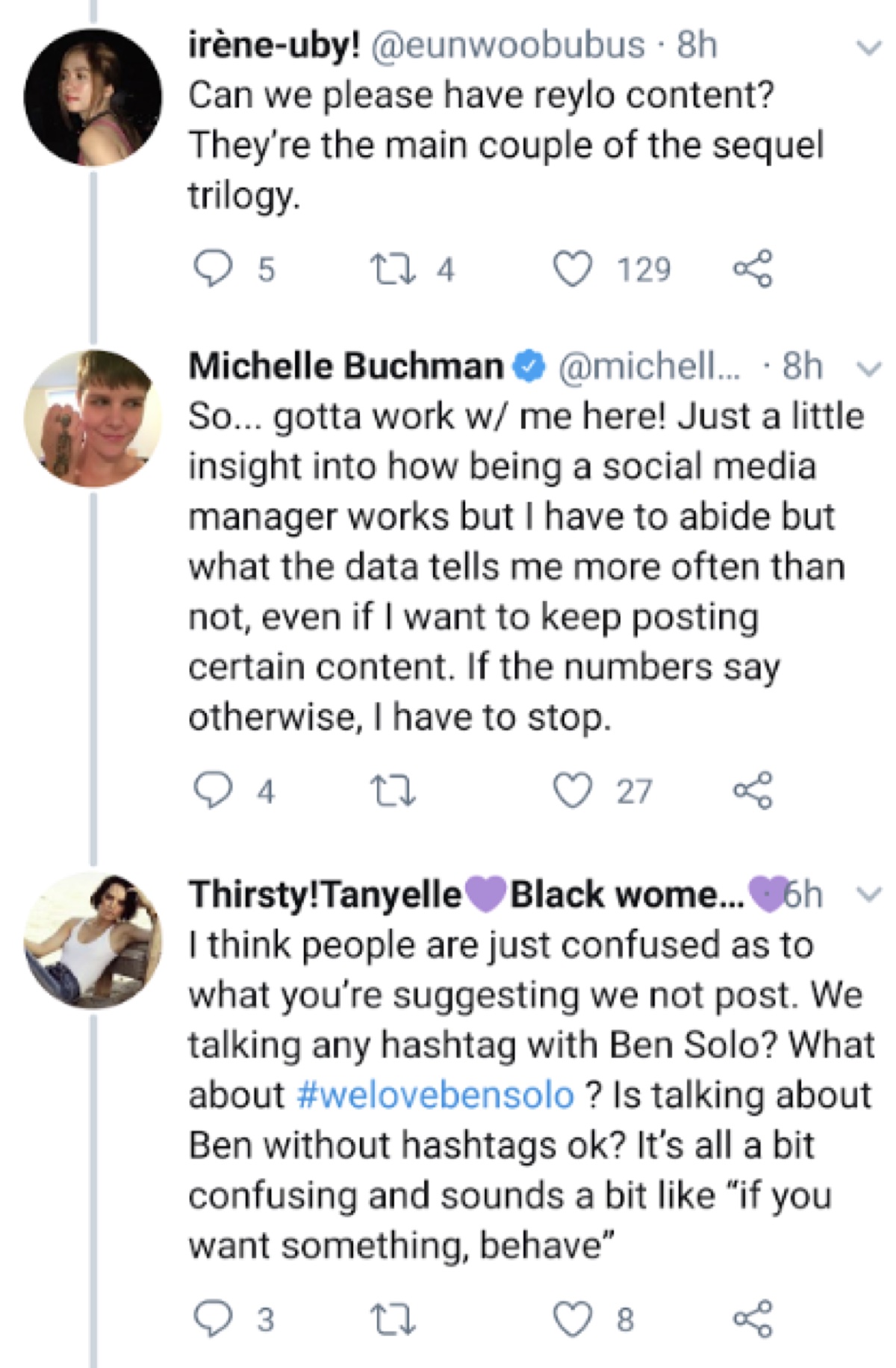 Several Reylos then accused Buchman of telling them to "behave" and "shut up" to get the content they want. However, Buchman reiterated that she has to follow the numbers and that the data shows a "rise in negative sentiment" with this type of content.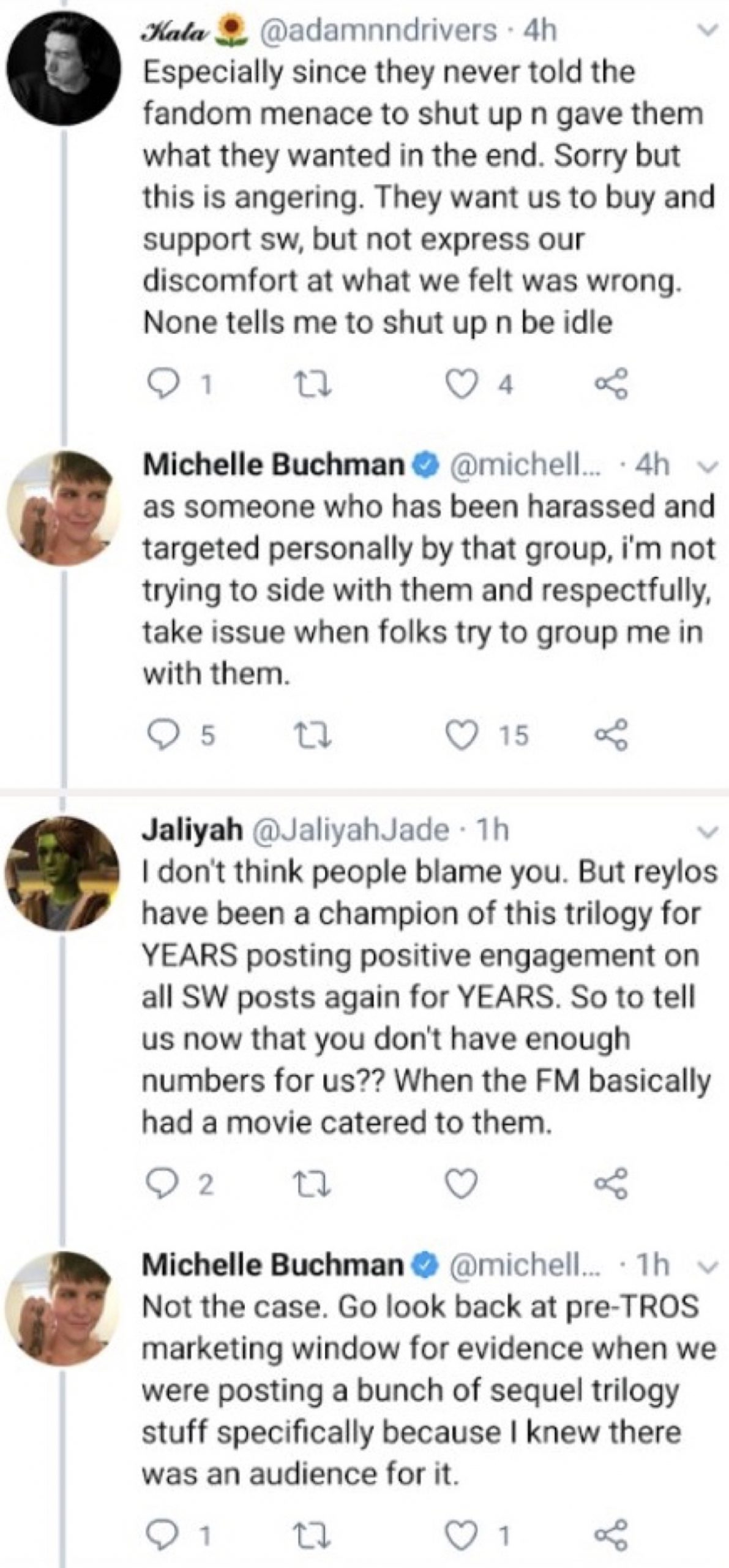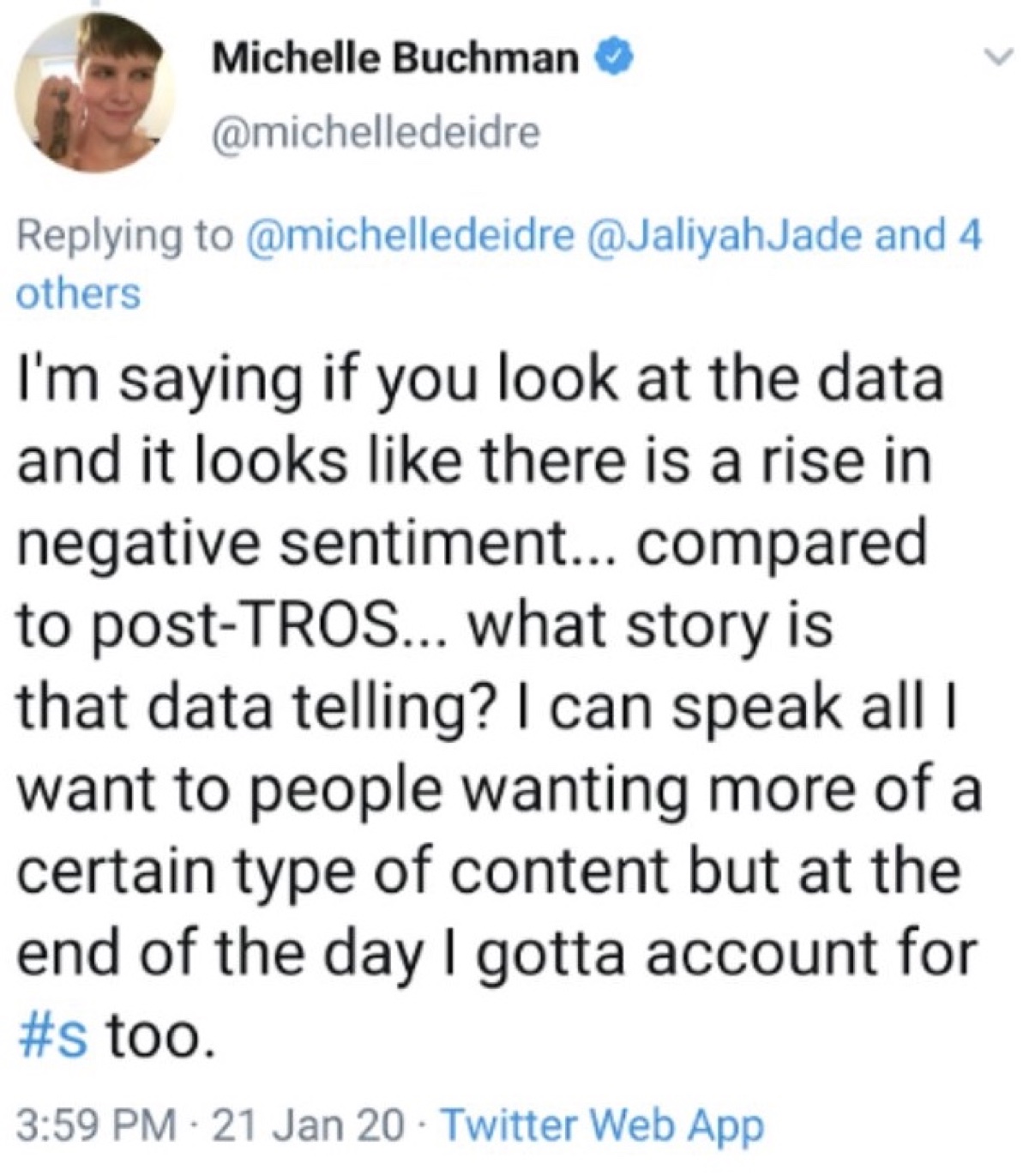 In follow-up tweets, Buchman explained that Reylo posts generate engagement that's overwhelmingly flagged by software as "negative" and the inclination is to avoid content that generates angry tweets in favor of content that "won't be so polarizing."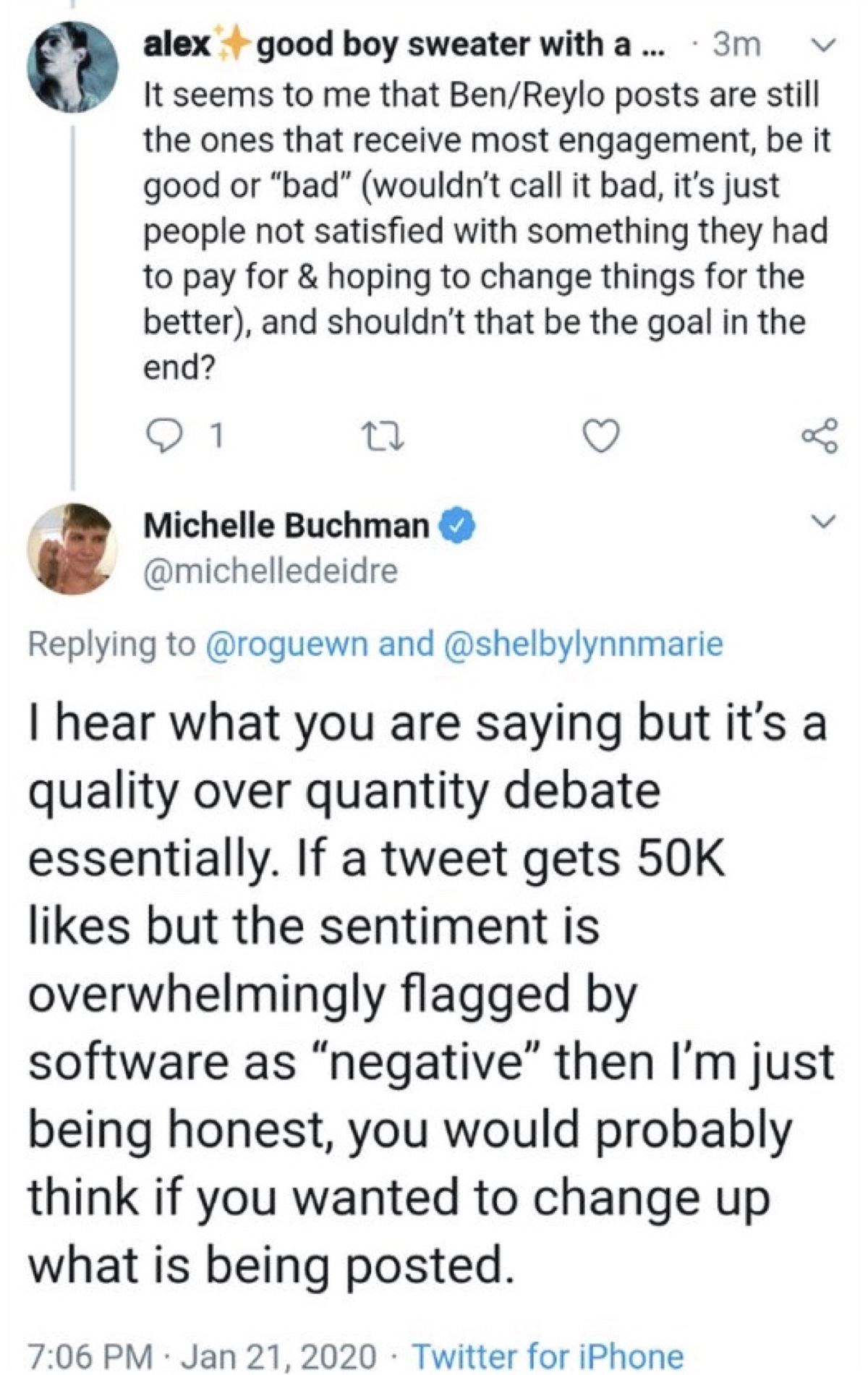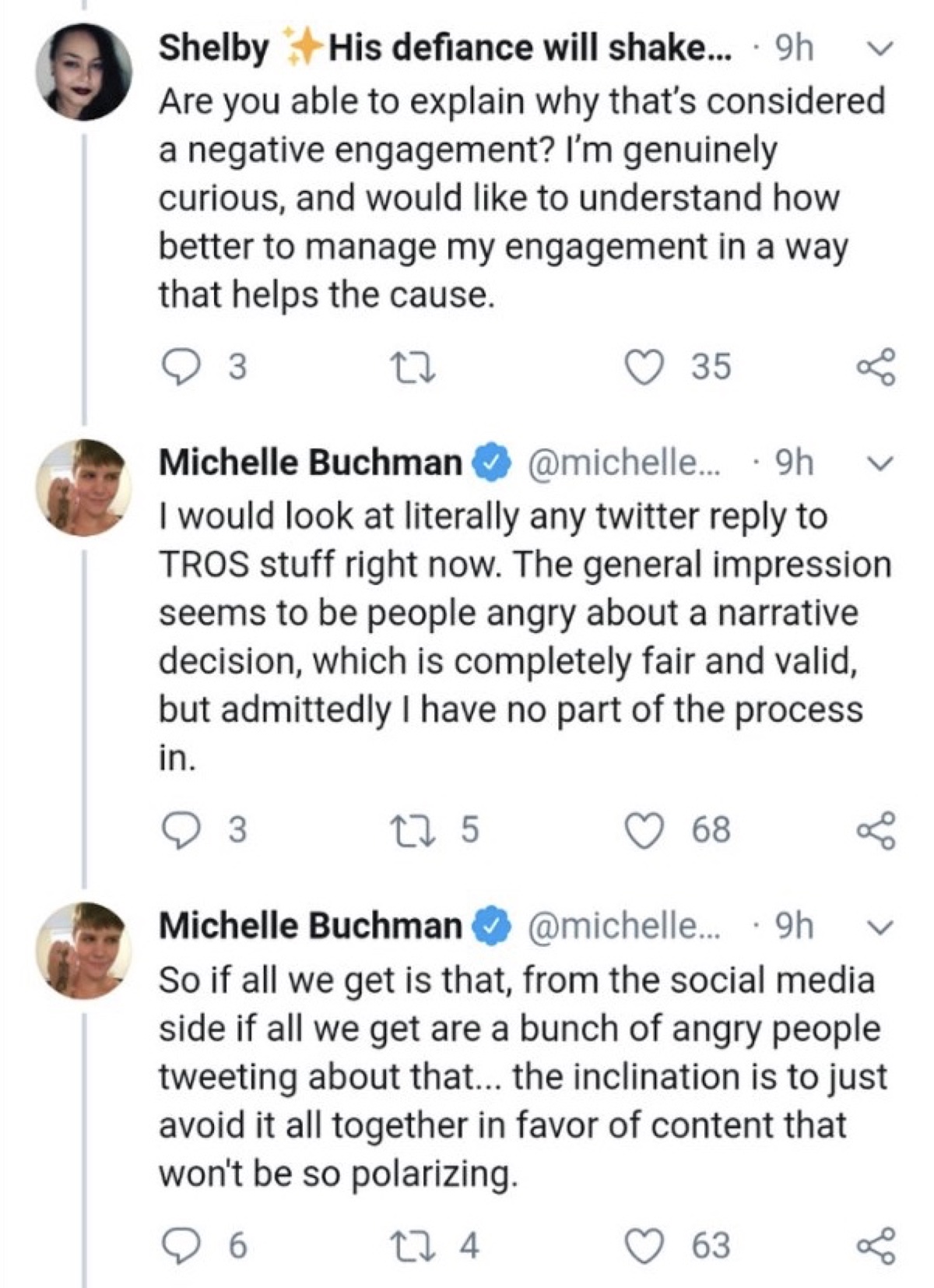 Buchman also cited the Ben Solo hashtag used by Reylos as something that counts as "negative engagement" and added that this "works against y'all and the data tells folks I should refrain from posting that stuff."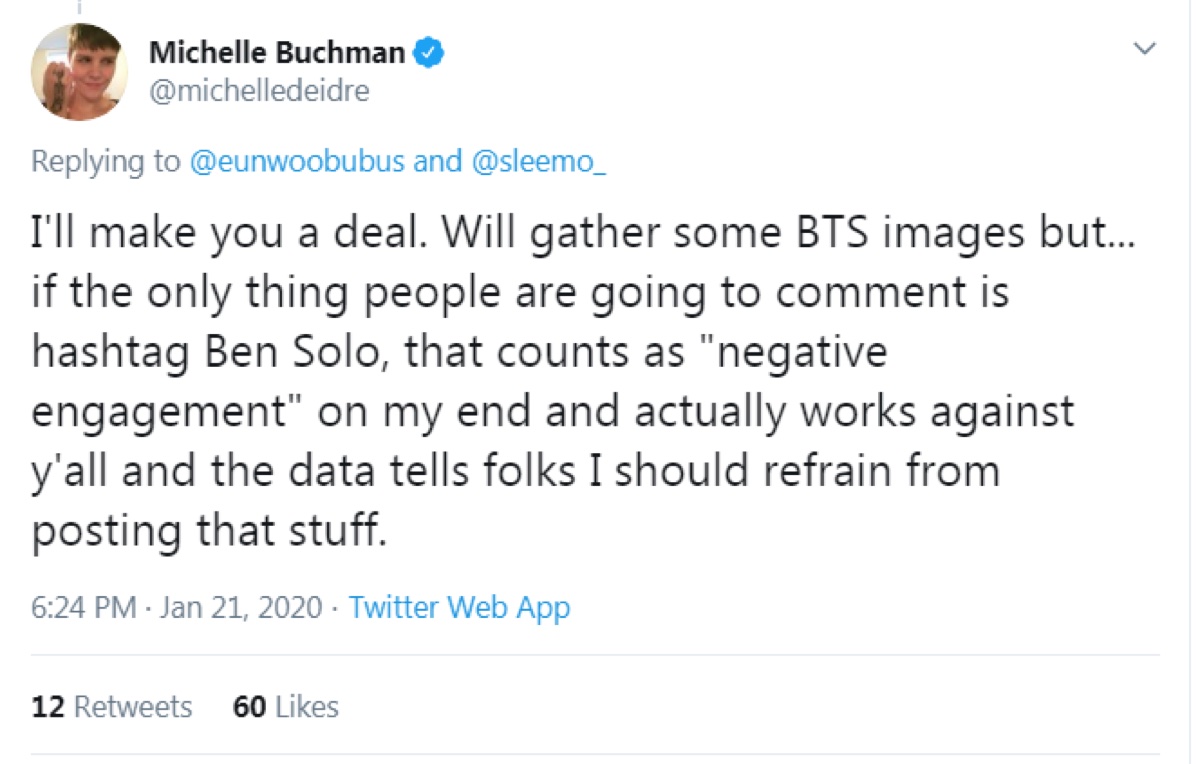 This resulted in one Reylo accusing Buchman of failing to accurately interpret data and dropping the ball.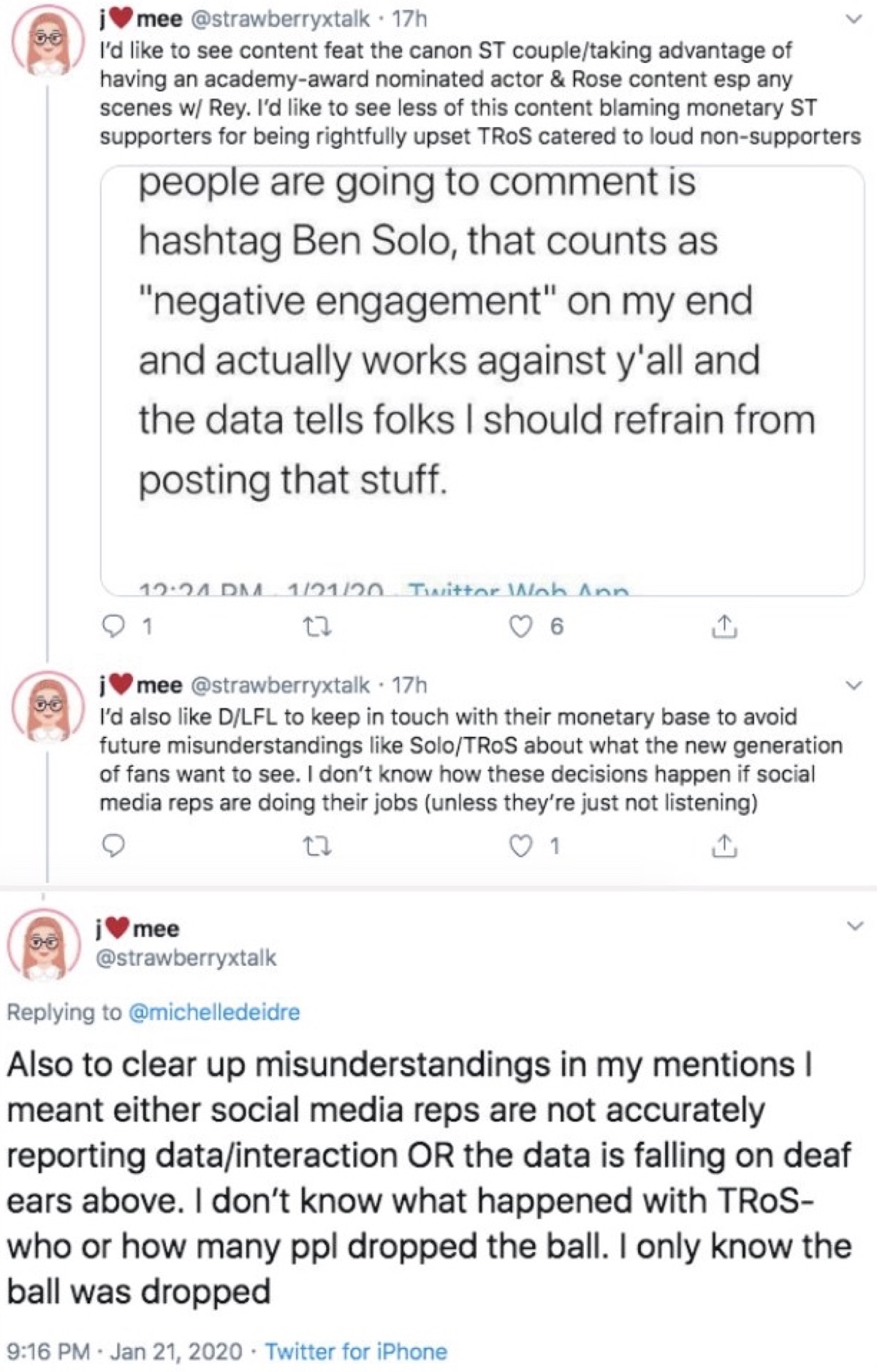 Buchman then deleted several of the tweets shortly after posting them but Reylos continued to share screenshots of her tweets and complained that she was "lecturing Reylos in exchange for scraps of content," using Reylos "wokeness" against them, and bribing Reylos.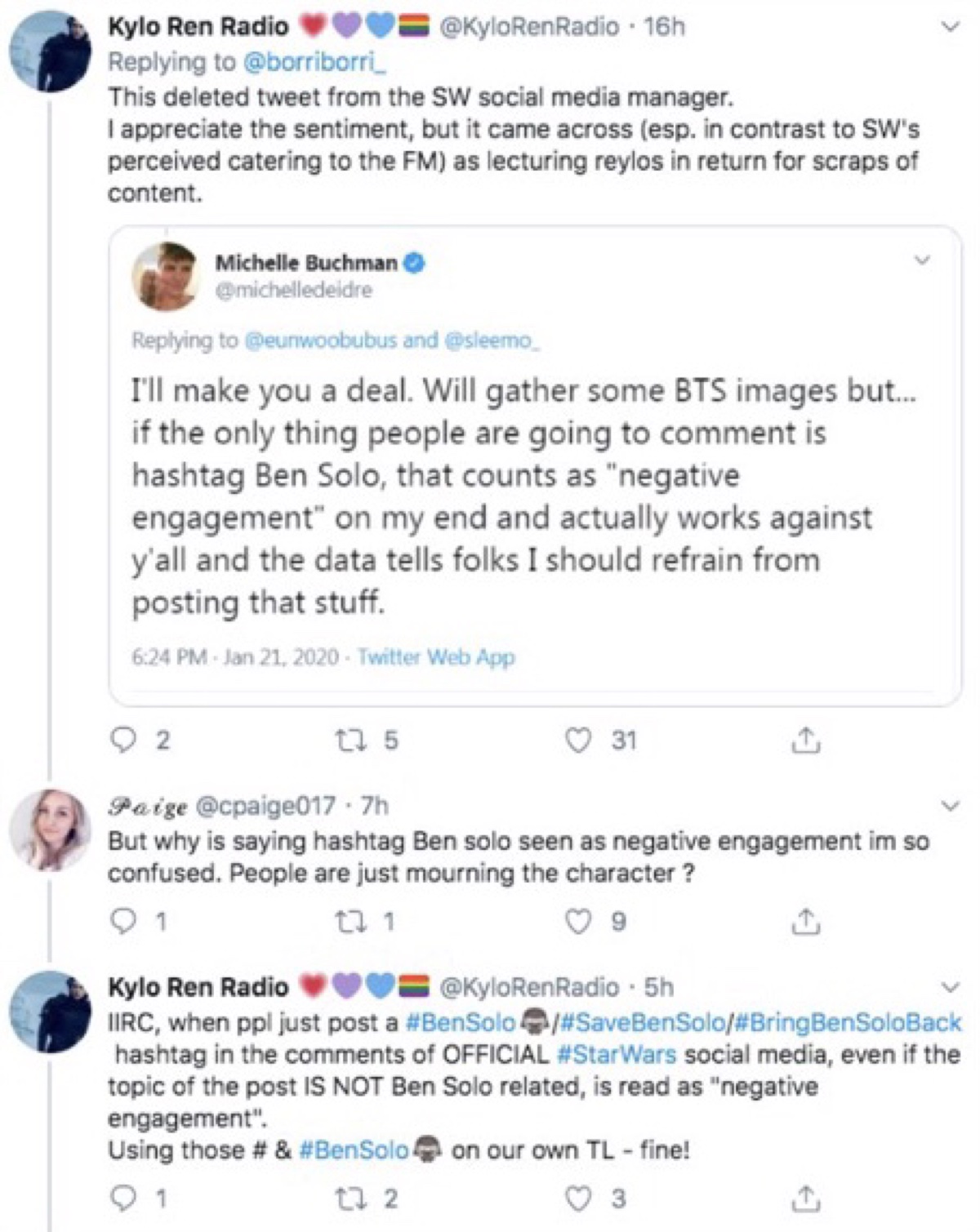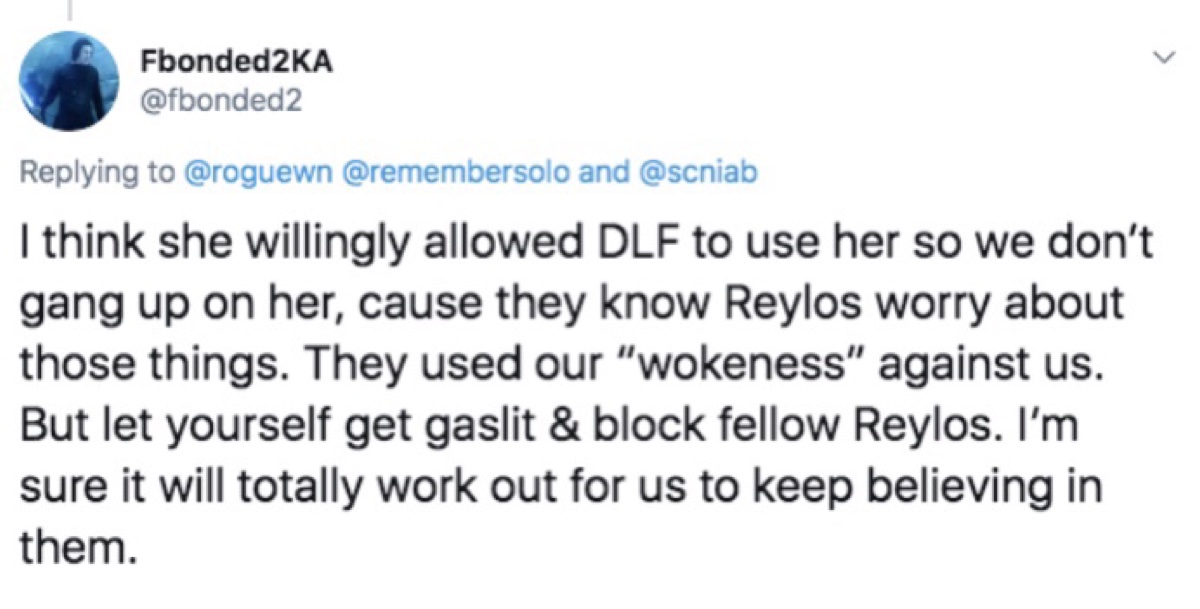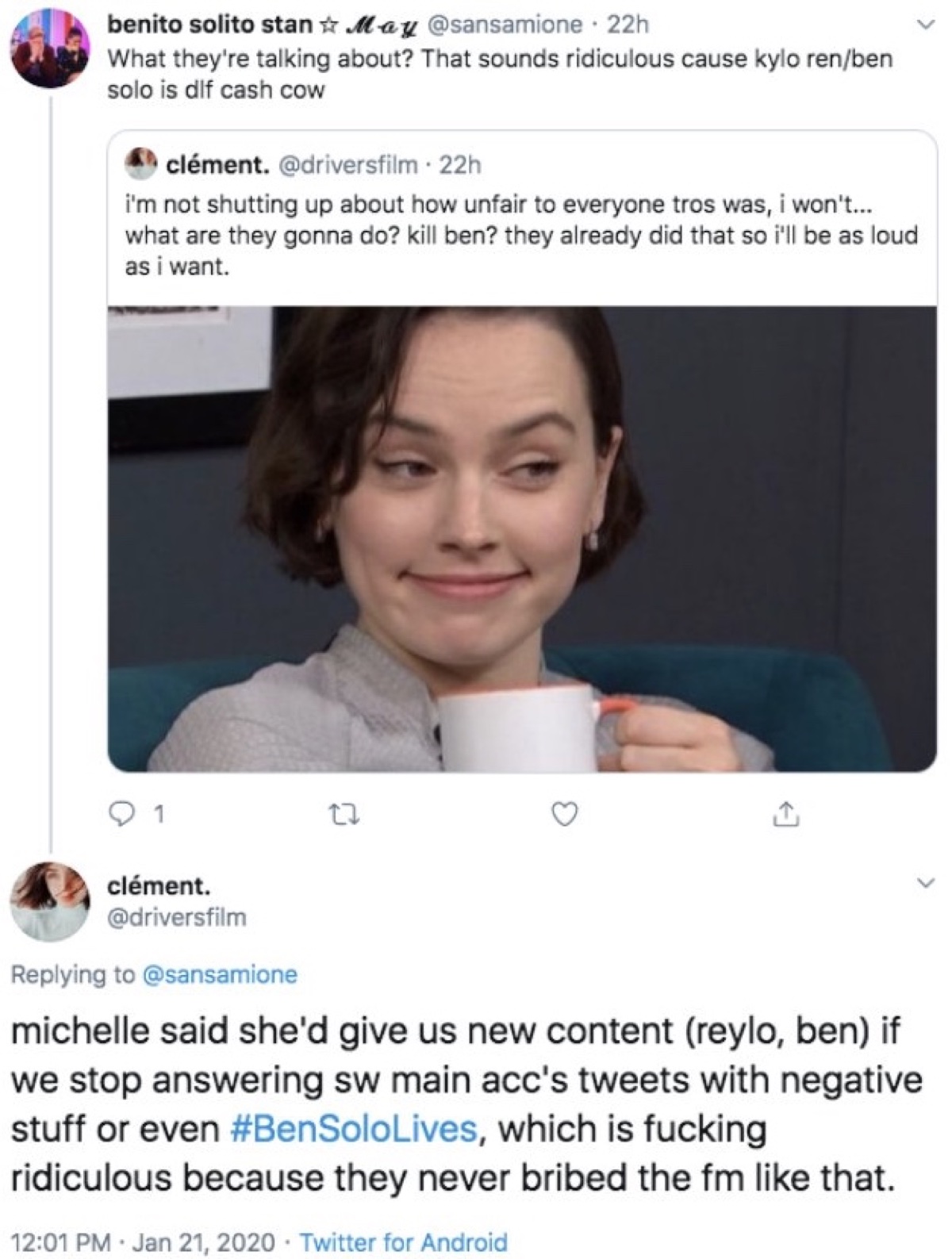 Buchman pushed back against the accusations of bribery and said she was "just trying to be transparent" about how the engagement is interpreted by the artificial intelligence (AI) software that handles the data.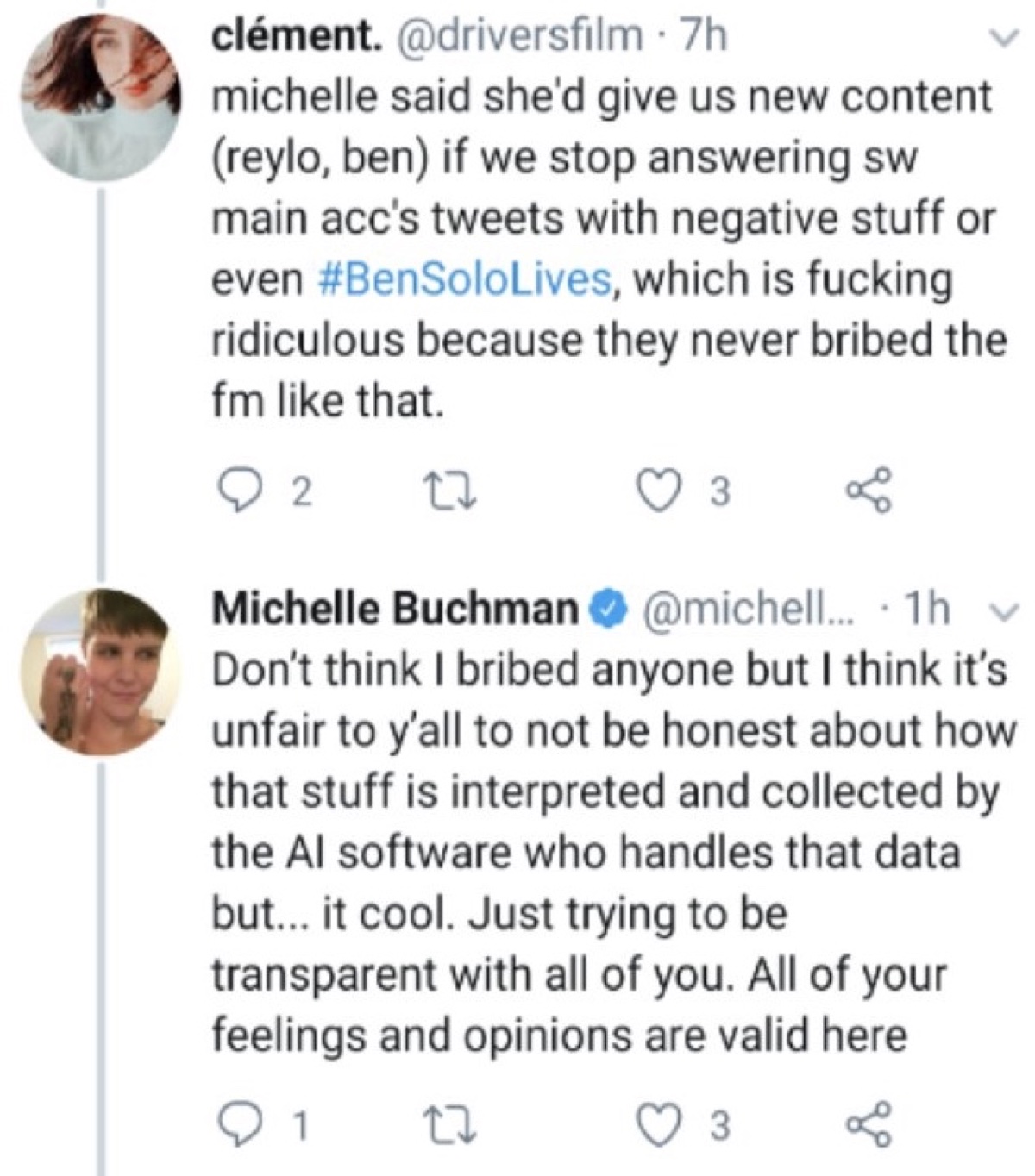 However, her comments did little to calm the complaints of the Reylos with one accusing her of encouraging them to self-censor.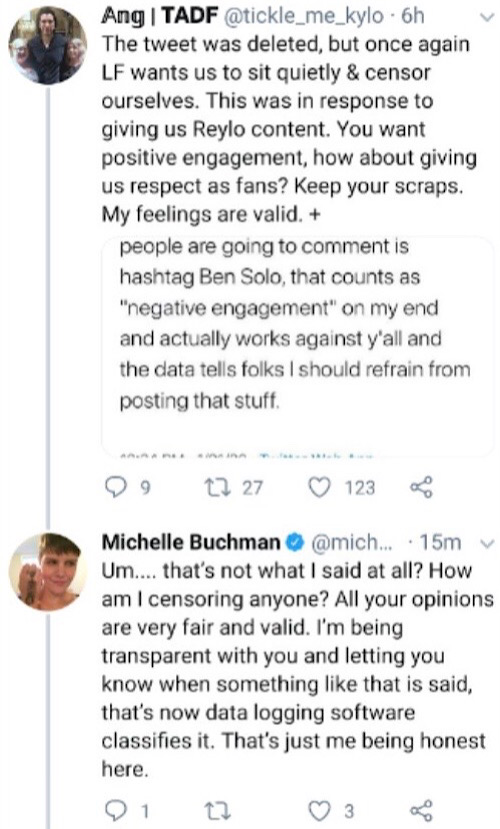 Buchman continued to engage with the Reylos and said the accusations that she doesn't care about the fans are hurtful.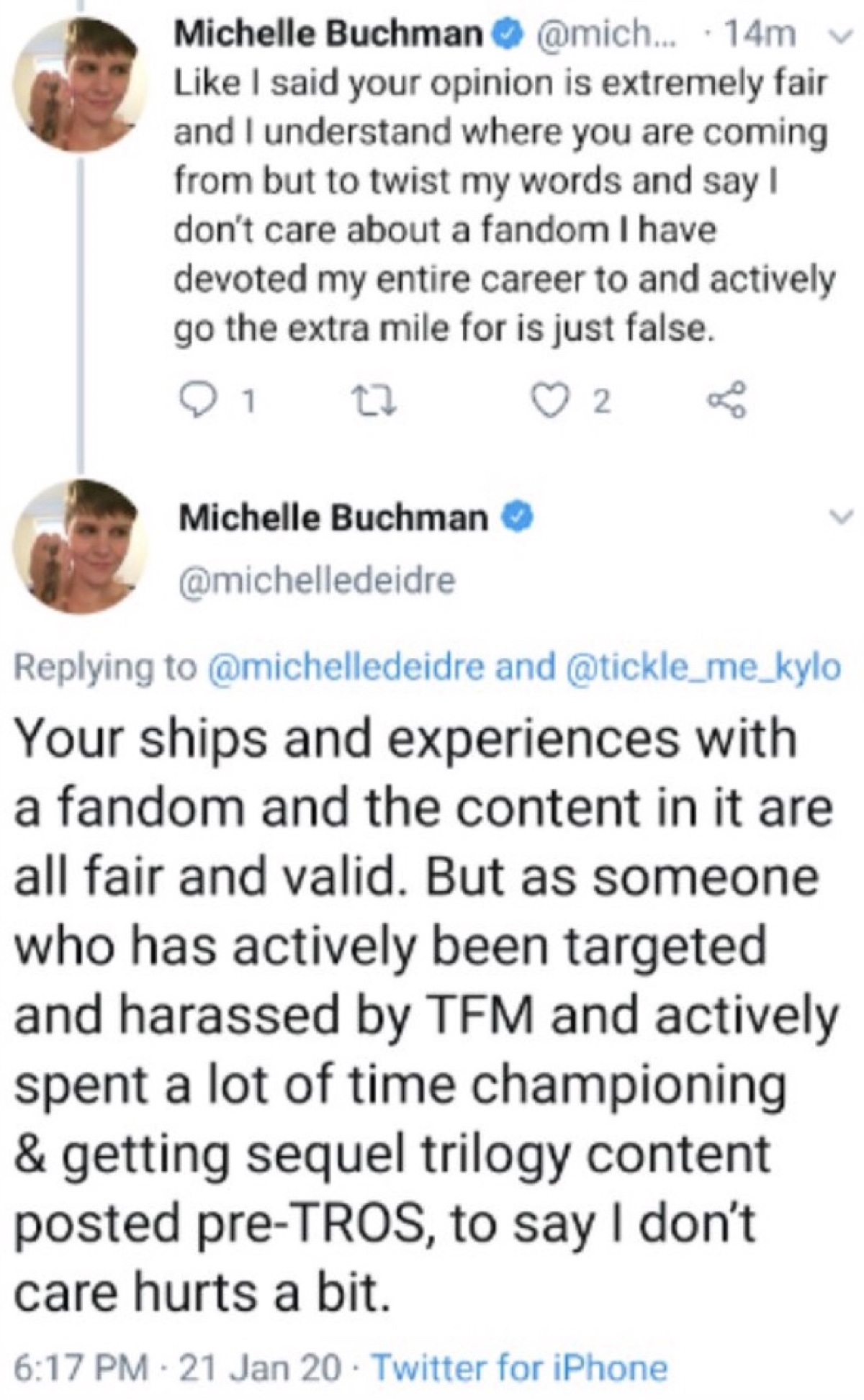 But the complaints from Reylos continued with fresh accusations of Buchman "attempting to extort us with a pittance," using "Orwellian" tactics to infringe on their free speech, and capitulating to "racist misogynist trolls."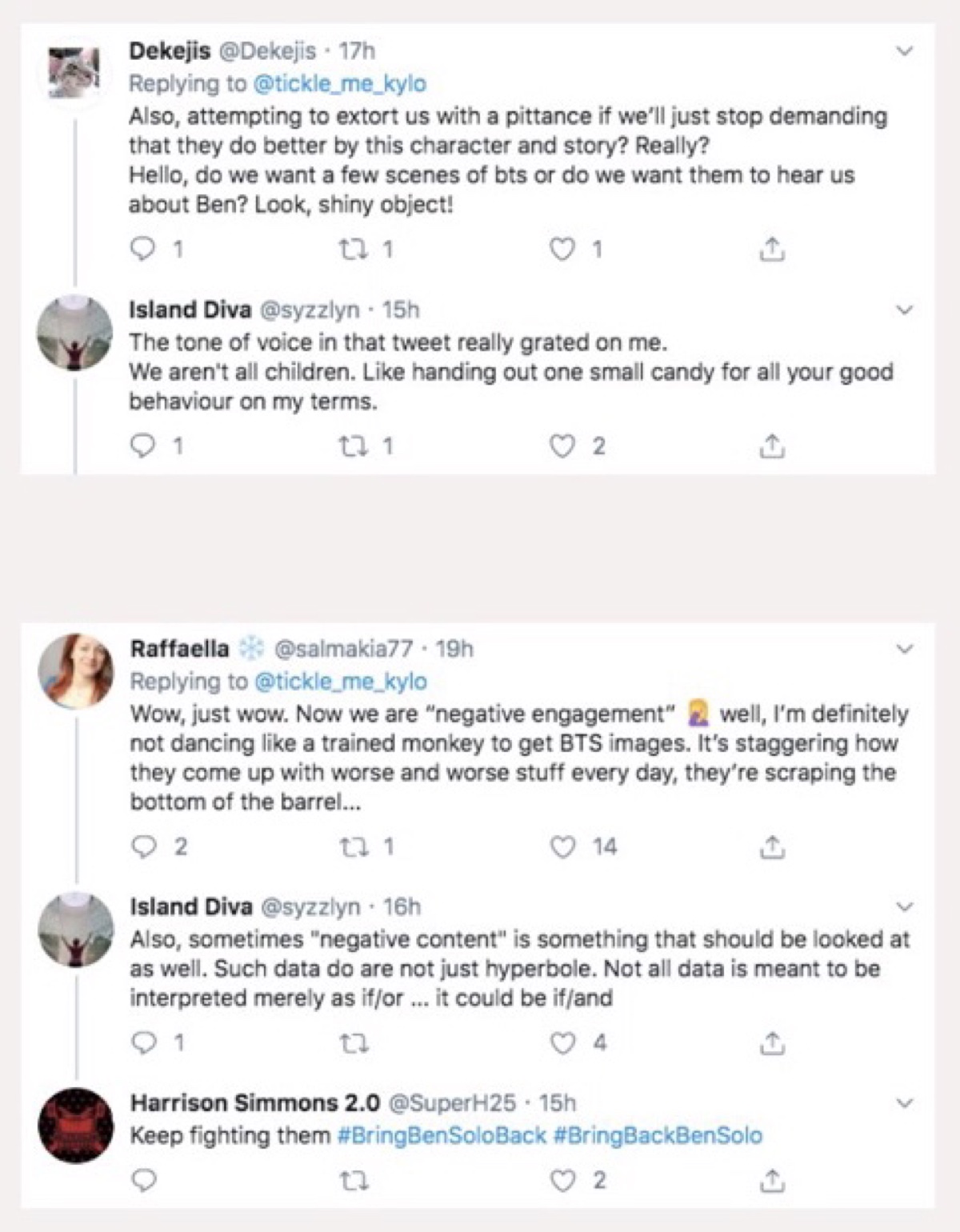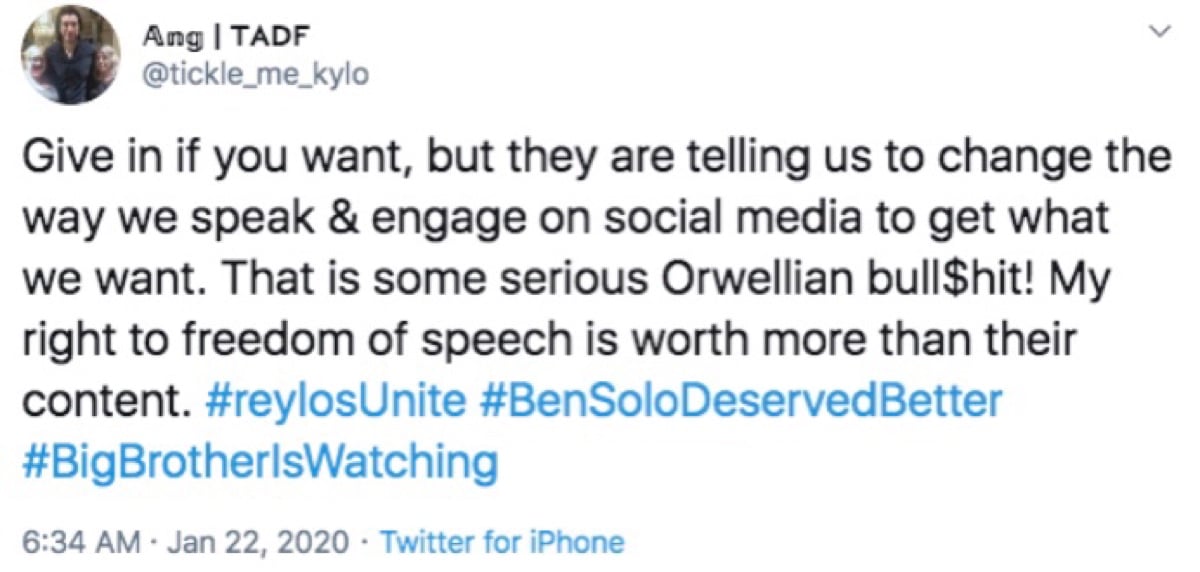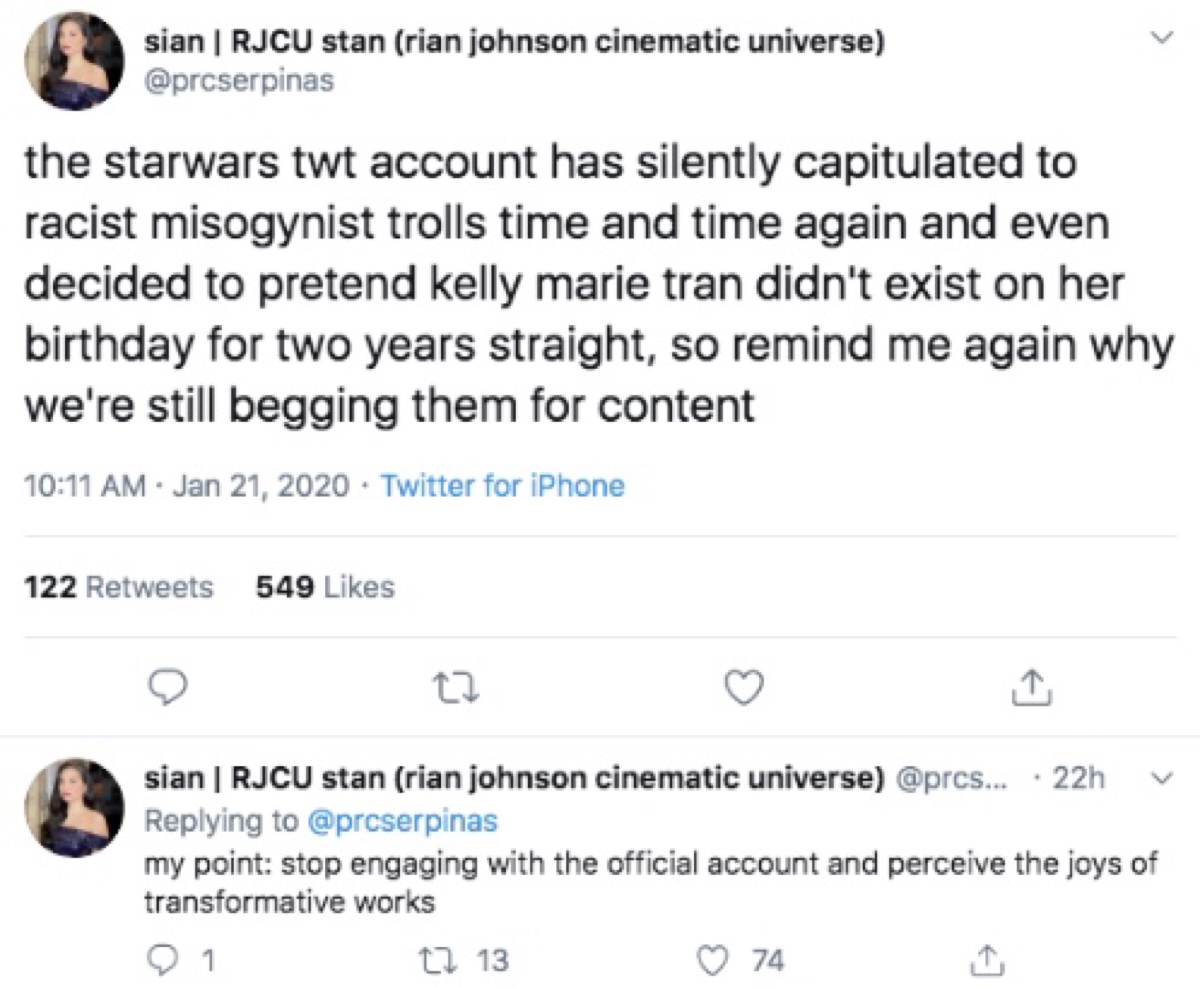 Reylos then continued to use the Ben Solo hashtag, which Buchman had told them would be flagged as negative engagement by the AI software, in response to a post about The Clone Wars on the official Star Wars Twitter account.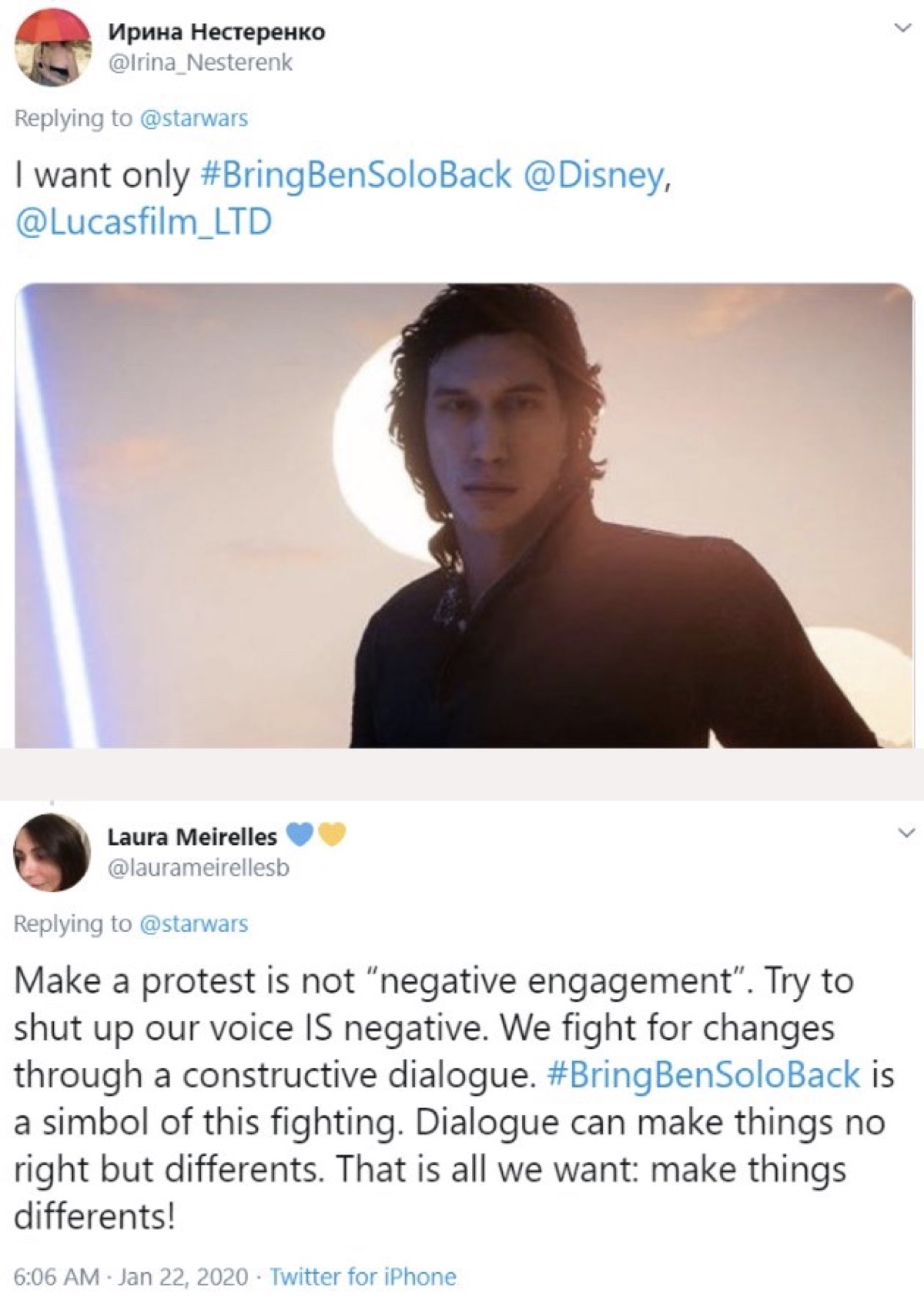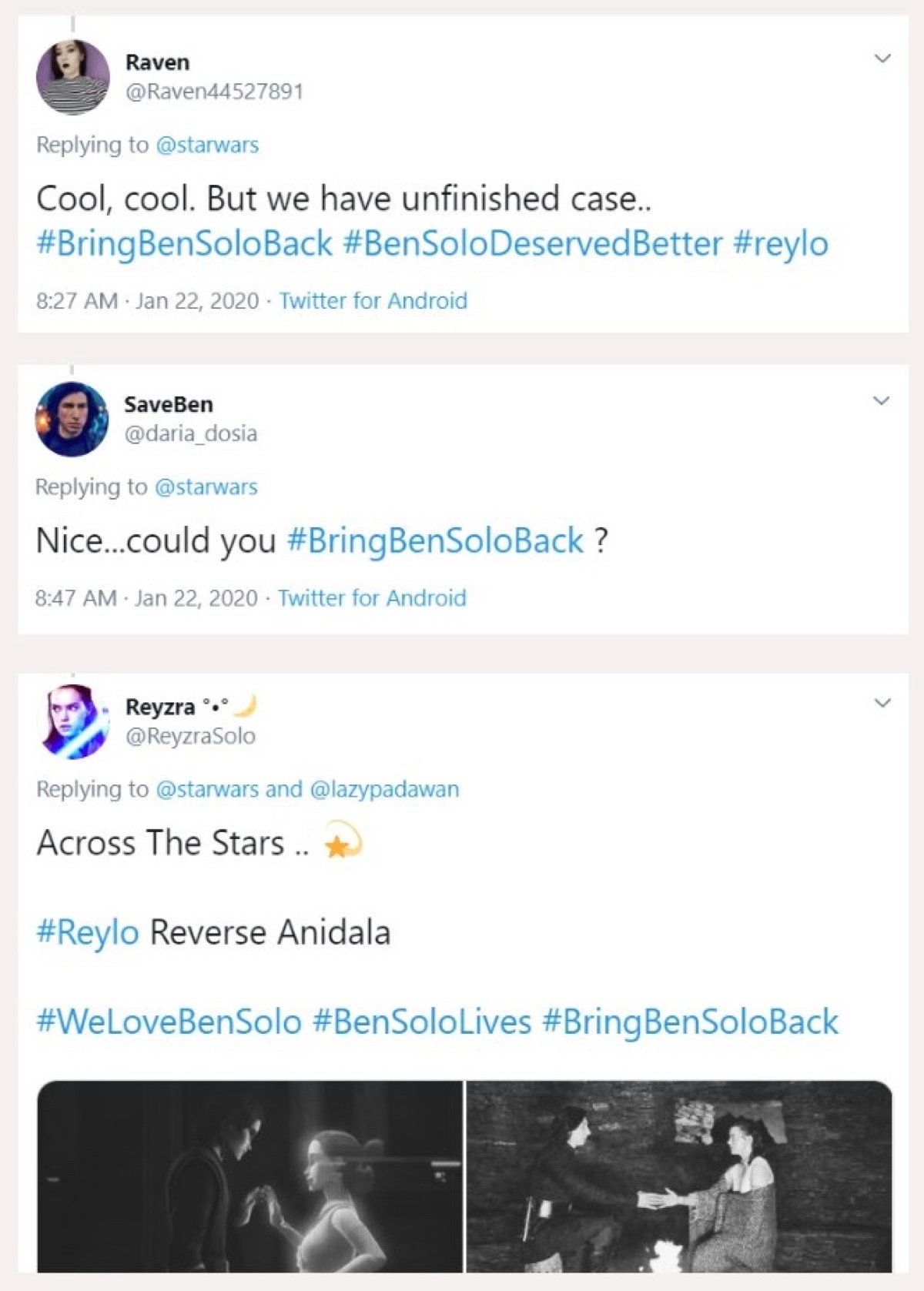 Buchman appeared to show her exasperation at the way she was treated by Reylos in a series of tweets, some of which she has since deleted. In these tweets, she expressed frustration about getting yelled at and said she thinks it's time to "go away from Twitter for a bit."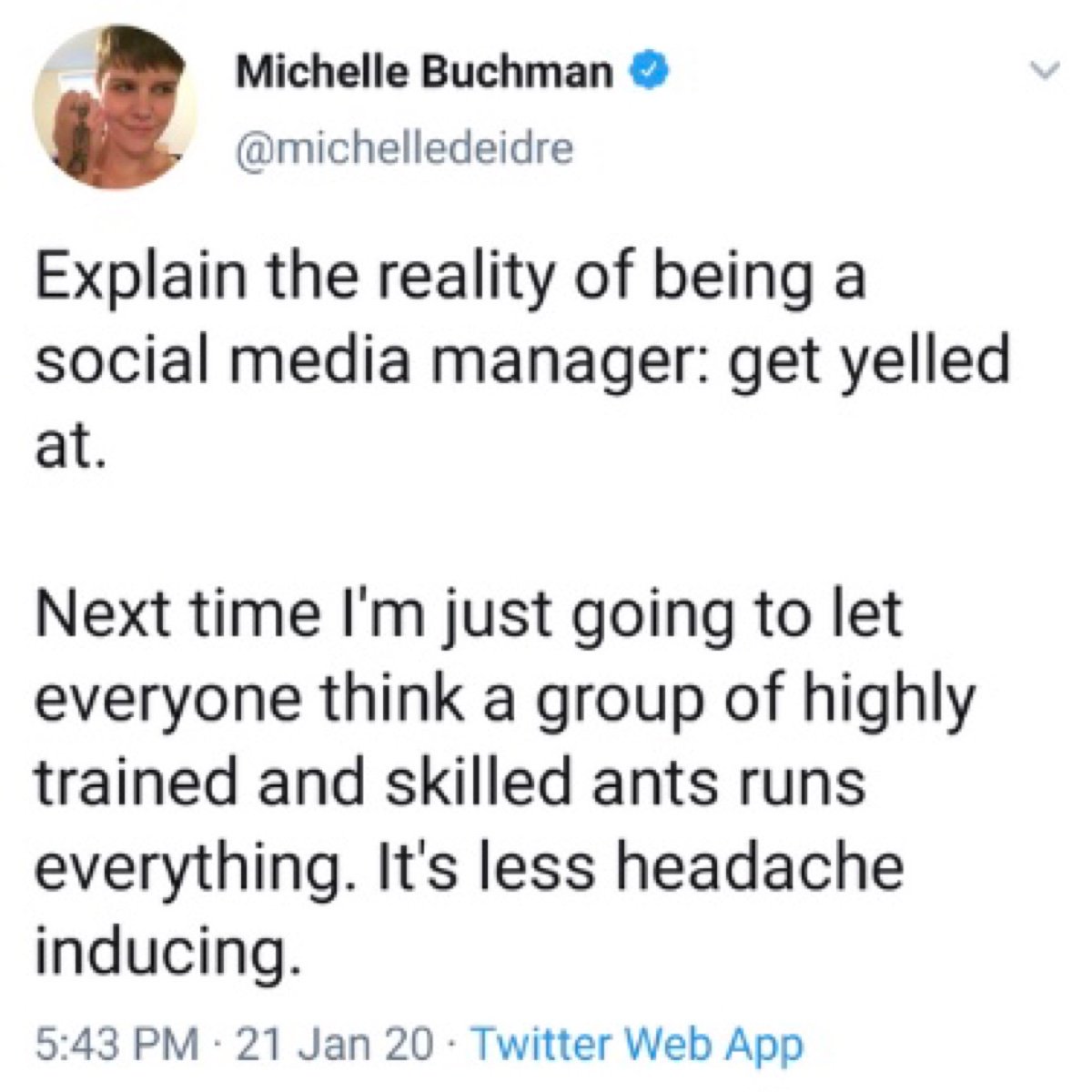 https://twitter.com/michelledeidre/status/1220016833408847873
She then later tweeted: "I get it, all fandoms are valid as long as that is expressed respectfully and without abuse or harassment of others. That is never okay."
Buchman added: "People will still find things to be mad at me about so I give up, I have a real day job to do."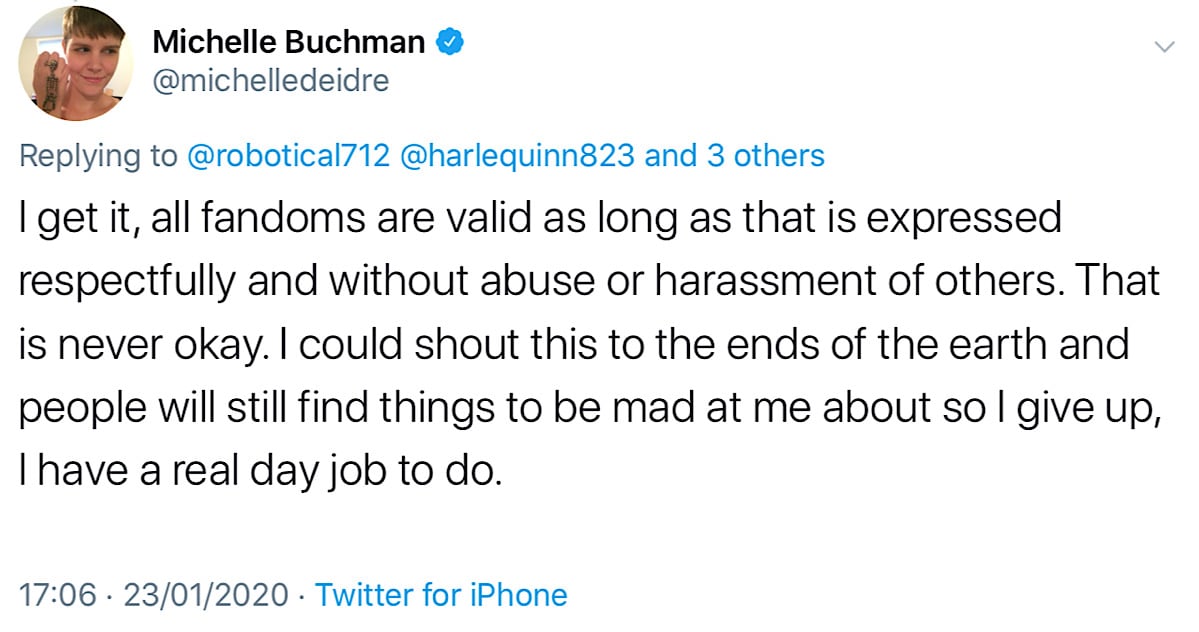 In what appears to be her final tweet on the matter, Buchman responded to a warning about Reylos. "I am not the PR Person or spokesperson for all of Star Wars," she said. "To be hoenst don't really feel like engaging on my personal twitter about this subject anymore because no matter what I do or say, it's wrong. I'm out for a bit."
https://twitter.com/michelledeidre/status/1220501729051103233
When called out for their behavior towards Buchman, several Reylos then claimed that there's no evidence of bullying and that everyone in the thread was asking Buchman respectful questions.