State attorneys general want federal regulation for 3D-printed "ghost guns." According to the AGs, there has been a spike in recovered 3D-printed guns, which are untraceable and often created from blueprints that are widely available online.
Back in 2017, the US Attorney's Office in the Northern District of Texas brought a case against a man who had a 3D printed rifle. The man, Eric McGinnis, aka "Eric the Ruler," had attempted to buy a gun from a federally licensed dealer in 2016. However, he did not pass the criminal background check as he has a protective order against him in his record.
He circumvented the rules by purchasing a 3D printer and built an AR-15-style rifle. In July 2017, he went to a wooded area near Dallas to test his new rifle. Police officers heard the shots and arrived at the scene. He allegedly lied that he was a CIA operative, but the officers checked his backpack and discovered he allegedly had a hit list, which included a few federal legislators. In February 2019, the court sentenced him to eight years in prison.
The case sparked a push for the regulation of 3D-printed guns and the debate is intensifying considering the advancements in 3D printing technology, the increase in 3D printers manufacturers, and the relatively low price of 3D printers. Additionally, gun enthusiasts have been promoting 3D-printed guns and even sharing manuals on how to make them on online platforms, including YouTube and Reddit.
The first blueprint for a 3D-printed gun was published on the internet in 2013. It was a one-shot handgun dubbed "the Liberator" created by Defense Distributed, a Texas-based non-profit. The organization has faced several challenges for publishing blueprints for 3D-printed guns.
Another 3D-printed gun blueprint available on the internet is for a semi-automatic caliber carbine pistol called the FGC-9 (which stands for F**k Gun Control 9).
Some of the popular companies providing 3D printers prohibit the use of their products to make firearms, suggesting they can monitor how their printers are used – but it could just be a disclaimer statement to avoid any liability.
These companies include Carbon, Formlabs, and Materialise. But not all companies have such policies, and, even for those that do, it is not clear how they could possibly even enforce the policies.
"3D printing is not a particularly practical way to make a gun," Max Lobovosky, the CEO of Formlabs wrote two years ago.
"It would take some technical expertise to 3D-print a gun, frankly, but it's not impossible, and especially parts of the gun you could do that," Mo Islam, a partner at industrial innovation firm Threshold Ventures, told Forbes. "If we start to see more 3D-printed guns, it should be regulated, just how the manufacturing of guns is regulated to a certain degree."
Prosecutors' major issue with 3D-printed guns is not their existence, but the fact that they are not traceable, as they do not have serial numbers.
"The idea that there can be a proliferation of firearms that nobody knows about, that don't have a serial number, that aren't registered, that aren't made by a gun manufacturer, is pretty terrifying," says Connecticut Attorney General William Tong.
New York's AG Letitia James also shares the same sentiments. Last Tuesday she called on the Biden administration and Congress "to work together to ban ghost guns once and for all."
Tong, James, and 16 other state AGs sent a letter to newly appointed Attorney General Merrick Garland urging him to "put an end to the alarming rise of ghost guns in our communities." The letter points out the spike in the number of ghost guns recovered. In Washington DC, only 3 ghost guns were recovered in 2017. The number rose to 306 in 2020.
Some states, including Rhode Island and Connecticut, have laws banning ghost guns, including 3D-printed guns. However, according to Tong only a "small minority" of states have such laws, a fact that shows the urgency for federal regulation of 3D-printed guns.
Meanwhile, a case brought by a group of 21 state AGs to block the Trump administration's efforts to allow people to publish 3D-printed gun blueprints on the internet still remains open.
"We would certainly object to a website that said, 'here get plans and a kit to make your own suicide bomb.' We don't think that's okay. I know that they are different, but something that is inherently dangerous requires some regulation, and something that can be used in the commission of a crime or a terrorist attack ought to be subject to regulation," said Tong. "Frankly, I don't understand why this is controversial."
Over in Canada, the idea of 3D-printed guns has been in the news this past week after an arrest was made.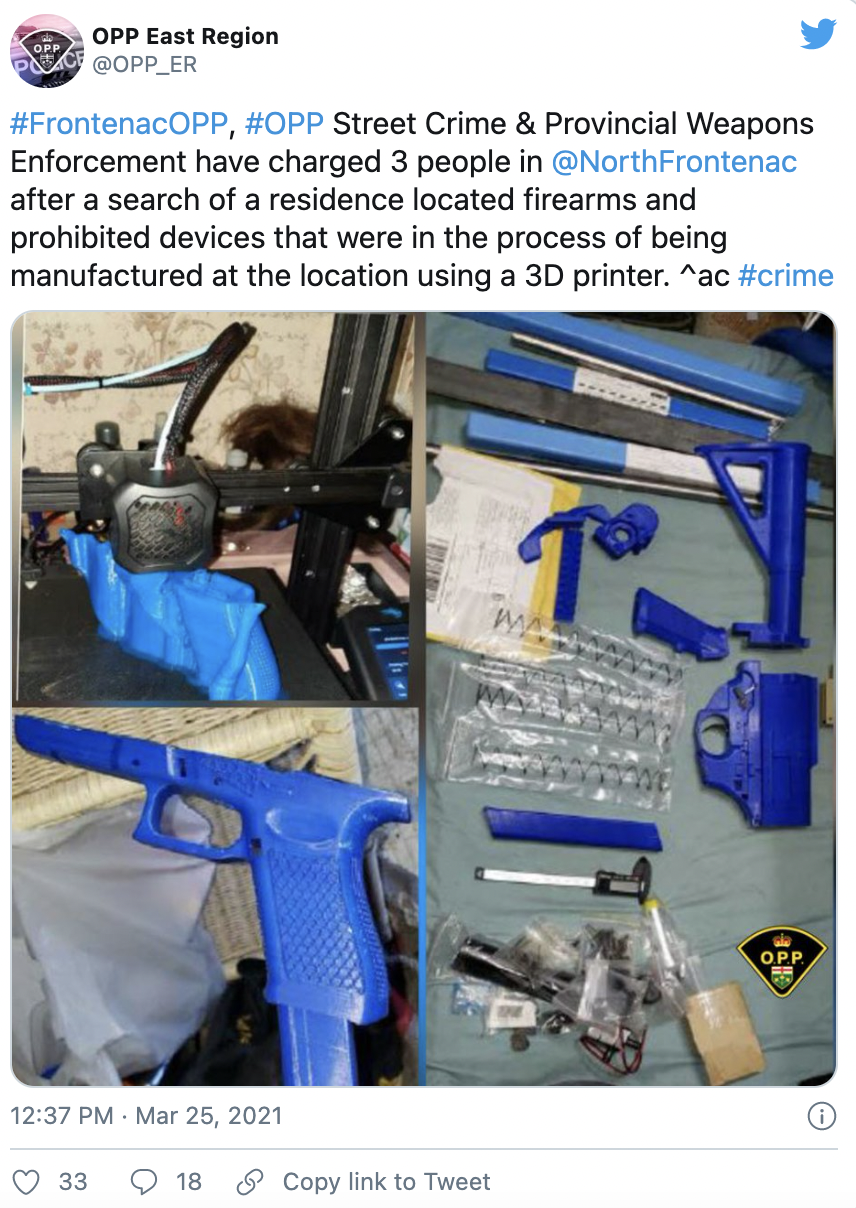 Three people were charged after police found a 3D printer that was in the process of replicating a gun in a home in Ontario, Canada. The spike in 3D-printed guns is raising concerns for law enforcement agencies and gun control advocates.
The gun was discovered after police officers executed a search warrant at a home in North Frontenac Township. According to the Ontario Provincial Police, the raid was part of an investigation into the importation of prohibited weapons. A few deliveries of firearm parts were linked to the address where a 3D printer in the process of replicating a handgun was discovered, CTV News reports.
Three people were arrested and charged. Anna Pichette, 61, and Nolan Pichette, 21, were both charged with careless storage of a firearm, illegal possession of a restricted or prohibited firearm, and trafficking a firearm, with Nolan facing an additional charge of noncompliance with a release order. 40-year-old Cory Benot, was charged with two counts of noncompliance with a release order.
The spike in the 3D printing of guns is a cause for alarm, especially for law enforcement agencies and gun control advocates. 3D-printed guns are considered "ghost guns" as they do not have registration or serial numbers, making them almost impossible to trace. In the US, some AGs have launched regulatory efforts for 3D-printed guns.
With all of this attention, the idea of 3D-printed guns, and, more importantly with regards to the internet, the censorship of the online resources and blueprints and its relation to the First Amendment, is going to be an area to watch in the coming months.