There's no shortage of divisive topics and controversies erupting between gaming companies and gamers, and many of those revolve around real-world politics that somehow manage to seep into the gaming world. Declaratively, many gaming publishers and platforms say they want to deal with the problem by removing politics from the mix – but is that what they actually do?
The latest example of such a controversy is involving a recent decision of Valve's Steam, the world's largest digital distribution service for PC games, to promote an LGBTQ+ focused sale on its homepage.
Popular gaming blog One Angry Gamer went as far as referring to this as "LGBTQIA+ propaganda" – accusing Valve of using the Steam platform to promote a specific "sociopolitical" agenda targeting gamers who may have no interest in it, or maybe opposed because they view it as undermining traditional values.
However, others might welcome both the sale and the agenda – but the underlying problem demonstrated here once again remains. And that is the state of free speech or just freedoms in general over on the Steam forums – ironic, perhaps, given the cause Valve is promoting.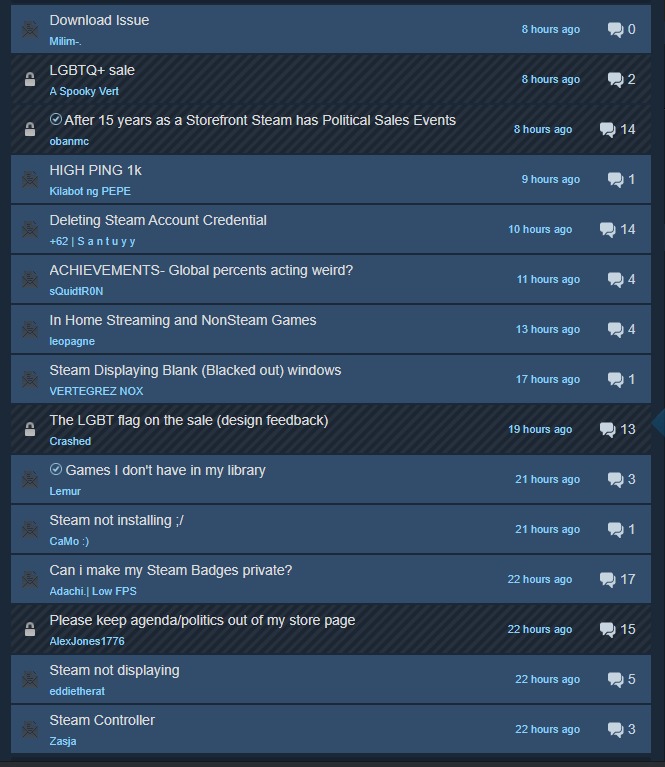 Several gamers feel that dissent is not tolerated and that while political themes are acceptable on the front page – any hint of them quickly gets purged from the forums.
That's true even if it's about gamers complaining about politics being allowed in the first place. Screenshots of threads that have since been deleted show that some gamers wondered if the choice to showcase LGBTQ+ issues in this way would lead to future sales targeting – for example, only Trump supporters, or only Communists.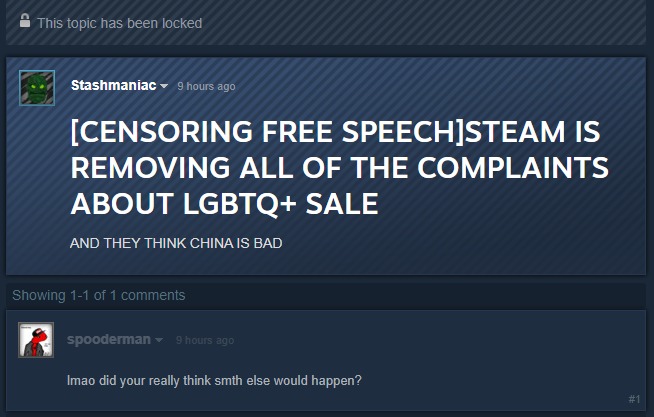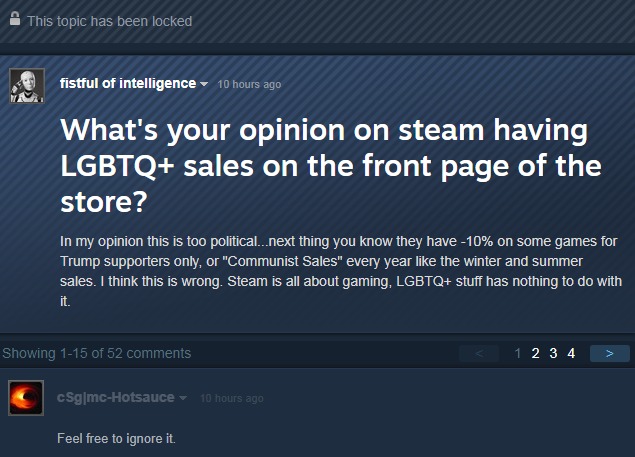 Others still said that while being gay is not a political stance, the term LGBTQ+ is both political and ideological, and promoting it the way Valve has done means it was using the platform to "push political propaganda through Steam sales."
Well, that thread was locked as well. Others who wanted to "thank" Valve for essentially singling out those games they don't want to buy also, predictably, got censored. The sale was evidently meant to exist, but not to be discussed in any critical manner – regardless of whether or not these posts broke any of the forum rules.