Singer Susan Calloway, known for her contribution to the Final Fantasy XIV video game, has been disinvited from the upcoming Final Fantasy enthusiast gathering, KupoCon, set to take place in Toronto. This decision followed revelations that her social media posts on X displayed liked posts from celebrated female athlete Riley Gaines who has continually expressed her reservations about male involvement in women's sports.
KupoCon disclosed an official declaration on their website, stating the reasons behind the sudden withdrawal of Calloway's much-awaited appearance:
"On Monday, it was brought to our attention that a series of offensive posts had been interacted with by Susan Calloway's X account. This included comments and reactions. These interactions spanned almost a year. Promptly addressing this issue, we reached out to Susan for clarification, recognizing that her account had been previously hacked. Regrettably, the ensuing events triggered a wave of abusive comments directed not only at Susan and her supporters, but KupoCon, attendees and the KupoCon team."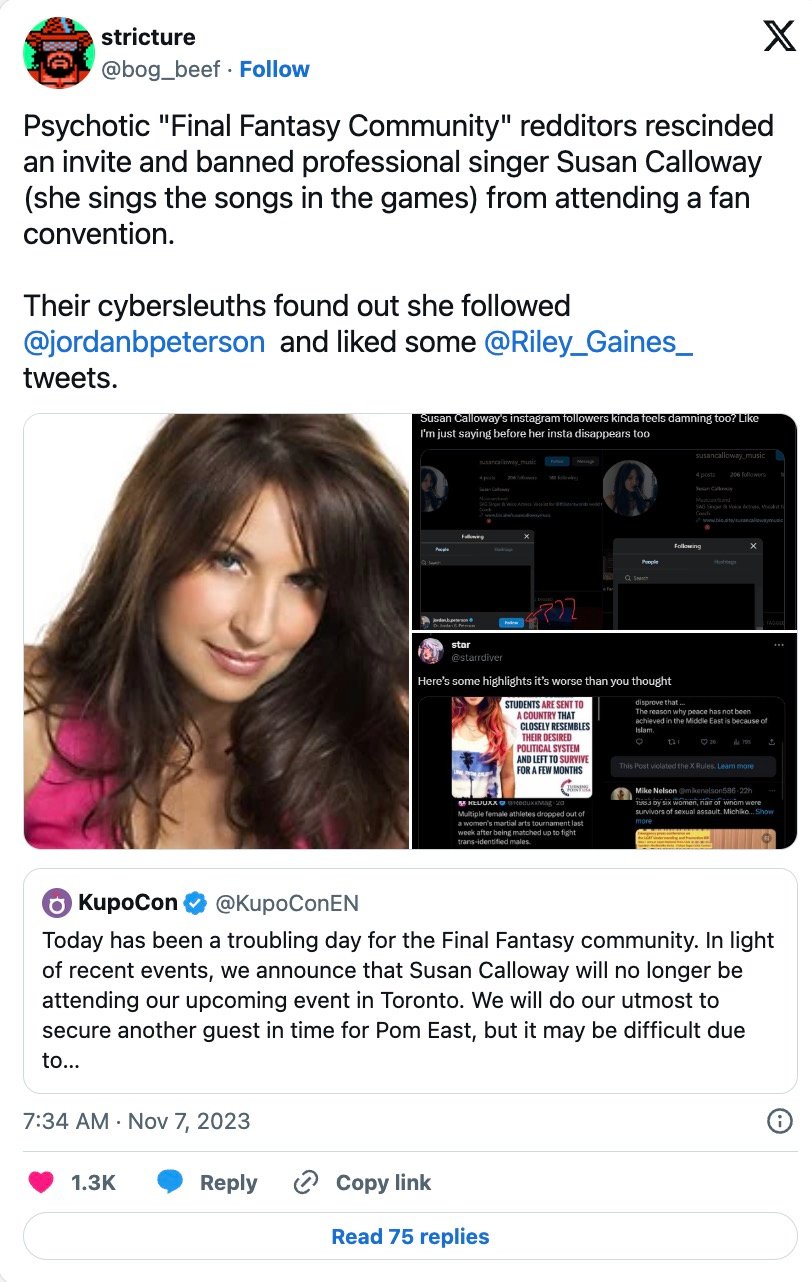 Deemed "offensive," the posts liked by Calloway's account encompassed a meme regarding socialist college students shared by Turning Point USA, a post by Riley Gaines arguing against males participating in women's sports matches, and more.
Calloway encountered criticism from some vocal Final Fantasy fans due to these social media interactions. KupoCon thereafter revealed that she would no longer grace their imminent Toronto event.
The group fell short of stipulating the cause behind the sudden alteration of the plans, stating merely that her absence is due to "recent events."
Calloway's X handle, @SusanCalloway, has been deactivated since then.