Arielle Scarcella, an influential YouTuber, is facing a backlash on social media and in the real world from activists who accuse her of a trifecta transphobia, "biphobia", and even racism.
Scarcella, who is a lesbian, has been known to draw the ire in the past from the most vocal part of the trans community for expressing her opinions on the topic that deviate from the dominant narrative; however, she could hardly be considered transphobic, according to her defenders who spoke up on her behalf Twitter and YouTube (many of whom are trans themselves).
Scarcella runs an LGBT-centred YouTube channel and has over 630,000 subscribers.
She has also been accused of being a TERF – a pejorative acronym used by fringe activists for "trans-exclusionary radical feminist."
The controversy arose after Scarcella was invited to take part in a panel at the Les-Talk event sponsored by the Sydney Gay and Lesbian Mardi Gras (SGLMG).
As the organizer Les-Talk has since explained, Scarcella was to speak about lesbian, not trans issues – but her detractors started pressuring SGLMG on Twitter and YouTube to drop the event, launching at the same time an online petition with this goal in mind.
The SGLMG obliged.
Responding to Pauline Pantsdown, a parody Twitter account, the organization said, "We have been in touch with the event organizer and have now removed it from our Festival event listings."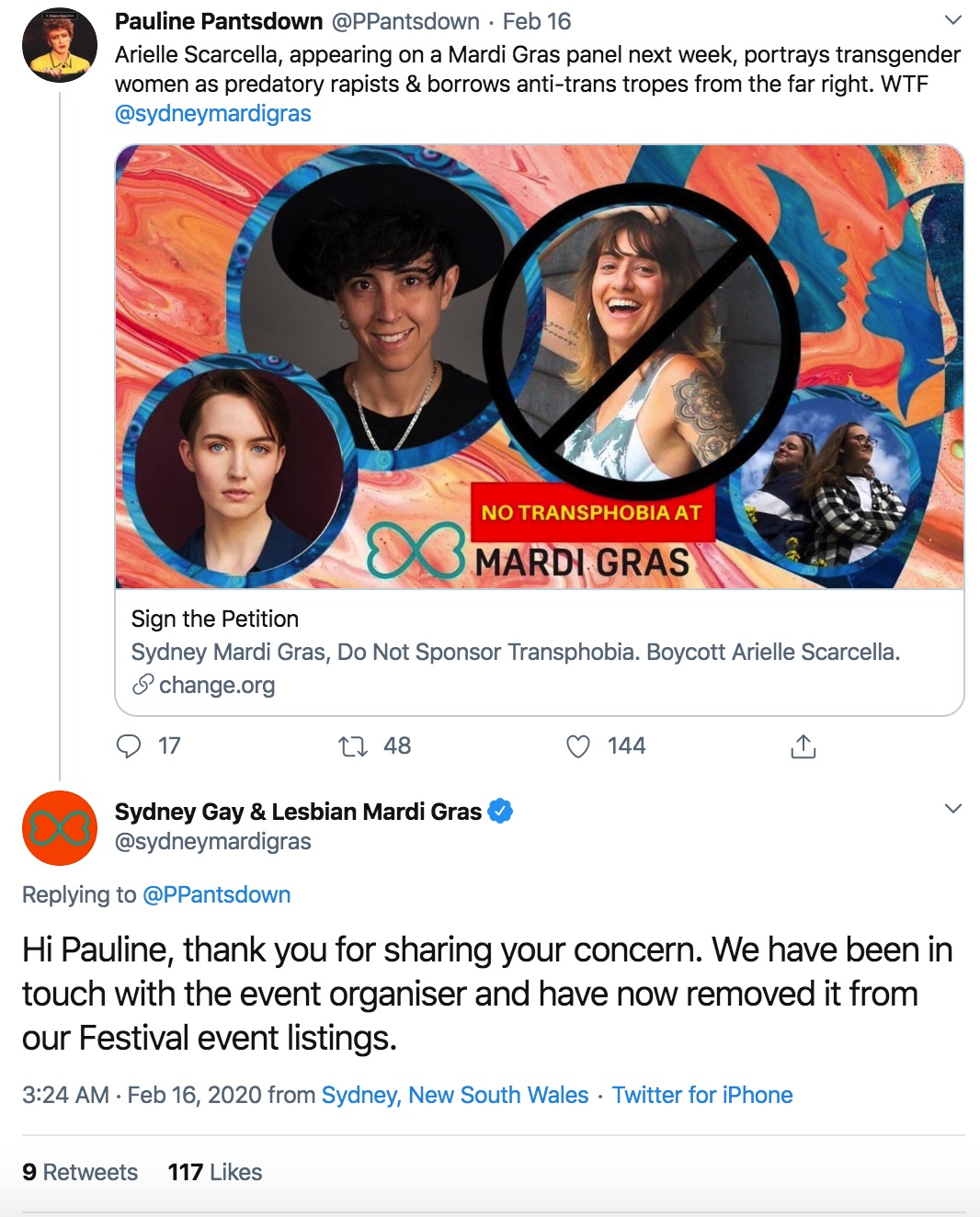 Scarcella's reply revealed that the festival had only one women/lesbian focused event, which was now being taken down "because a bunch of cry babies complained that they don't like a woman's (my) opinion?"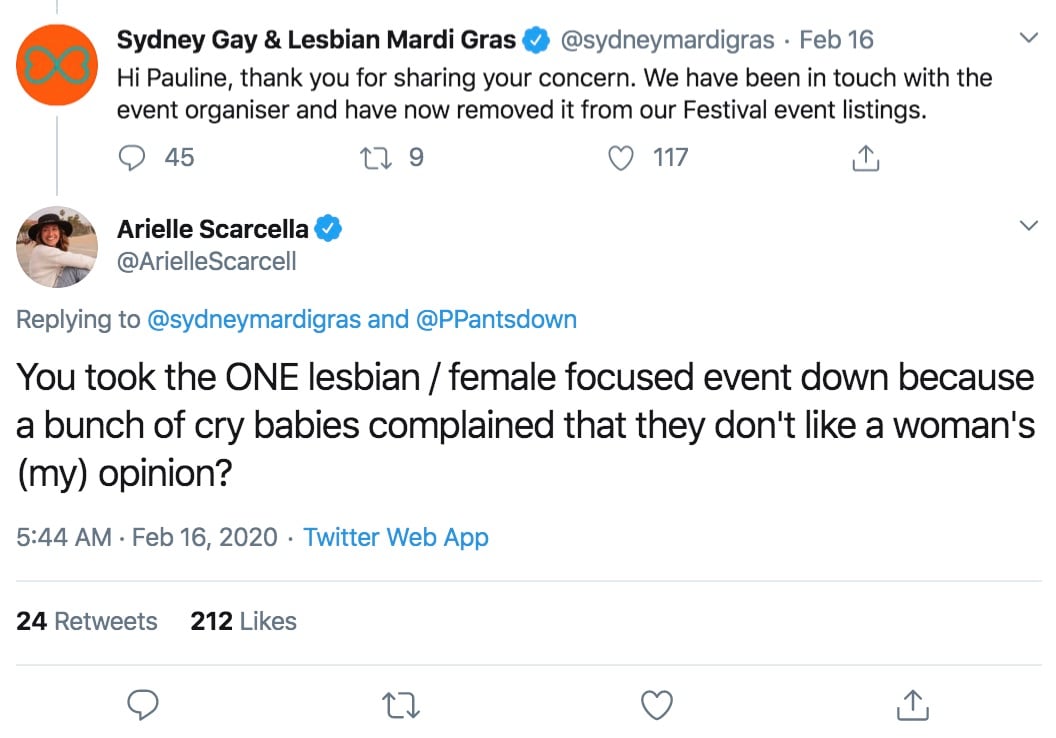 From the reactions on YouTube and Twitter it transpires that the accusation of Scarcella being transphobic mainly stems from her referencing cases of male prisoners who chose to identify as women and then be transferred to women's prison – where some would go on to assault women.
This is apparently taken as a blanket criticism of all trans women, based on those grounds.
Meanwhile, over on Change.org, the organizer of the petition to remove Scarcella from the panel she was scheduled to appear in is celebrating "victory."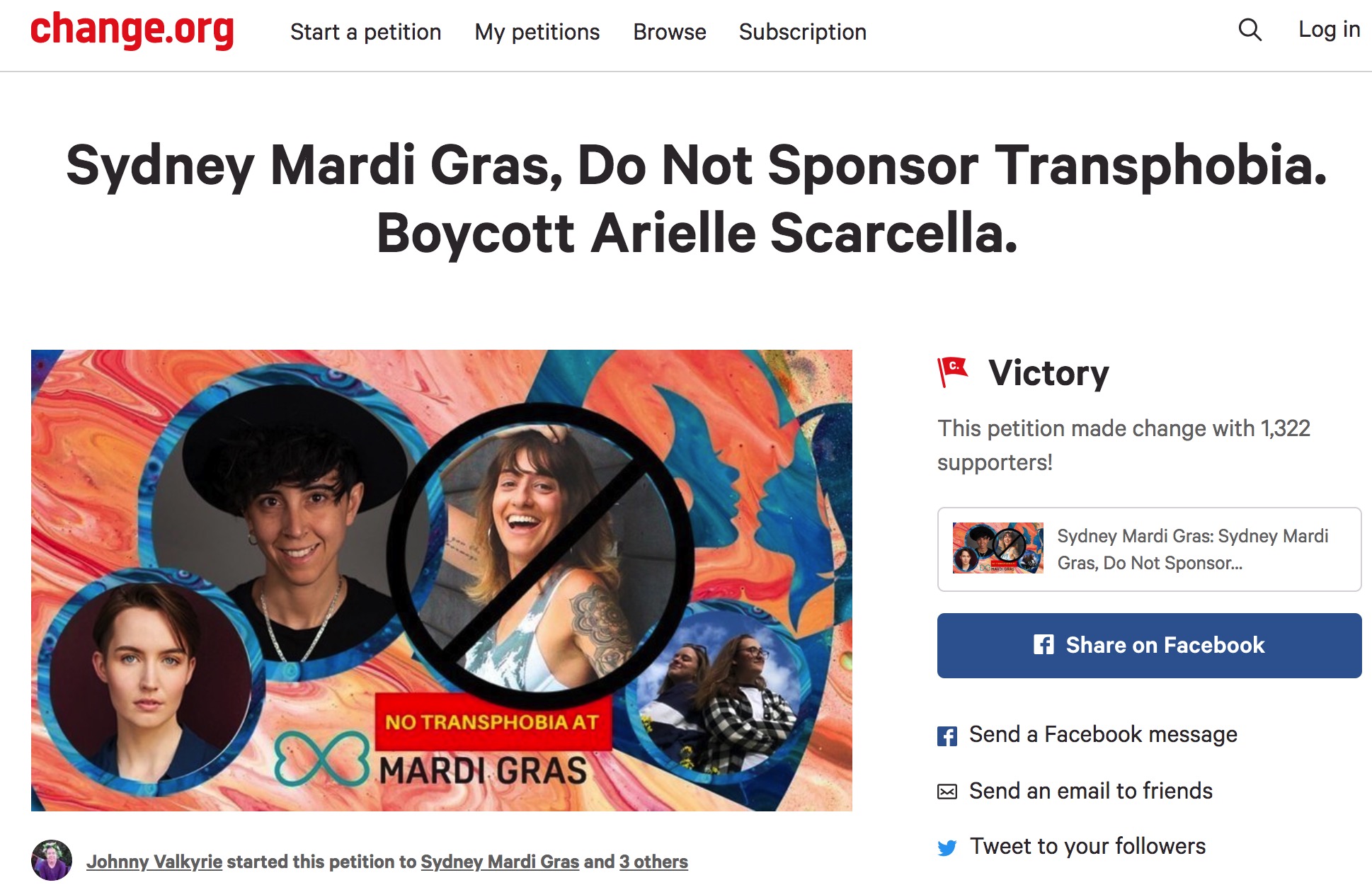 The idea of tolerating differences (which should include different points of view) took a turn for some dark, cancel-culture overtones here, as the person who organized the petition said, "We deplatformed, unsponsored and disaffiliated transphobia at Sydney Mardi Gras 2020," throwing in the word "guilty" at one point – as if to amplify the aggressive tone.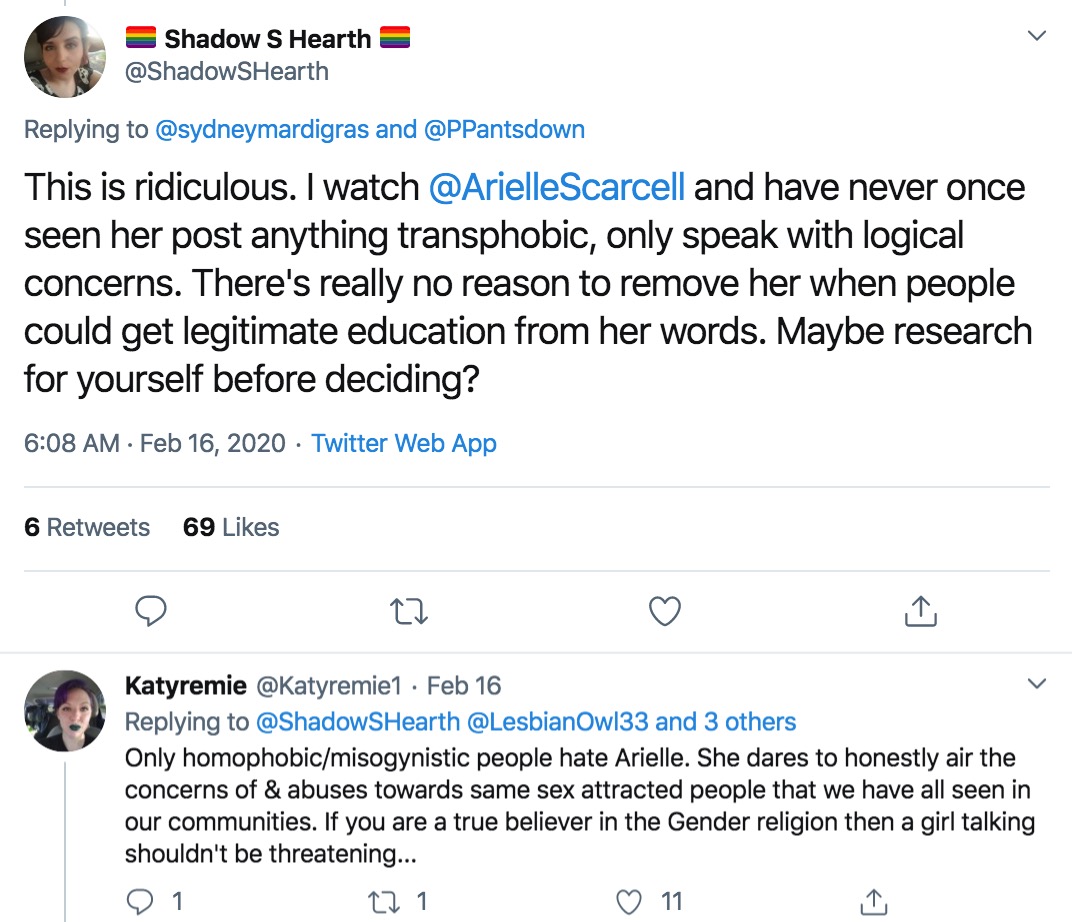 Among those who backed this type of deplatforming and refusal to hear out any argument that doesn't conform to the imposed norm was Tania Safi, described as "a queer lady icon of Buzzfeed" – who was also supposed to take part in the panel.
Ultimately, Scarcella has not been uninvited from the event, even though sponsorship has been pulled, and the event may continue at different venue.