Ever since the release of the first Grand Theft Auto (GTA) game in 1997, players have enjoyed modding titles from video game developer Rockstar Games and its parent company Take-Two Interactive.
The relationship between the modding community and these companies initially bloomed, with Rockstar Games allowing PC players to import edited skins for the main character when GTA 3 (2001) and GTA: Vice City (2003) were released. The developers of these games also embraced the community by providing knowledge and data to people who wanted to modify these games. With the release of GTA 4 in 2008, Rockstar Games even promoted and praised mods of the game on its website.
However, after the release of GTA 5 in 2008 and the subsequent huge commercial success of GTA: Online (2013), the once cozy relationship between these companies and the modding community changed, with players starting to question whether modding was still allowed.
Rockstar Games responded in 2015 by saying that the modding policy in its license hadn't changed since the release of GTA 4 but that updates to the game had unintentionally made certain single-player mods unplayable. The developer added that its "primary focus is on protecting GTA Online against modifications that could give players an unfair advantage, disrupt gameplay, or cause griefing."
A few months after Rockstar Games posted these comments, stories started to emerge about Take-Two Interactive going after GTA 5 modders by sending private investigators to their home and issuing cease and desist letters.
Following strong community pushback against Take-Two Interactive's targeting of the popular OpenIV GTA mod in 2017, Rockstar Games put out another public statement on modding which said: "After discussions with Take-Two, TakeTake-Two has agreed that it generally will not take legal action against third-party projects involving Rockstar's PC games that are single-player, non-commercial, and respect the intellectual property (IP) rights of third parties."
Now Take-Two Interactive is again being accused of hostile behavior towards the modding community, with the author of the highly-anticipated Red Dead Redemption Damned Enhancement Project mod, GamingDamned, claiming that the company illegally obtained non-public contact information and used it to harass him and his mom.
GamingDamned is a YouTuber and longtime member of the GTA and Red Dead Redemption modding communities. His Red Dead Redemption Damned Enhancement Project mod is a high definition mod of Red Dead Redemption which is meant to be used in-game on the PlayStation 3 RPCS3 and Xbox360 Xenia emulators. The mod provides various graphic upgrades for the game which include increased lighting, custom 4K textures, and more vibrant colors. It was originally scheduled to be released in December and the announcement trailer which was released last month generated over 96,000 views on YouTube.
When promoting and talking about the mod, GamingDamned has reiterated that "you must own the game or buy the game" to use the mod, that "multiplayer is not supported," and that the mod itself contains no game files – just mod assets.
SWEGTA, a YouTuber that primarily covers the Rockstar game Bully, also emphasized that the mod is purely visual during an interview with GamingDamned: "It's a visual mod, it's not something that grants you access to like, you know, weaponry, or items, or vehicles or something like that. This is purely aesthetic."
Regardless, Take-Two Interactive appears to have taken issue with this Red Dead Redemption Damned Enhancement Project mod. In a recent video posted to his YouTube channel, GamingDamned claims that the company illegally obtained private information which included his non-public email addresses, his real name, and his mom's private phone number. He also accuses Take-Two Interactive of using this private information to harass him and his mom.
GamingDamned's mom is featured in the video and describes her experience of Take-Two Interactive texting her on her private phone number and requesting a call about the Red Dead Redemption mod: "They had no right to contact me. It's my phone and they, they had no business sending me texts or anything. I had nothing to do with the project and it's not right."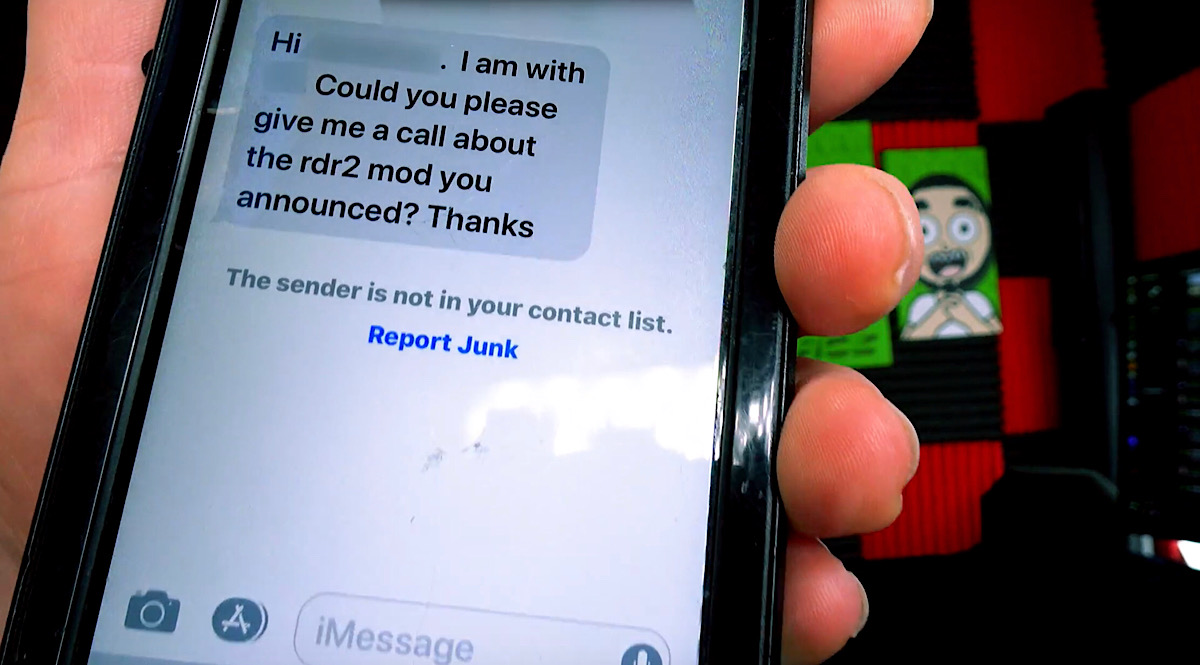 Additionally, GamingDamned shows other redacted communications showing what appears to be a Take-Two Interactive representative asking for a call about the Red Dead Redemption mod.

GamingDamned says that when he contacted the lawyer representing Take-Two Interactive, they refused to hear him out and threatened legal action if he didn't shut down his project: "This lawyer did not want to give me any answers. I asked on what grounds and they didn't want to give me no details. The lawyers acted as if I was stupid."
"They were trying to hush me," he added. "They don't want me to talk about this. I'm not gonna do that. I'm not that type of person. I'm going to talk about it."
GamingDamned argues that his mod is compliant with Take-Two Interactive's End-User License Agreement (EULA) and says that he's committed to challenging the company's attempts to shut him down. "I believe that everybody should be allowed to modify the game that they own. You're not breaking any rules," he said.
For now, the Red Dead Redemption Damned Enhancement Project mod is on hold. GamingDamned says that he hopes to be able to talk to someone at Take-Two Interactive, sort it out, and move forward with the project:
"The lawyer is still working on the case right now. We got like four possible angles, maybe more, right now. It may take a couple of weeks, could take months to compile the case and then we're going to contact the lawyer that contacted me and then if that person does not want to comply then we're going to talk to somebody higher up at Take-Two. That's pretty much our steps at the moment."
If he's unsuccessful with this case, GamingDamned says he will work on modding either Red Dead Redemption 2 or Max Payne 3.
GamingDamned blames misleading articles that framed his game as an official "remaster" or "rerelease" instead of a fan-made modding project for attracting the legal threats from Take-Two Interactive. He says that he requested clarifications or corrections on some of the articles but the outlets refused.
GamingDamned also believes that the representatives from Take-Two Interactive who made contact with him didn't fully research his project before reaching out: "In reality, they didn't really do their research well enough to understand that it's just, you know, just a mod and that it's just a visual thing."
These claims from GamingDamned comes just a few months after Take-Two Interactive sent private investigators to the house of YouTuber and Borderlands 3 superfan Supmatto after he reported on leaked information from the game that was available on the internet. Take-Two Interactive then appeared to get his YouTube channel shut down by issuing strikes against his channel.
https://youtu.be/O0SXmZTIwcE