Alexi McCammond, who was named the new editor-in-chief for Teen Vogue, is facing backlash after her teenage anti-Asian tweets resurfaced. Critics claim Teen Vogue should not hire her considering the increase in violence against Asian-Americans.
McCammond was most recently an NBC News contributor and reporter for Axios who was accused of ethics violations after striking up an undisclosed relationship with a White House aide to President Biden.
But it wasn't her questionable ethics that Teen Vogue staff have pushed back against after she was announced as the new editor-in-chief. It was offensive tweets she made as a teenager.
The scandal began through an unrelated quarrel between McCammond and Charles Barkley, the sports analyst who covers the NBA, in 2019. Twitter users dug through McCammond's social media accounts hoping to find something to use against her. Well, they found what they were looking for in anti-Asian remarks she made in 2011.
The tweets towards Asians were deleted in 2019. However, Crossing Broad, a Philadelphia based sports blog, had taken screenshots of the tweets.
In November 2019, McCammond apologized for the tweets. She wrote: "Today I was reminded of some past insensitive tweets, and I am deeply sorry to anyone I offended. I have since deleted those tweets as they do not reflect my views or who I am today."
In September 2011, McCammond wrote, "now googling how to not wake up with swollen, asian eyes…" A month later she called her asian TA "stupid" for giving her "a 2/10 on my chem problem" without explaining what she did wrong. In November, she wrote, "Outdone by Asian #whatsnew."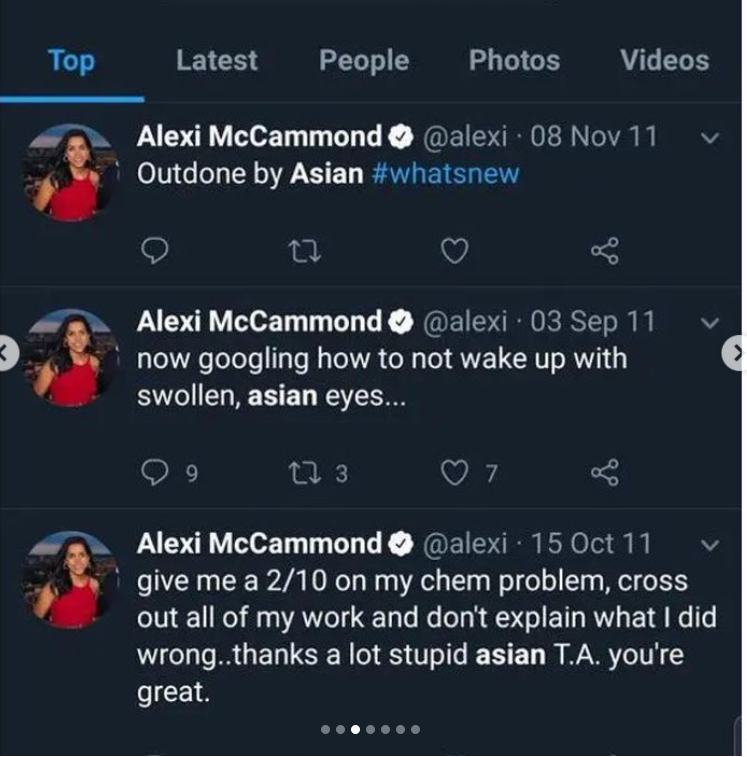 Following an announcement on Friday that she would be the new editor-in-chief for Teen Vogue, the tweets resurfaced.
"You cannot have an editor-in-chief with a history of racist tweets. Especially right now when we're finally understanding that anti-racism can and should include Asian-Americans," Diana Tsui, a former editor for the New York Magazine, posted on Instagram Stories.
On her main Instagram feed, Tsui further criticized Teen Vogue for the hire.
"Teen Vogue has positioned itself as a champion of inclusiveness and empowerment. Is this truly a leader who also embodies these beliefs? Would a leader preemptively acknowledge the hurt caused by past actions with a future plan of actions or would a leader just ignore it and hope no one does a Google search?" Tsui wrote.