To help creators monetize their content, some content creators started using third-party payment bots to sell access to individual posts in their Telegram channels.
However, Telegram CEO Pavel Durov said that the feature is no longer available on iOS devices because of a complaint from Apple.
Apple wants a cut of the revenue.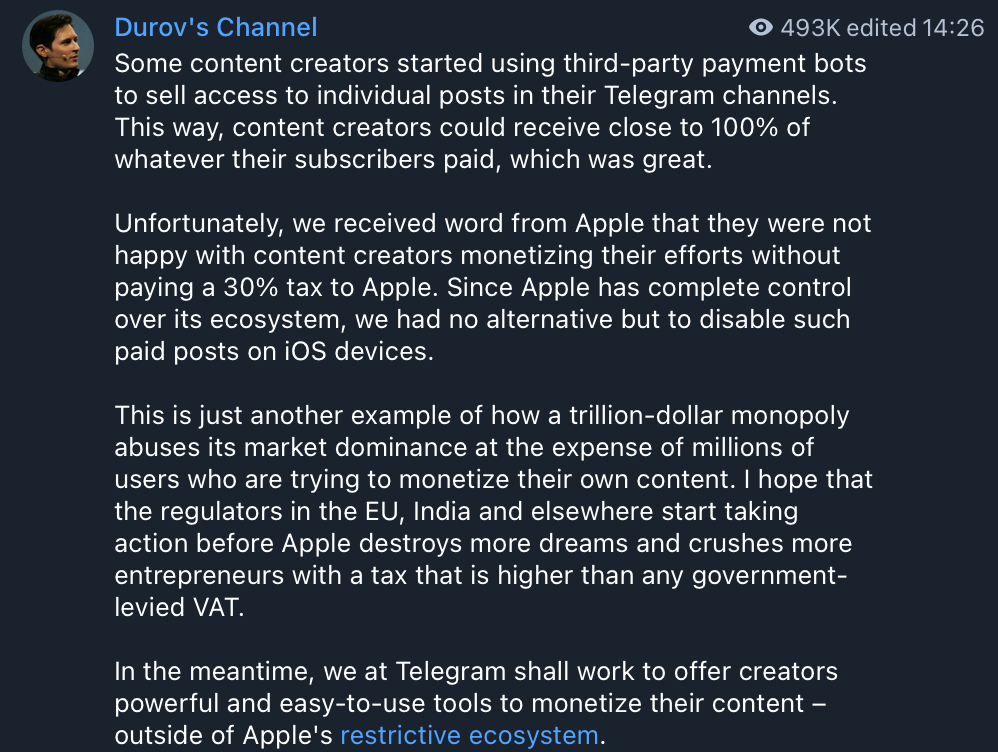 Creators were receiving the full amount paid by their subscribers.
"Unfortunately, we received word from Apple that they were not happy with content creators monetizing their efforts without paying a 30 percent tax to Apple," Durov wrote. "Since Apple has complete control over its ecosystem, we had no alternative but to disable such paid posts on iOS devices."
Apple demands up to a 30% commission on all app and in-app purchases. Developers have long criticized Apple for not allowing payments through third-parties. The iPhone maker was sued by Fortnite developer Epic Games, when it banned the app for providing users with alternative payment options.
Durov described Apple as a monopoly that "abuses its market dominance at the expense of millions of users who are trying to monetize their own content." He added that he hopes regulators do something "before Apple destroys more dreams and crushes entrepreneurs."
Durov said that his team was looking into ways to offer creators the paid post feature on iOS "outside of Apple's restrictive ecosystem."