Andrew Spinks, the founder of Re-Logic which is the studio that created the popular sandbox game Terraria, has canceled the Google Stadia version of the game after Google locked his account without explanation and prevented him from accessing mobile apps that he'd paid for, his Google Drive data, and his Gmail address that he'd been using for more than 15 years.
Google's game streaming service Stadia has been met with a mixed response from fans and enthusiasm among some of its users has started to wane. With over 30 million sales, Terraria is one of the best selling games of all time and would likely have been a valuable addition to the Stadia platform.
Yet even as the founder of the company that could have brought this popular game to Stadia, Spinks wasn't immune from Google's unexplained account restrictions.
In a tweet thread, Spinks wrote that he had not done anything to violate Google's terms of service but his account was disabled over three weeks ago.
"I still have no idea why, and after using every resource I have to get this resolved you have done nothing but given me the runaround," Spinks added.
Spinks noted that Google's restrictions on his account had resulted in him losing access to thousands of dollars of Google Play apps, all of his Google Drive data, his YouTube channel, and his Gmail account and email address that he'd been using for over 15 years.
"I can take this no other way than you deciding to burn this bridge," Spinks wrote. "Consider it burned. #Terraria for @GoogleStadia is canceled. My company will no longer support any of your platforms moving forward. I will not be involved with a corporation that values their customers and partners so little. Doing business with you is a liability."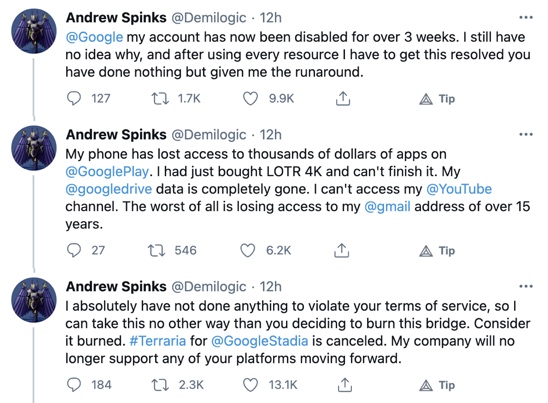 Google appears to have placed restrictions on Spinks' account around the same time that Re-Logic was locked out of its YouTube and Gmail account. Re-Logic made this public in a January 27 tweet and wrote that it had already been locked of the accounts for 10 days without explanation.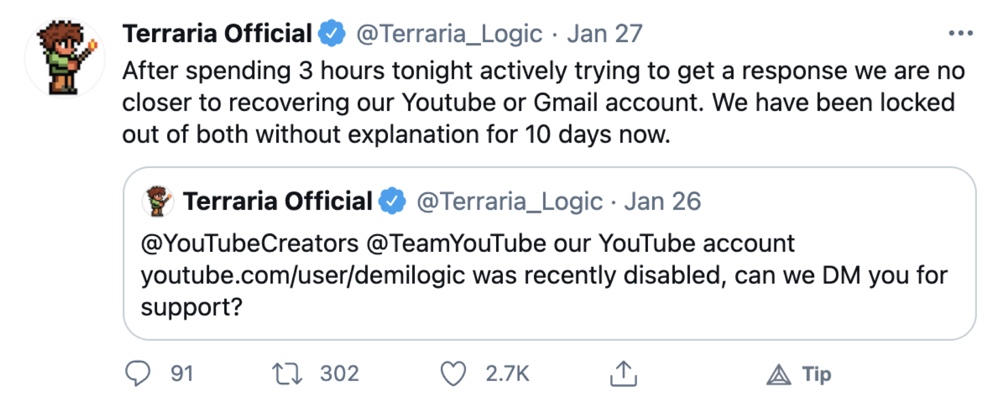 While most stories of Google account suspensions involve users losing access to their YouTube channels, Spinks' story is a reminder that Google can also block users' access to their data, their apps, their contacts, and their emails.
Other examples of Google exercising this power include the tech giant removing a user's personal copy of Judy Mikovits' Plandemic documentary from Google Drive and censoring a Google doc of a medical hydroxychloroquine coronavirus treatment trial paper last year.