If you asked the American Booksellers Association (ABA) what it is, the answer is that it's a non profit trade group whose task is to help independently owned bookstores, whose advocacy efforts support free expression causes.
Yet this claim is put to the test now that the organization has joined an ongoing outrage campaign to "cancel" Abigail Shrier's book "Irreversible Damage: The Transgender Craze Seducing Our Daughters."
In a tweet posted on July 14, ABA denounces the book as "anti-trans" and apologizes to its trans members and the trans and wider "LGBTQIA+" and bookselling communities for including "Irreversible Damage" in the July "white box" mailing that was sent to some 750 bookstores.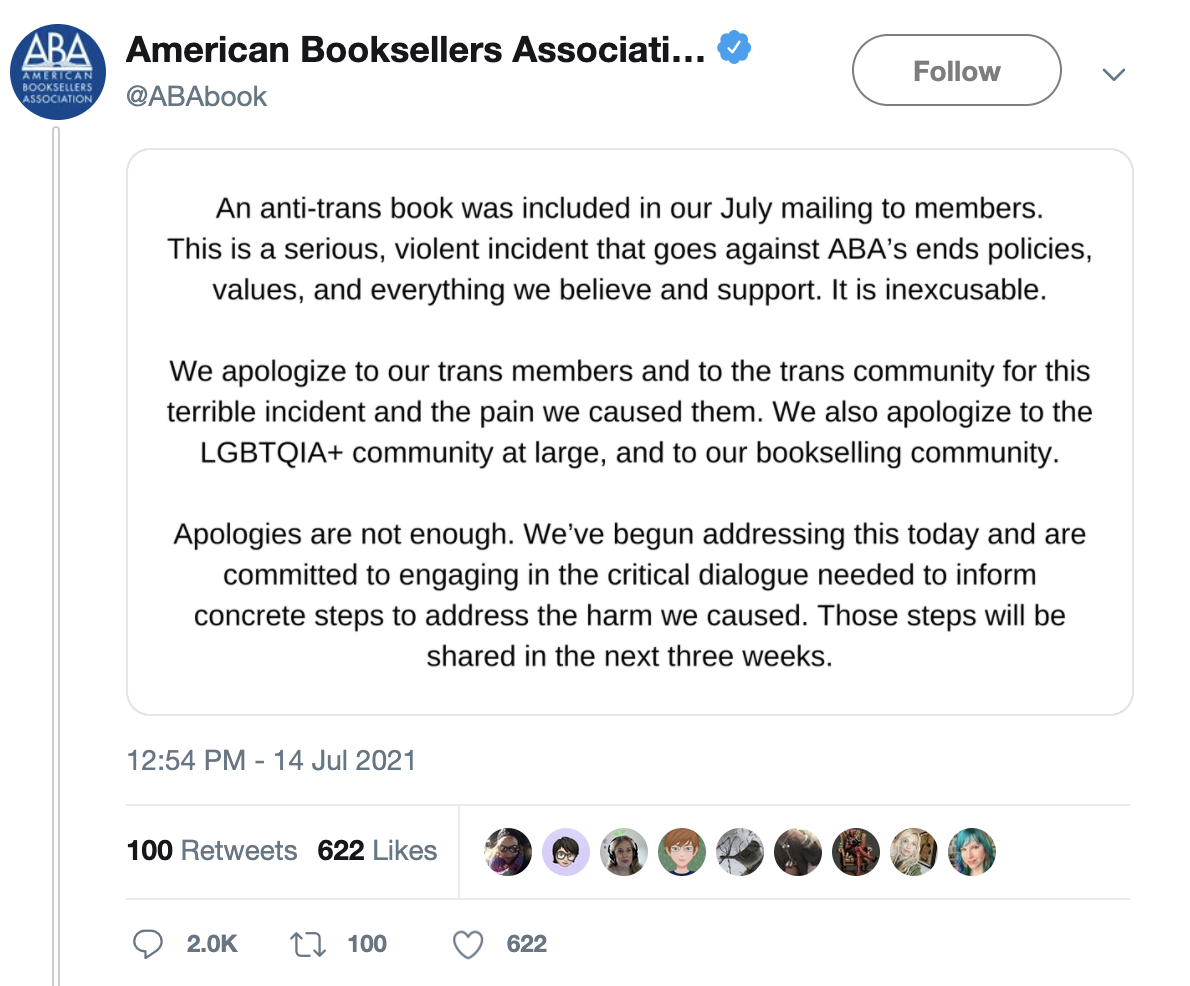 The language used in the tweet comes across as nothing short of over-the-top dramatic: the inclusion of the book in the list is described as a "serious, violent, inexcusable (…) terrible incident." ABA also anticipates that the title showing up in the mailing will have caused trans people "pain" and apologizes for that as well – only to conclude that "apologies are not enough."
ABA declare themselves as an entity that "caused harm" but that is committed to engaging in dialogue to address that and taking concrete steps that should be announced as soon as in three weeks' time.
That the apology was indeed not enough was clear from another statement issued by ABA CEO Allison Hill. "We traumatized and endangered members of the trans community," Hill writes to booksellers, adding, "We erased Black authors, conflated Black authors, and put the authors in danger through a forced association."
The latter reference concerns a previous inclusion of a wrong book cover for the book "Blackout" – instead of the original. ABA appears to have used the cover from a Candace Owens book, who is described as "a Black right-wing extremist."
The society at large is now no doubt waiting with bated breath to see how ABA will reconcile its strongly held, and expressed in very strong language, position not to allow books exploring the topic of transgenderism from any angle except that which is endorsing – with its declared commitment to free expression.
Some insight into that is given in a statement from the ABA Board of Directors, who said, "We are not the ABA of two years ago. These actions are antithetical to the values we are working to promote in our organization under the strong leadership of our CEO, Allison Hill, and COO, Joy Dallanegra-Sanger. This is not acceptable behavior and goes against the bylaws changes instituted last year."