The latest Twitter Files revelations have shed light on the US government's "constant contact" with the platform, showing the push for censorship of accounts that were critical of aspects of war in Ukraine or the Covid-19 vaccine.
The latest release suggests Twitter executives struggled against government claims of foreign interference supposedly occurring on their platform.
"The #TwitterFiles show execs under constant pressure to validate theories of foreign influence – and unable to find evidence for key assertions," journalist Matt Taibbi wrote in the latest revelations.
"'Found no links to Russia,' says one analyst, but suggests he could 'brainstorm' to 'find a stronger connection.'"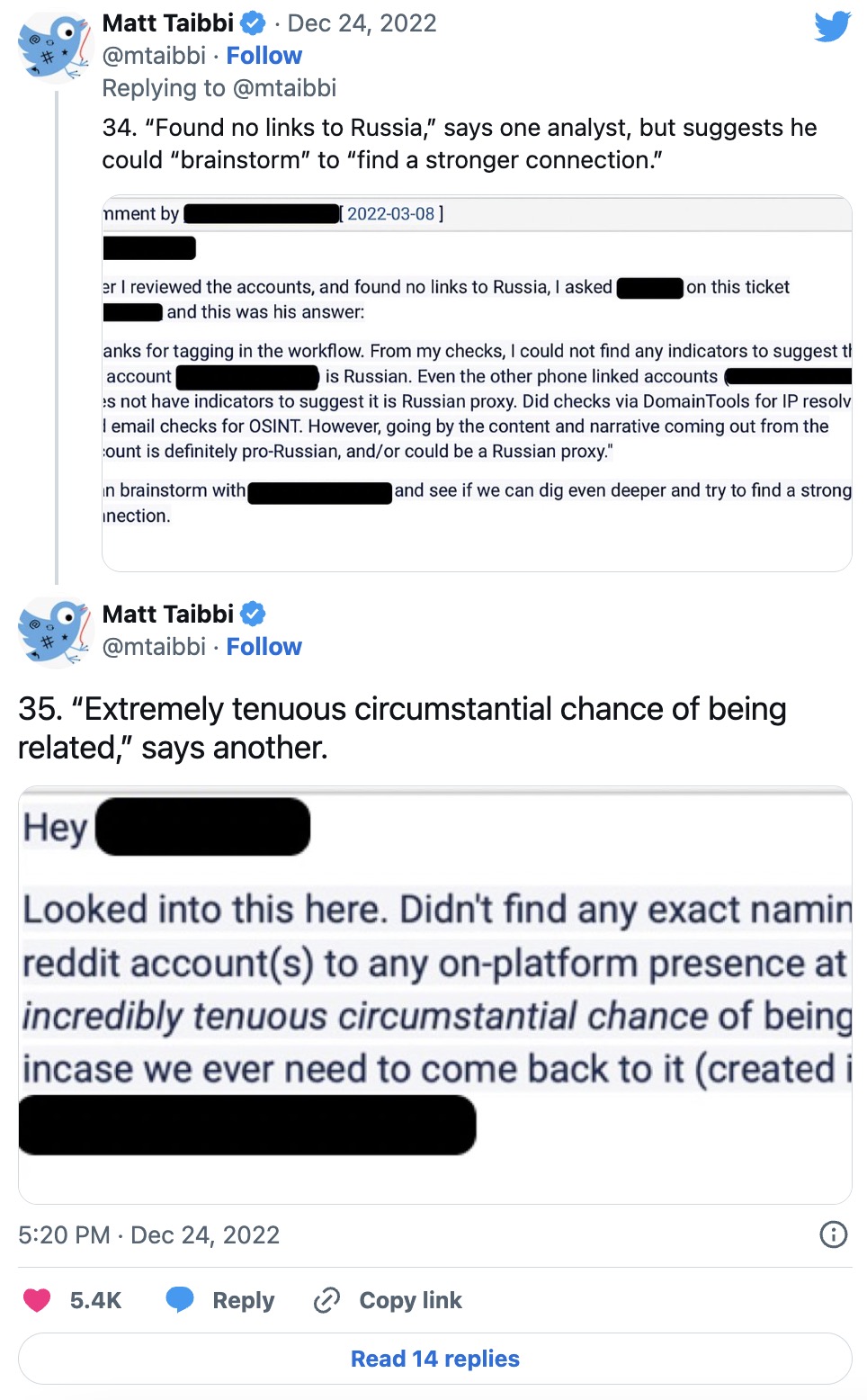 "'Extremely tenuous circumstantial chance of being related,' says another."
"'No real matches using the info,' says former Trust and Safety chief Yoel Roth in another case, noting some links were 'clearly Russian,' but another was a 'house rental in South Carolina?'"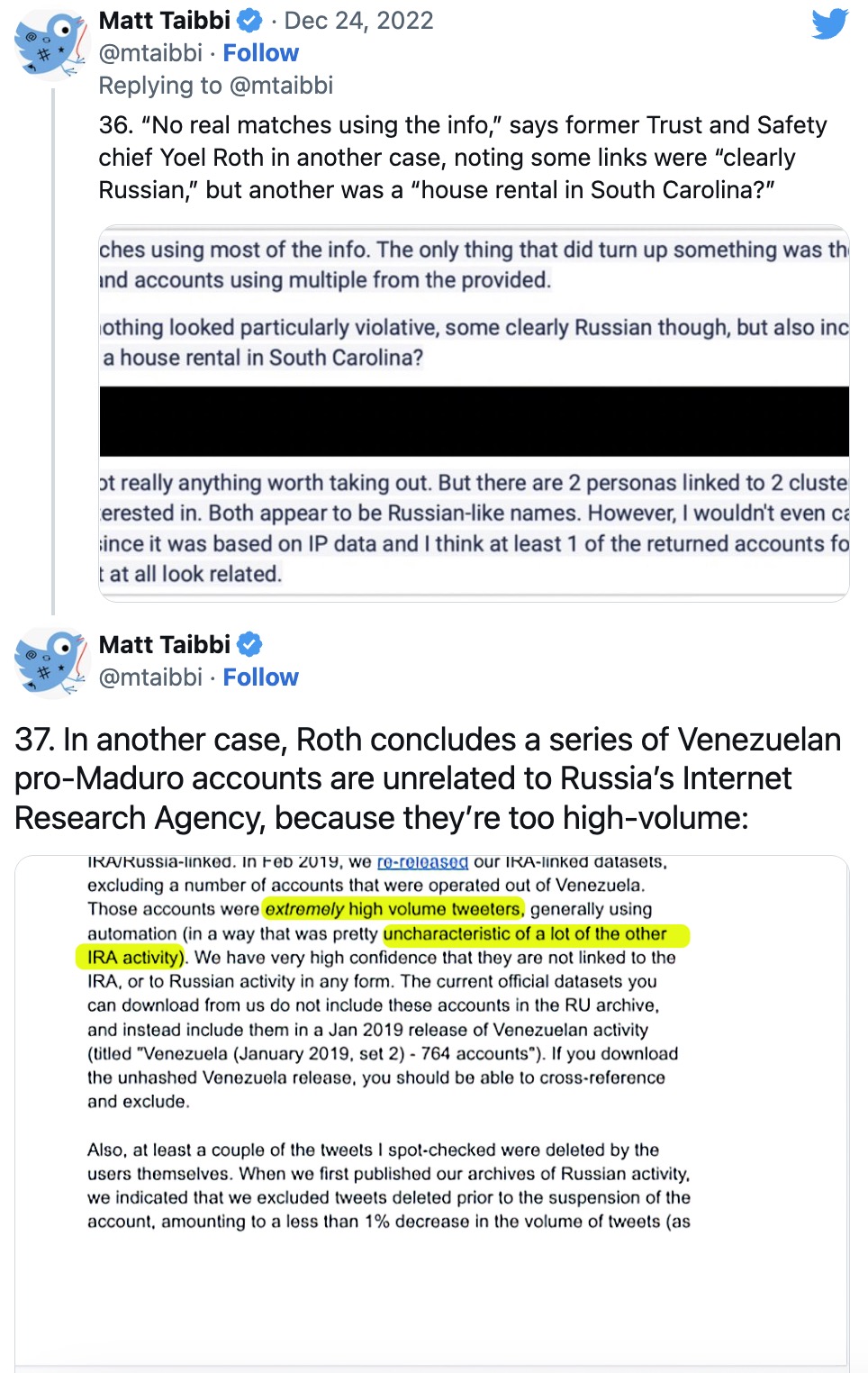 In another case, Roth concluded a series of Venezuelan pro-Maduro accounts were unrelated to Russia's Internet Research Agency because they're too high-volume, Taibbi reported.
The Venezuelans were "extremely high-volume tweeters… pretty uncharacteristic of a lot of the other IRA activity," Roth said.
"Due to a lack of technical evidence on our end, I've generally left it be, waiting for more evidence," Roth said. "Our window on that is closing, given that government partners are becoming more aggressive on attribution."
Taibbi reported that "'Other Government Agencies'" (for ex. the CIA) ended up sharing intelligence through the FBI and FITF not just with Twitter, but with Yahoo!, Twitch, Cloudflare, LinkedIn, even Wikimedia."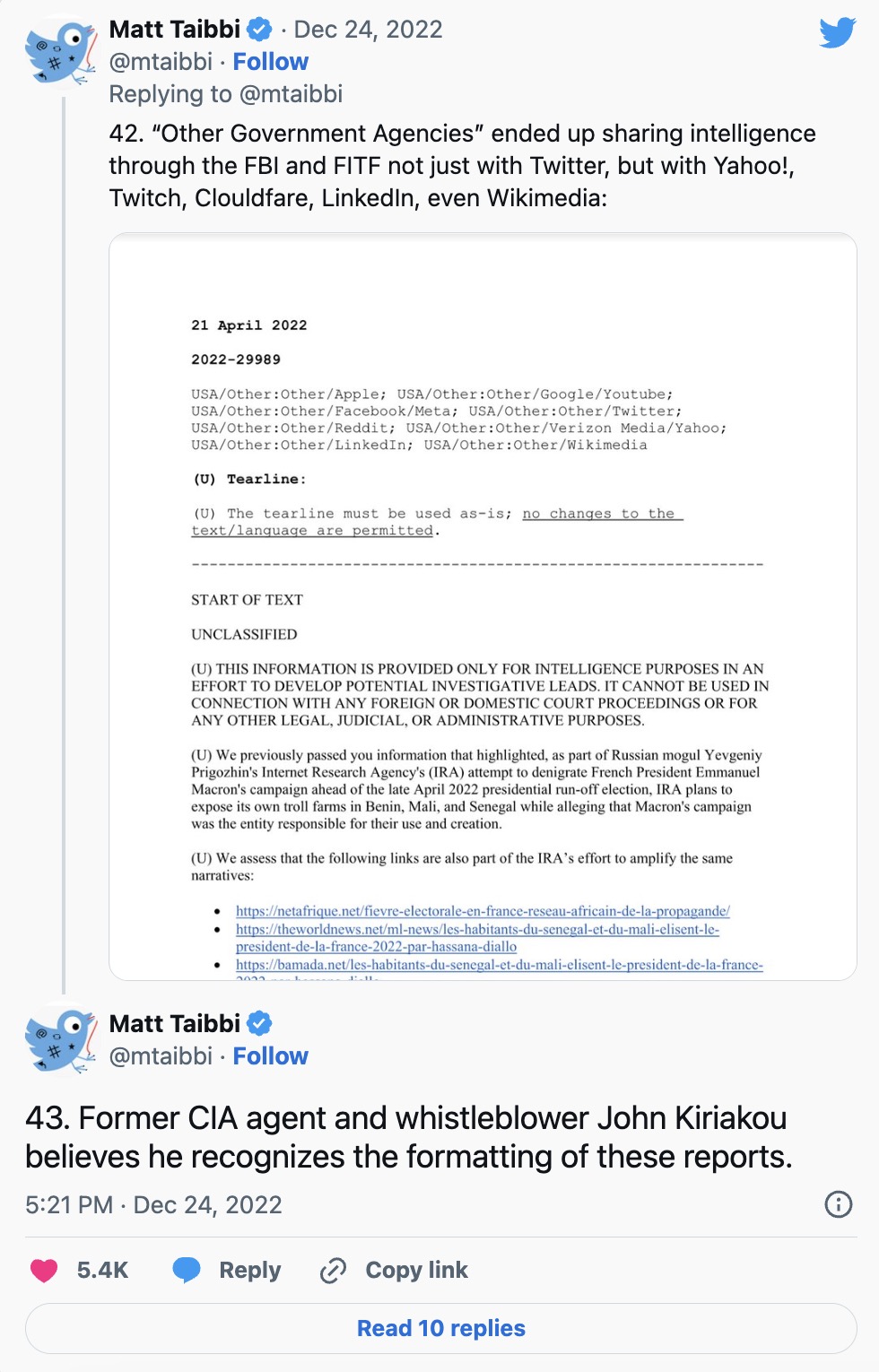 Former CIA agent and whistleblower John Kiriakou believed he recognized the formatting of these reports.
"Looks right on to me," Kiriakou said, noting that "what was cut off above [the 'tearline'] was the originating CIA office and all the copied offices."
Taibbi noted that "One intel report lists accounts tied to 'Ukraine 'neo-Nazi' Propaganda.' This includes assertions that Joe Biden helped orchestrate a coup in 2014 and 'put his son on the board of Burisma.'"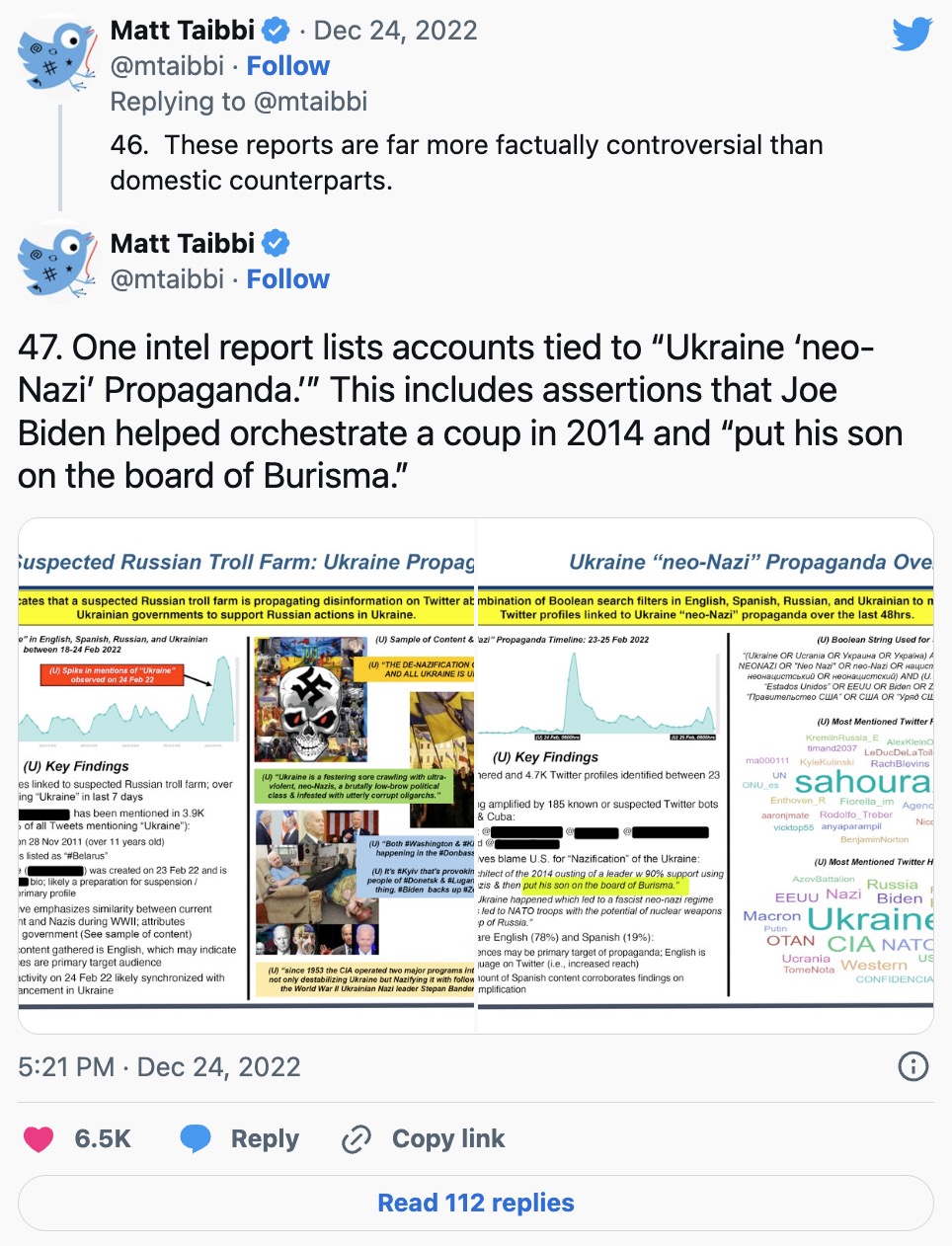 Taibbi added, "Another report asserts a list of accounts accusing the 'Biden administration' of 'corruption' in vaccine distribution are part of a Russian influence campaign."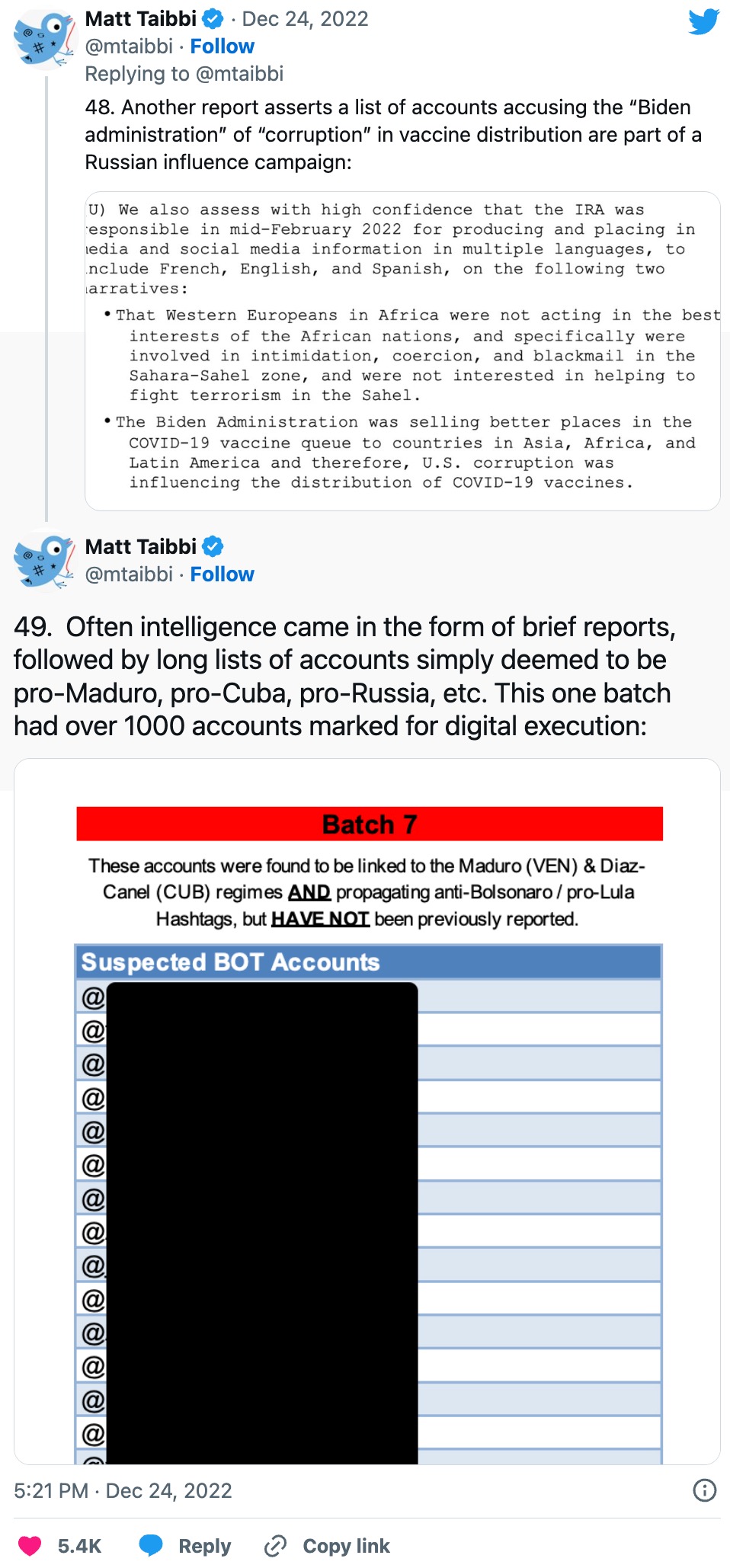 "Often intelligence came in the form of brief reports, followed by long lists of accounts simply deemed to be pro-Maduro, pro-Cuba, pro-Russia, etc. This one batch had over 1000 accounts marked for digital execution."
"One report says a site 'documenting purported rights abuses committed by Ukrainians' is directed by Russian agents," Taibbi added.
"Intel about the shady origin of these accounts might be true. But so might at least some of the information in them – about neo-Nazis, rights abuses in Donbas, even about our own government. Should we block such material?"
"Should the government be allowed to try to prevent Americans (and others) from seeing pro-Maduro or anti-Ukrainian accounts?" Taibbi questioned.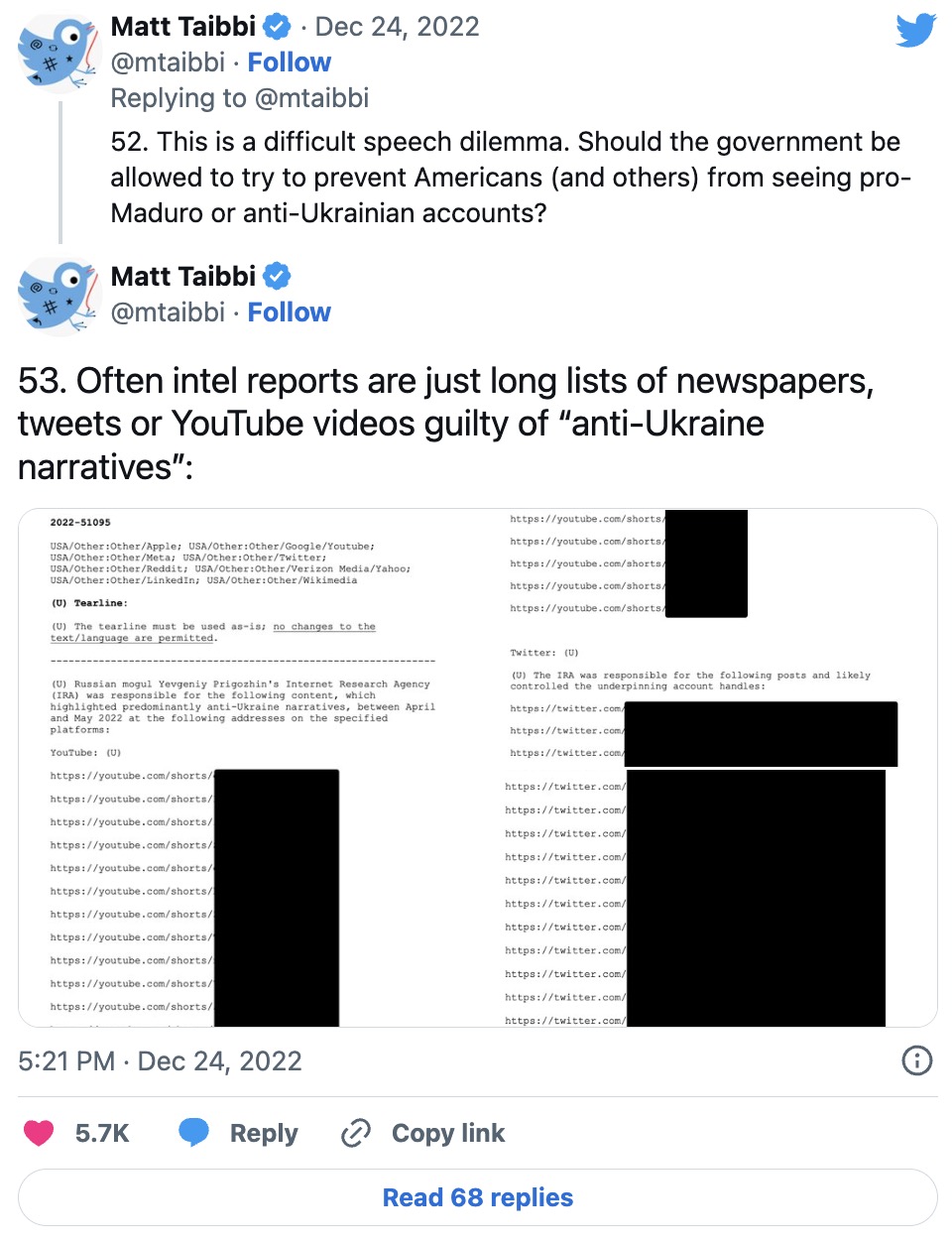 "Often intel reports are just long lists of newspapers, tweets or YouTube videos guilty of 'anti-Ukraine narratives.'"
"Sometimes – not always – Twitter and YouTube blocked the accounts. But now we know for sure what Roth meant by 'the Bureau (and by extension the IC),'" Taibbi added.
"The line between 'misinformation' and 'distorting propaganda' is thin. Are we comfortable with so many companies receiving so many reports from a 'more aggressive' government?"