Through Twitter, clothing company The North Face has said it would stop spending its money on Facebook and Instagram until the Zuckerberg-led company changes its policies and starts censoring more misinformation and hate speech.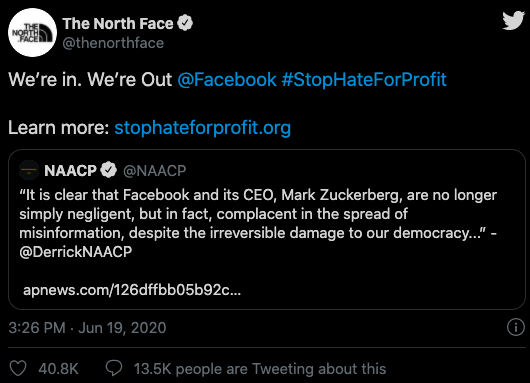 Given what it says is the inefficiency of Facebook to control hate and misinformation on the social network, clothing company The North Face launched an ultimatum in which it demands the platform start increasing its content moderation, or else the brand will stop buying advertisements on the platform.
The North Face gives Facebook 30 days to respond to its demands.
Additionally, the announcement was accompanied by a link to the Stop Hate for Profit campaign, which seeks to stop companies from buying advertising space on Facebook for at least the month of July since, according to them, the social network has used the money to incentivize hate policies.
Facebook and Google have a duopoly on the online advertising market and pulling ads from Facebook would greatly reduce The North Face's ability to market online.
According to the Stop Hate for Profit activist site, Facebook has fueled violence against protests in defense of black people in the United States by not removing hate posts.
The Stop Hate for Profit initiative is the work of six activist groups, including the NAACP and the Anti-Defamation League, and was launched this week to pressure brands to stop advertising on Facebook.
The North Face is one of the first major companies to publicly join the campaign. Now, the company affirms that it also intends to withdraw its ads on the social network's subsidiaries, such as Instagram.
It is currently estimated that 99% of Facebook's revenue comes from ads, which is approximately $69 billion.
Facebook has been heavily cracking down on content on the platform in recent months but has faced calls from the media, politicians such as Presidential Candidate Joe Biden, and from activist groups to do more.
Facebook's own employees have complained within the company that Facebook should have censored President Trump's statements.