It seems that the two tech firms have different views on data protection. Washington State has failed to enact the new data privacy regulations wanted by State Sen. Reuven Carlyle as the two main players involved, Microsoft and Amazon, failed to find common ground in time.
The intention of the bill would have been to empower Washington State's citizens with the ability to access and modify the data that is collected on them by tech companies. Furthermore, the bill aimed at better regulating the companies that are actively developing face recognition, as well as the law enforcement agencies interested in these technologies.
Surprisingly, the bill found an ally in Microsoft's president Brad Smith. According to Smith, the bill would have been the pillar of a global set of regulations: enforcing these laws on entities such as Microsoft and Amazon would have been an example to follow for the rest of the world.
Sen. Carlyle stated on a tweet: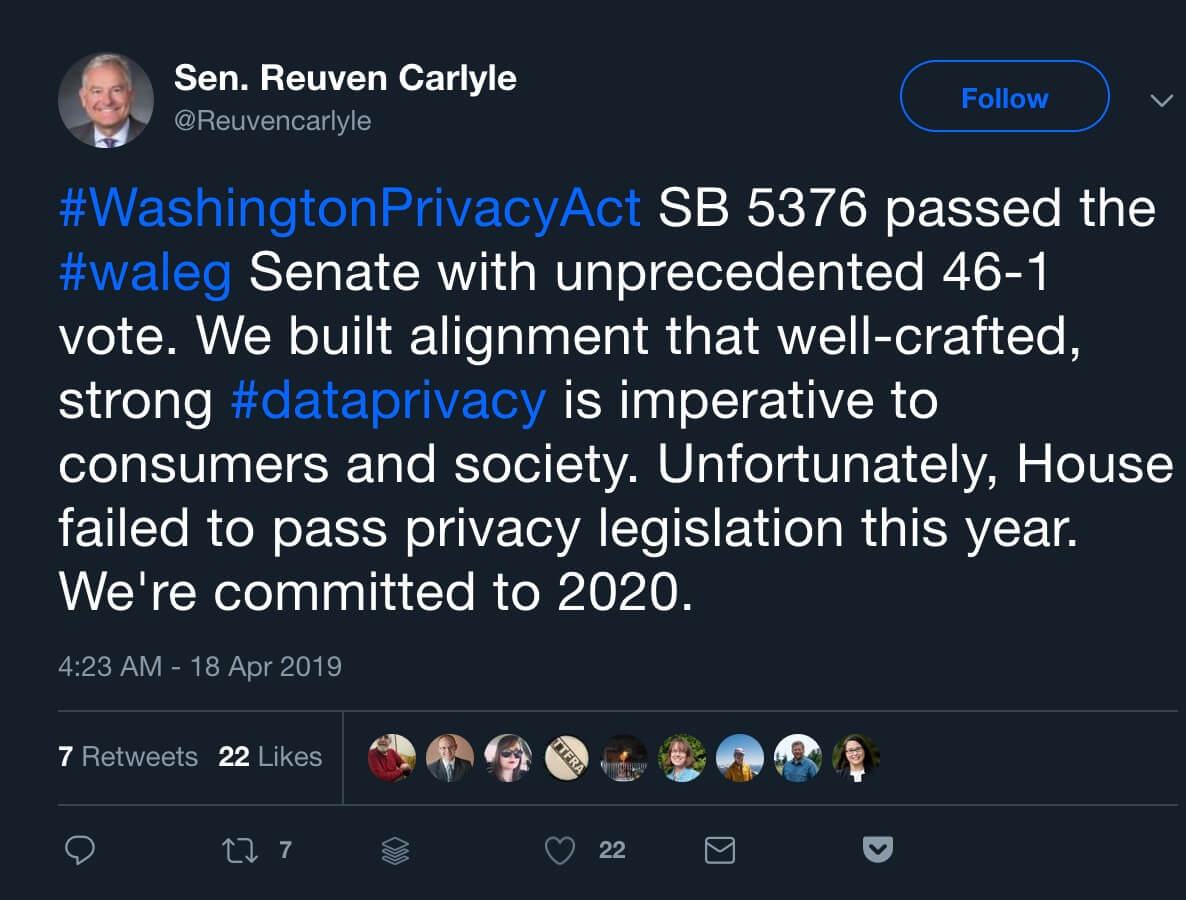 "#WashingtonPrivacyAct SB 5376 passed the #waleg Senate with unprecedented 46-1 vote. We built alignment that well-crafted, strong #dataprivacy is imperative to consumers and society. Unfortunately, House failed to pass privacy legislation this year. We're committed to 2020."
According to Carlyle and other supporters, the bill would be a significant step forward for the Washingtonians as data acquisition and privacy are some of the most controversial and hard to face challenges in tech politics.
According to the critics instead, this is just another example of week legislation and collusion with the Tech firms that, as we became used to expect, have a strong influence and strong interest in participating to the crafting of these rules.
As expressed by Shankar Narayan of Washington's ACLU (American Civil Liberties Union): "Microsoft and other tech companies have had, undoubtedly, an outsized influence on this conversation," said Narayan during a tense debate with Sen. Carlyle.
After clearing the Senate with 46 to 1 votes, the bill seemed likely to advance although once it reached the House it got stack and had to be stripped down of almost everything apart from the title.
Once again data protection related legislation proves to be an extremely important, at the same time extremely complex topic.