After Netflix produced and released an adaptation of the novel and role-player game The Witcher, CD Projekt's The Witcher 3 game has seen an unprecedented playership across Steam. Based on the latest data, it was reported that the Witcher 3 has now hit the all-time concurrent player record on Steam.
"New player record for @witchergame on @Steam, over 4 years after the release! <3," wrote Marcin Momot, community manager for CD Projekt.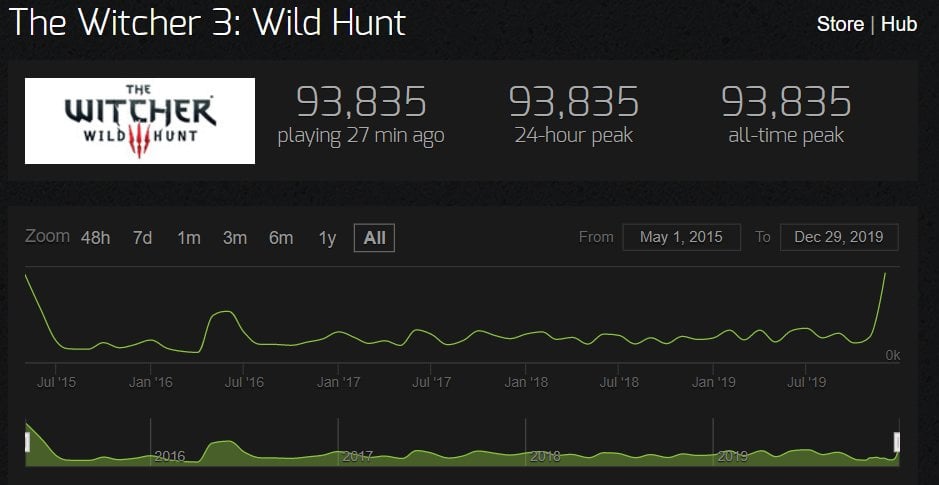 Originally based on a novel by the Polish author Andrzej Sapkowski, The Witcher was initially adapted into a video game that received positive critical acclaim. With Netflix making a series featuring Henry Cavill and others, the game saw a sudden surge of playership. Several fans of the game tweeted about how the series made them nostalgic about the game, resulting in them playing it all over again.
"this is insane, especially for a singleplayer game that hasn't been updated in 3 years. So glad that the show is bringing new people to this game. Very much deserved," tweeted a user.
The Witcher 3 has hit another all-time record of 102,000 people playing the game on Steam simultaneously, as reported by the Steam Charts data.
With the show's hit status granting it a renewal for a second season set to release in 2021, the franchise effect is fleshing out. What's more, several fans have also drawn attention to how some in the mainstream media was treating the launch of the show.
READ: Entertainment Weekly slammed for giving Netflix's The Witcher 0/100 after admitting to skipping episodes
"Nice, I credit the Netflix site for this Spike. And the main stream media announces the show being a huge failure. The disconnect is real," tweeted a user.
According to the latest sources, it is now confirmed that the CD Projekt has signed a new deal with The Witcher author to create a "framework for the future cooperation between the two."
Owing to the sudden surge in popularity, the game has now gone on sale and is also now included in the Xbox Game Pass.