Satirical news website The Babylon Bee has been suspended from TikTok, the Chinese-American video platform.
"We got perma banned. They did not say why," Editor in Chief Kyle Mann said on Twitter, in response to a user who asked about the censorship.

"the babylon bee got banned on tiktok without being given a reason and with no option to appeal. welcome to big tech in 2022," said MK, The Babylon Bee's social and video creator.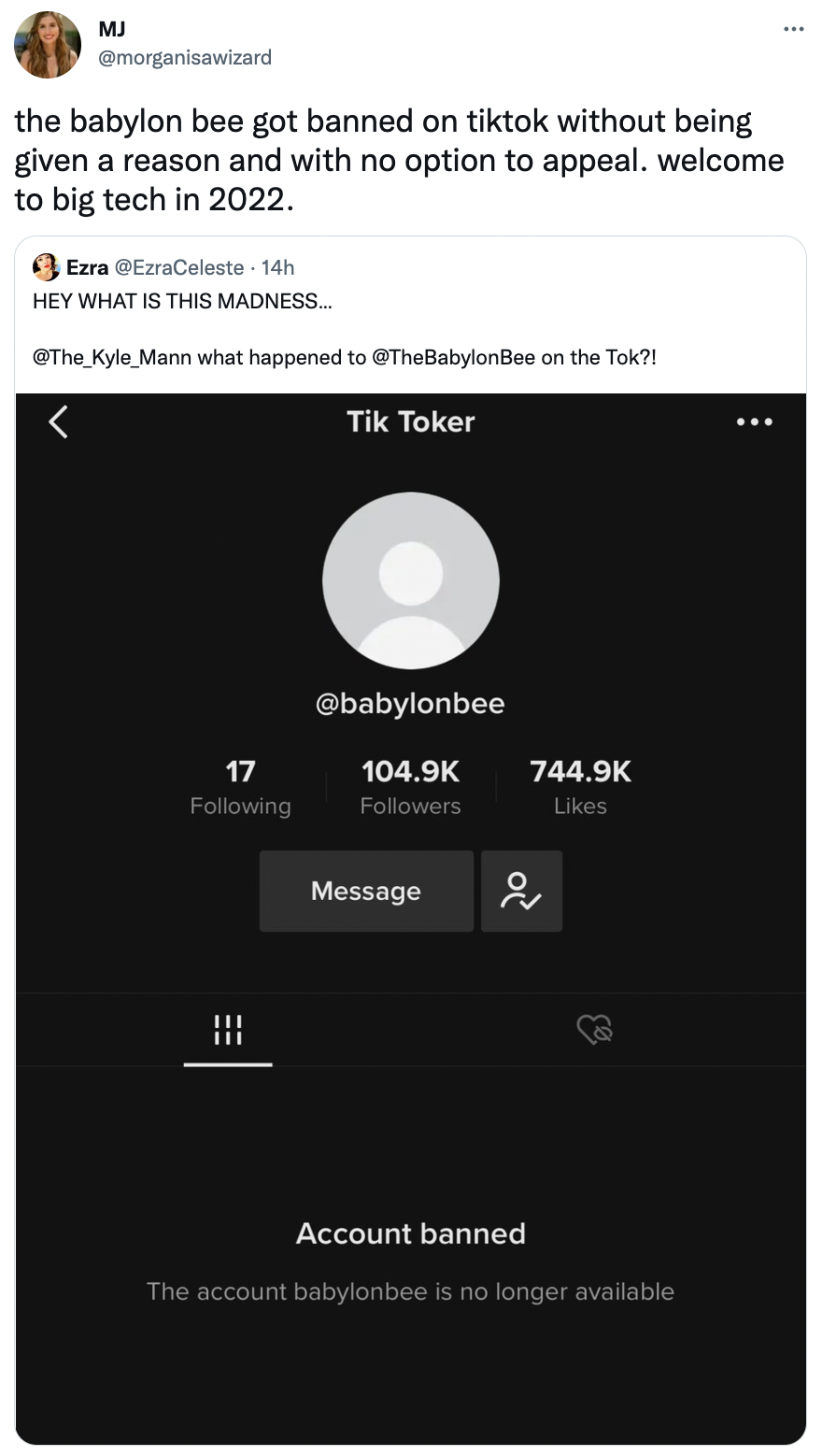 The popular site has also been censored on Facebook this week.
The Babylon Bee is already locked out of Twitter after refusing to delete a satirical news article that announced the awarding of the title "man of the year" to Assistant Secretary for Health Rachel Levine, a biological man who identifies as a transgender woman.
The article attached in the tweet said Levine "serves proudly as the first man in that position to dress like a western cultural stereotype of a woman. He is also an admiral in the US Public Health Service Commissioned Corps. What a boss!"
"He often wears a dress, which some people think is weird — but he doesn't care one bit," the article continues. "Come on! Men in India wear dress-type garments, don't they?"
The Babylon Bee's CEO Seth Dillon announced the suspension from his personal account.
He posted a screenshot of the notice received from Twitter, which said the account was suspended for violating the platform's policy on hateful conduct, which states: "You may not promote violence against, threaten, or harass other people on the basis of race, ethnicity, national origin, sexual orientation, gender, gender identity, religious affiliation, age, disability, or serious disease."
For the account to be restored, the tweet has to be deleted. But Dillon said he had no intention of deleting the tweet and the account is still locked months later.