Ronnie Radke, lead vocalist of the band Falling In Reverse, is no stranger to the spotlight or, indeed, to controversy. He recently found himself at the crux of a new storm after being banned from TikTok due to his views on gender identity. Radke has never shied away from expressing his viewpoint, even amidst backlash, bringing his personal battle for free speech into the public eye yet again.
Radke, known for his sharp and forthright commentary, made headlines by openly discussing his perspective on the ongoing discourse around the rights of biological women and trans issues.
Over a series of X posts, he rebutted accusations of bigotry, womanizing, and abuse hurled at him, emphasizing that those who branded him such were conversely endorsing the notion that trans individuals can experience menstruation.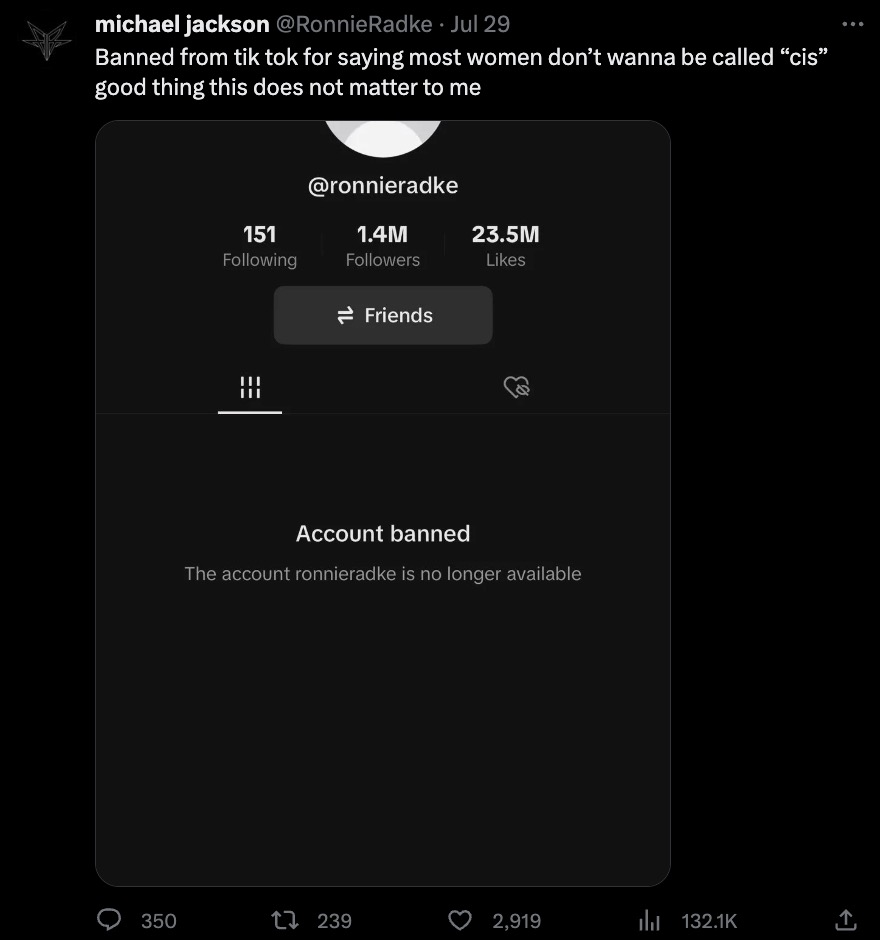 He amplified his argument by citing several examples, one of which was a post featuring Dylan Mulvaney, a trans influencer and a Tampax tampon spokesperson. For Radke, such choices can be seen as virtually undermining the biological experiences unique to women.
Radke took to X, posting: "Imagine getting your tik tok deleted, or losing your job or alienated for saying that a trans woman can't have a period, you all have mothers and sisters and wives and girlfriends and know damn well the struggles of being a born women and the pain of endometriosis etc and have the audacity to try and silence or censor the reality. BULLSHIT"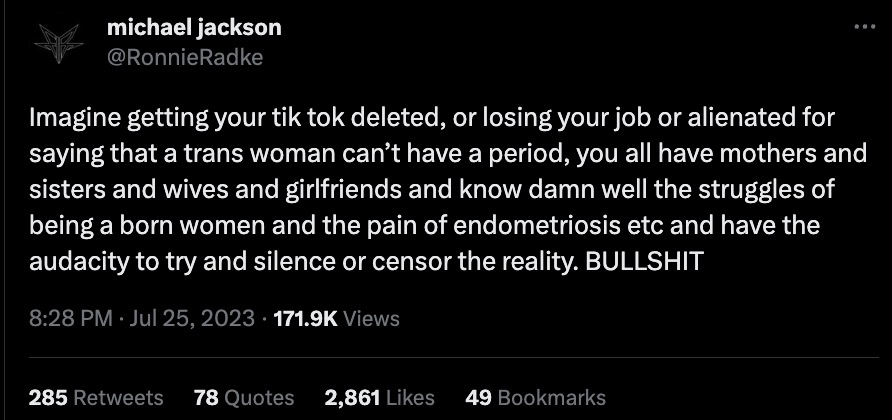 "The same people that call me a womanizer, abuser, and bigot are the same people that support the ideology that trans can have periods and support tampon companies making trans the spokesperson. It's extremely offensive to all women, to mock their biology. stop pretending this is okay."
Making an attempt to further illustrate the complexity of the gender identity issue, Radke paraphrased the concept, saying that if individuals could accept his self-identified race, they should reciprocate the same respect for those identifying as women.
However, his relentless attempts to voice his views on trans issues and women were met with harsh consequences when his TikTok account was removed. Despite the ban from the popular video-sharing platform, Radke seemed unfazed, indicating that it did not matter to him.