US rapper Bryson Gray's version of "Let's Go Brandon" has been deleted from popular video platform TikTok.
The track has already faced much censorship from platforms such as YouTube, even though it's the number one purchased track in the United States.
"Tik Tok just banned my "Let's Go Brandon" song from their platform," the rapper announced on Twitter. "No explanation. No email. No anything."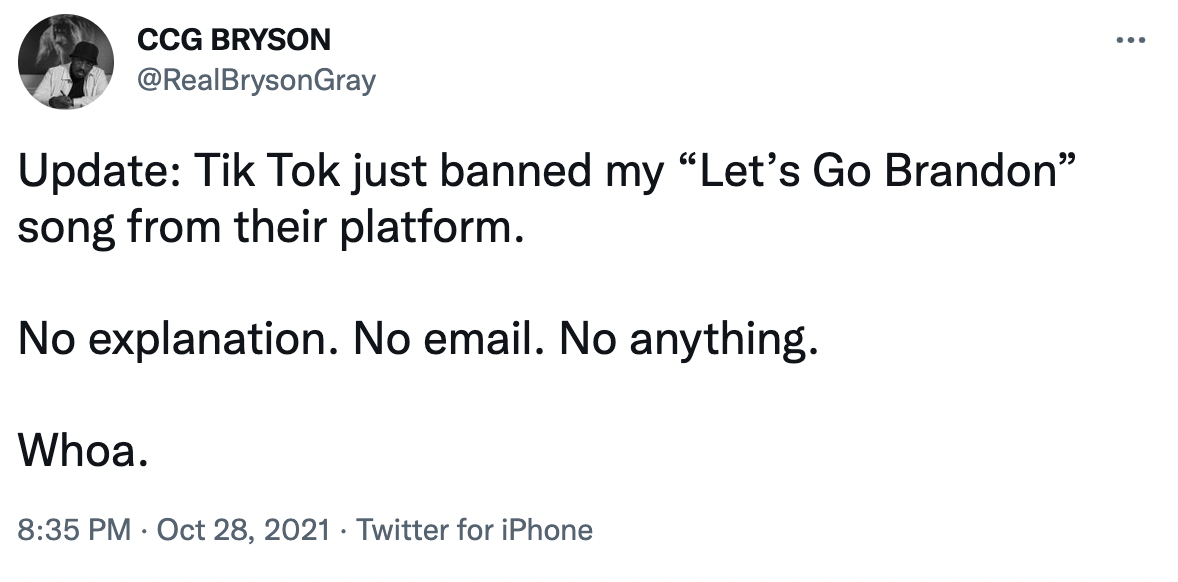 The track, despite being censored on social media, has topped iTunes charts ahead of Adele's comeback single "Easy on Me."
"Let's go Brandon" is an anti-Biden phrase that was accidentally coined by reporter Kelli Stavast while interviewing NASCAR driver Brandon Brown. During the interview, the crowd chanted "f**k Joe Biden." But Stavast said that they said "Let's go Brandon."
The phrase is now being used by conservatives to mock Biden and has been much censored.
Gray's song features provocative lyrics such as "pandemic ain't real, they planned it," "Joe is a crook," and "they building back better, but only the Taliban."
The song entered the charts on Sunday. In the video, Gray is wearing a MAGA bucket hat and an "impeach Biden t-shirt" while holding a gun.
The sentiment of the track led to it being banned on YouTube and Instagram.
In response to the ban on YouTube, Gray, a conservative Christian rapper, tweeted: "YouTube has banned "Let's Go Brandon" song from YouTube due to "medical information." What medical misinformation is in the song? Whoa."