The US government has opened a national security investigation and review of TikTok owner ByteDance's $1 billion acquisition of US social media app Musical.ly, according to Reuters.
The $1 billion acquisition was completed two years ago, and Congress has been pushing for an investigation in recent months – especially as tensions between the US and China rise and allegations of US companies censoring on behalf of the Communist Chinese Government have become prevalent.
As the TikTok app has grown in popularity in the US, there have also been several privacy concerns about how the Chinese company is handling the data of US citizens.
The Chinese version of TikTok has faced criticism for the ability to upload anyone's face and search for other incidences of their face in the database.
While the version that exists in China is not the same one used in the US, the feature raised privacy concerns about what kinds of data TikTok is collecting and how it could be used.
TikTok has also faced accusations of censorship. A recent report from The Guardian suggested that "at least until May TikTok moderators were enforcing China's state policy on restricting certain types of content and speech."
Previous reports have also suggested that TikTok was censoring content around the Hong Kong protests – something that would be favorable to the Communist Chinese Government.
Last month, Senator Marco Rubio called for a review ByteDance's acquisition of Musical.ly. Rubio cited questions about why TikTok had "only had a few videos of the Hong Kong protests that have been dominating international headlines for months."
TikTok's defense was that it doesn't censor content on behalf of China, it just likes to avoid "sensitive topics":
"In its statement, the company defended TikTok as a place for entertainment, not politics, and said its audience gravitates there for positive and joyful content as a possible explanation for why so few videos relate to sensitive topics such as the protests in Hong Kong.

The company declined to provide details of how the app is policed in the U.S. or how the U.S. team shields itself from being influenced by authorities in Beijing, where ByteDance is headquartered. Officials in the Chinese embassy did not respond to requests for comment."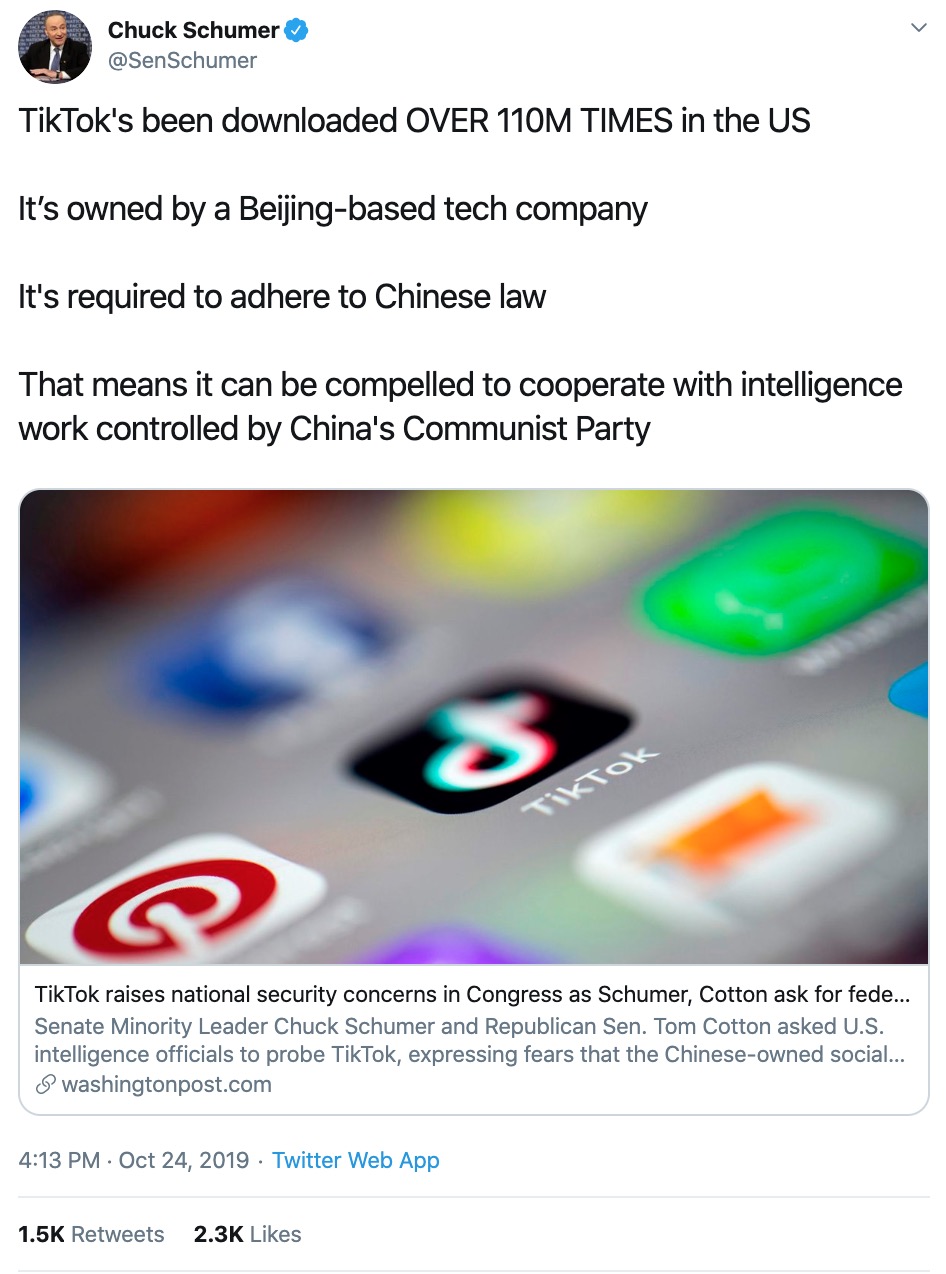 Senator Chuck Schumer raised concerns about TikTok being owned by Chinese tech giant ByteDance and said that this means "it's required to adhere to Chinese law" and "can be compelled to cooperate with intelligence work controlled by China's Communist Party."
TikTok responded quickly to the allegations:
"Let us be very clear: TikTok does not remove content based on sensitivities related to China. We have never been asked by the Chinese government to remove any content and we would not do so if asked. Period. Our US moderation team, which is led out of California, reviews content for adherence to our US policies – just like other US companies in our space. We are not influenced by any foreign government, including the Chinese government; TikTok does not operate in China, nor do we have any intention of doing so in the future."
TikTok is the fastest growing social media app in the US and concerns about its strong ties to China have given lawmakers cause for concern. Reuters' report of this new review is likely going to be just the start of scrutiny of the app.