Recent developments throw a stark spotlight on the fluid relationship between social media platforms like TikTok and the concept of free speech. Following the attacks imposed by the Palestinian Islamist group, Hamas, on Israel, TikTok found itself intensively mobilizing resources and personnel to stymie what it calls an onslaught of "hate" and "misinformation" ensuing from the conflict.
Responding to the EU industry chief Thierry Breton's demands, the China-based, ByteDance-owned platform laid out the measures it pursued to combat the escalating issue of disinformation in connection with the Middle East conflict.
Breton not only demanded conclusive action within 24 hours from TikTok but concurrently initiated an investigation into X.
While TikTok shed light on the steps it implemented, it stopped short of delineating its specific rejoinder to Breton. "TikTok stands against terrorism. We are shocked and appalled by the horrific acts of terror in Israel last week. We are also deeply saddened by the intensifying humanitarian crisis unfolding in Gaza," the platform declared. TikTok said it had "immediately mobilized significant resources and personnel to help maintain the safety of our community and integrity of our platform."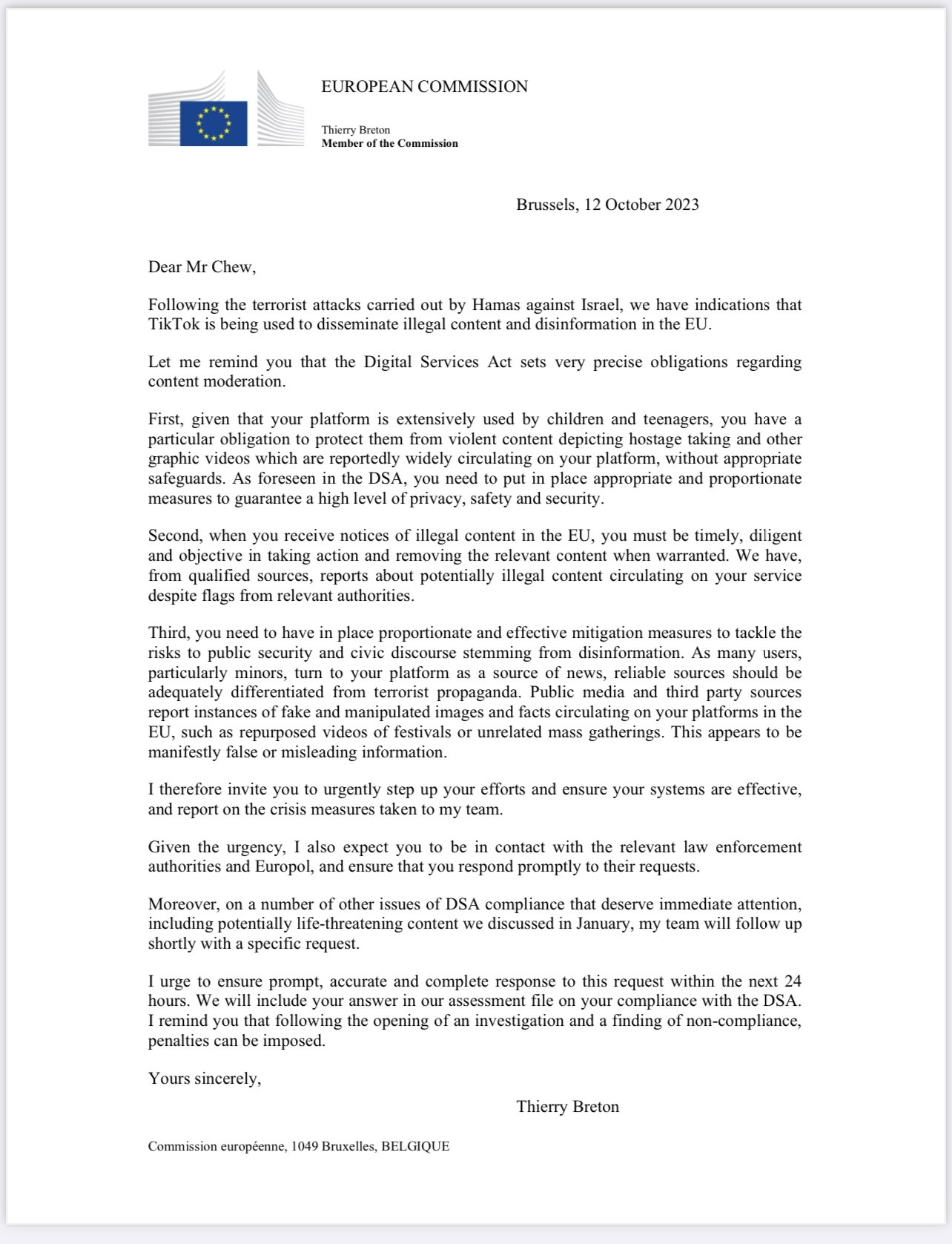 Undoubtedly, false information and propaganda in a time of war are rife. However, the pursuit of limiting so-called hate speech and misinformation fosters a layer of censorship. And who is in charge of deciding what's true? The EU seems to think it should be. So does the Chinese social media platform TikTok.
While these measures demonstrate TikTok's effort to counter issues stemming from the Middle East conflict, they simultaneously open up a broader dialogue about the role of major social media platforms in shaping, controlling, and defining narratives in today's ideologically charged world.