TikTok will begin showing users personalized ads and it will automatically switch on the feature without users' consent. The personalized ads will be based on what a user does on TikTok (in-app activities), such as interactions with other ads and liked videos.
The Beijing-based short-video platform announced the change, which will take effect starting April 15, through an in-feed message.
"Upcoming changes to ads: To help TikTok stay free, we partner with advertisers to show you ads. Based on your settings, you currently see general ads that aren't based on what you do on or off TikTok. Starting April 15, your settings will change, and the ads you'll see may start to be based on what you do on TikTok. You still have control over whether ads can be more tailored to you based on data from our advertising partners."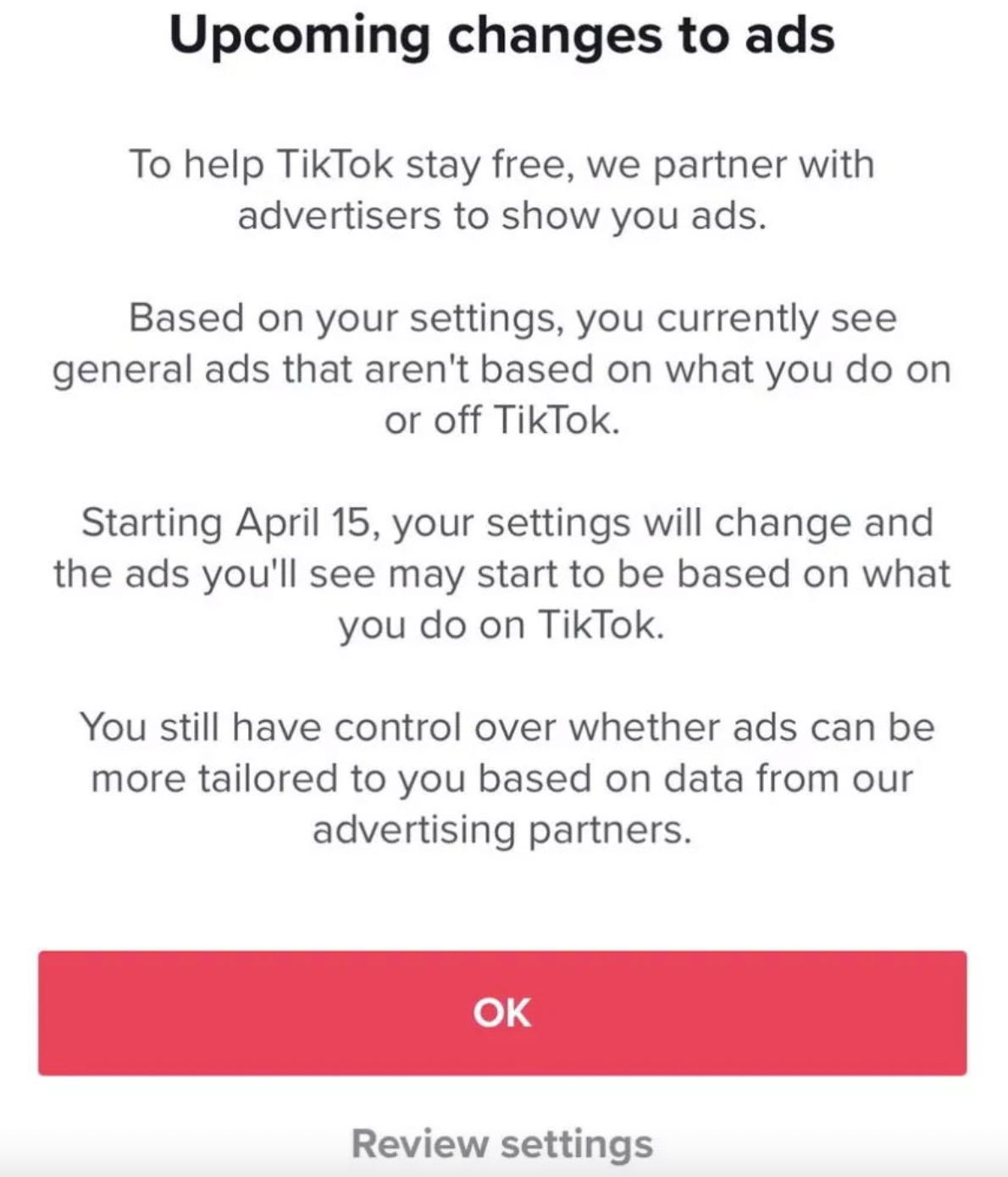 A TikTok spokesperson confirmed the upcoming change.
"TikTok is committed to both respecting user privacy and building a personalized experience that enables meaningful connection between businesses and users. We will continue to be transparent about our data privacy practices and help users understand their privacy choices on our Safety Center," they said, in a statement to Reclaim The Net.
The update will roll out globally, with the exception of member states of the European Union. The EU's GDPR (General Data Protection Regulations) makes the change difficult to implement without attracting legal action.
Aside from in-app activities, TikTok will also use data from advertising partners to personalize ads. But the company insists that users can manage their ad preferences via their profile settings.
"One of the reasons digital platforms like TikTok are so accessible is personalization. If a business owner wants to reach people who like cats, they can run an ad on TikTok or another online platform," TikTok explained. "Likewise, you're more likely to see ads for products you might actually want to buy. In order for advertisers to measure the effectiveness of their campaigns, we work with measurement partners and offer solutions to measure performance while respecting the privacy of our users."