Joe Rogan, before and after his arrival to Spotify, has been the target of many calls for censorship, most of which concern the so-called "transphobic" comments he makes, suggesting that "trans women" have an unfair advantage over biological woman when it comes to sports.
What we have now is the trans MMA fighter, Fallon Fox, calling on Spotify to "cancel" Rogan.
"Joe Rogan is being transphobic yet again. He has had more transphobic episodes than you can shake a stick at. Spotify needs to cancel his show already," wrote Fox on a Facebook post.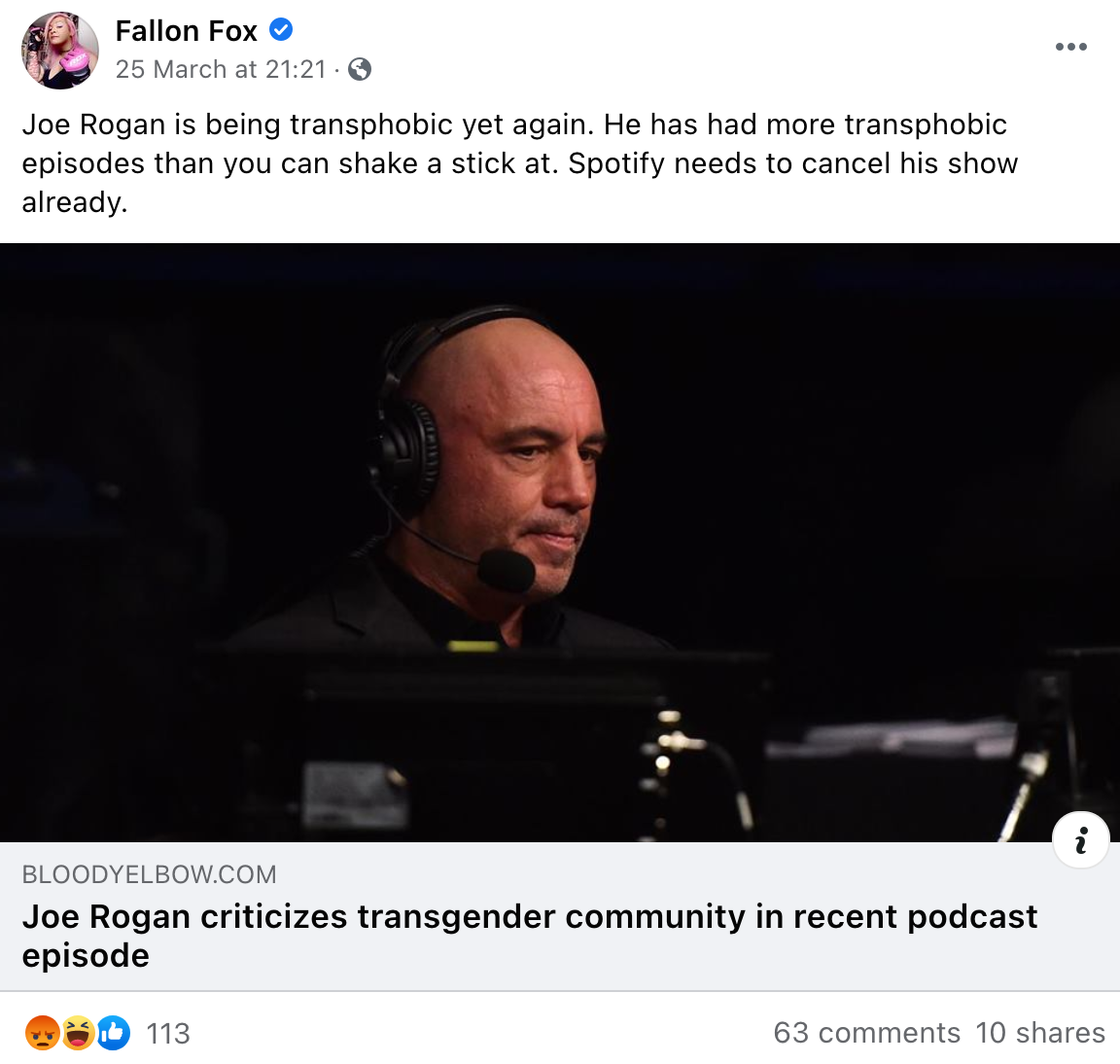 Rogan has been quite outspoken and critical about allowing trans women to participate in women's sports. He has even commented on Fox directly in the past as well.
"First of all, she's not really a she. She's a transgender, post-op person. The operation doesn't shave down your bone density. It doesn't change. You look at a man's hands and you look at a woman's hands and they're built different. They're just thicker, they're stronger, your wrists are thicker, your elbows are thicker, your joints are thicker. Just the mechanical function of punching, a man can do it much harder than a woman can, period," Rogan said about Fox.
Fallon Fox is the first MMA fighter to identify publicly as transgender and Fox once fractured the skull of female opponent Tamikka Brents in an MMA fight back in 2014.
The brutal fight lasted just over two minutes and the referee was forced to halt it.
This last week alone, Rogan received online backlash for his comments about transitioning and whether an individual's transitioning made them praiseworthy.
"There are people who really have these thoughts. The problem is, it becomes a protected subject, and then you get praised for transferring your gender, for changing your gender. And then it gets exciting for people to talk about, and then you get chastised for even discussing it in any weird way," Rogan said in a recent podcast interview with comedian Jim Breuer.
He also said that people who were otherwise "dumb" had also suddenly been at the receiving end of praise just because they transitioned. "And then people who were marginalized for being – like, generally dumb people, if they transfer over and become another gender, then they get praised. There are a lot of people who are idiots, but then they become trans, and now all of a sudden we think they're amazing," he said.
Spotify had been intensely pressurized by its employees in the past, demanding action against Rogan for his stance. The interview between Rogan and Abigail Shrier, the author of the book "Irreversible Damage: The Transgender Craze Seducing Our Daughters" is said to have contributed to the employees' critical stance against Rogan and his show.
The author, in the podcast interview with Rogan, questioned if it was right for children to undergo transitional changes at a developmental phase in life.