This story highlights how censorship always backfires and how trying to moderate content at such a scale is a fool's game since, as more people call for censorship to suit their own stance, they forget the consequences.
Twitter, in a brazen attempt to restrict Trump's statements about reopening schools, ended up locking the accounts of several reporters who were criticizing the statements and trying to express their disdain at the US president's remarks.
First up, Twitter ended up locking the account of President Trump's campaign as it posted a video of a Trump interview where the President said that doctors told him that "children were immune" to COVID-19.
Trump's campaign account that had been suspended due to making the claim got unlocked after deleting the tweet.
Several other Twitter users who had contested the claims, however, found themselves also locked out of their own accounts.
"This is absolutely nuts, @TwitterSupport. My account was locked for quoting and fact-checking Trump, and I was forced to delete this tweet. Why am I getting punished for shining a light on the president's falsehoods?," wrote Aaron Rupar from Vox.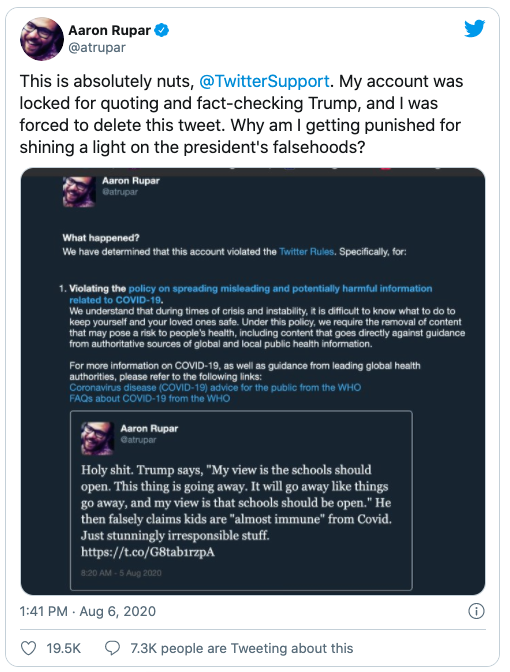 "Twitter locked my account due to COVID-19 misinformataion — from President Trump's Fox & Friends interview," tweeted another.
Although it is common knowledge that Twitter has ended up locking out people left and right, even when they are not endorsing the claim, the site's users simply demanded that the mechanism ought to be more efficient.
"Get a grip, @TwitterSupport and @yoyoel. Same thing happened to me for quoting dangerous misinformation by @realDonaldTrump and his propaganda army responsible for national division, systemic racism and electoral confusion and lies," wrote a user.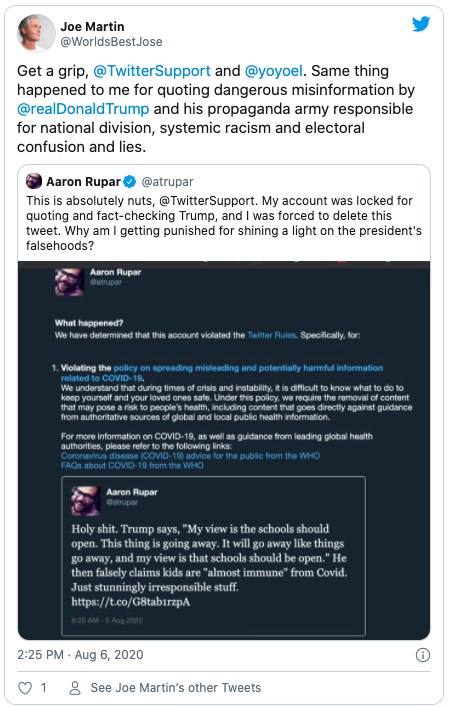 While Twitter's goal was to censor the President on the platform, deleting tweets and locking people out of accounts for merely commencing on what Trump said rubbed users the wrong way.