A law firm representing President Trump in lawsuits challenging election results in Pennsylvania withdrew from one of the cases after an online pressure campaign.
Porter Wright Morris & Arthur LLP filed a notice on Thursday declaring they would no longer be representing the Trump campaign in one of the lawsuits filed in Pennsylvania. The firm confirmed its exit from the case on Friday but declined to give a reason.
"We've committed to the court to fulfill our obligations as required to ensure transition to substitute counsel and so as not to cause material adverse effect on the client's interest. We will have no further comment," the law firm said.
Their exit from the case followed the targeting of employees of the firm by followers of The Lincoln Project, an anti-Trump group of Republicans who raised $67M to campaign against the President.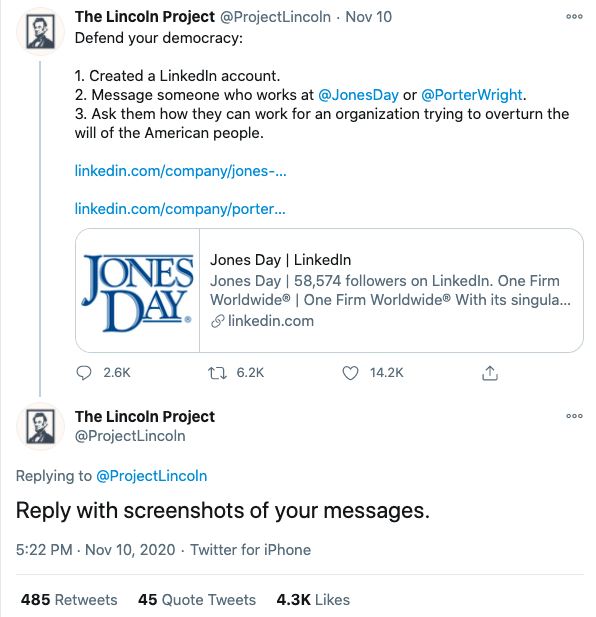 The group posted a tweet encouraging people to mass contact employees of both Porter Wright and Jones Day (which is also representing Trump) to ask them why they were working for the President.
People responded to the tweet with screenshots of messages sent to employees of the firms.
A Trump campaign spokesperson said cancel culture was the reason behind the firm's withdrawal from the case.
"Leftist mobs descended upon some of the lawyers representing the President's campaign and they buckled," the campaign's communications director Tim Murtaugh said. "If the target were anyone but Donald Trump, the media would be screaming about injustice and the fundamental right to legal representation. The President's team is undeterred and will move forward with rock-solid attorneys to ensure free and fair elections for all Americans."
The suit is challenging the results of the presidential election based on allegations that the campaign was denied adequate access to observe the vote-counting process in counties whose majority votes were for Biden.