President Donald Trump's campaign video that featured a cover of Linkin Park's "In The End" has been removed from Twitter over a copyright claim.
The fan-made video was removed from The President's account hours after being posted on Saturday evening.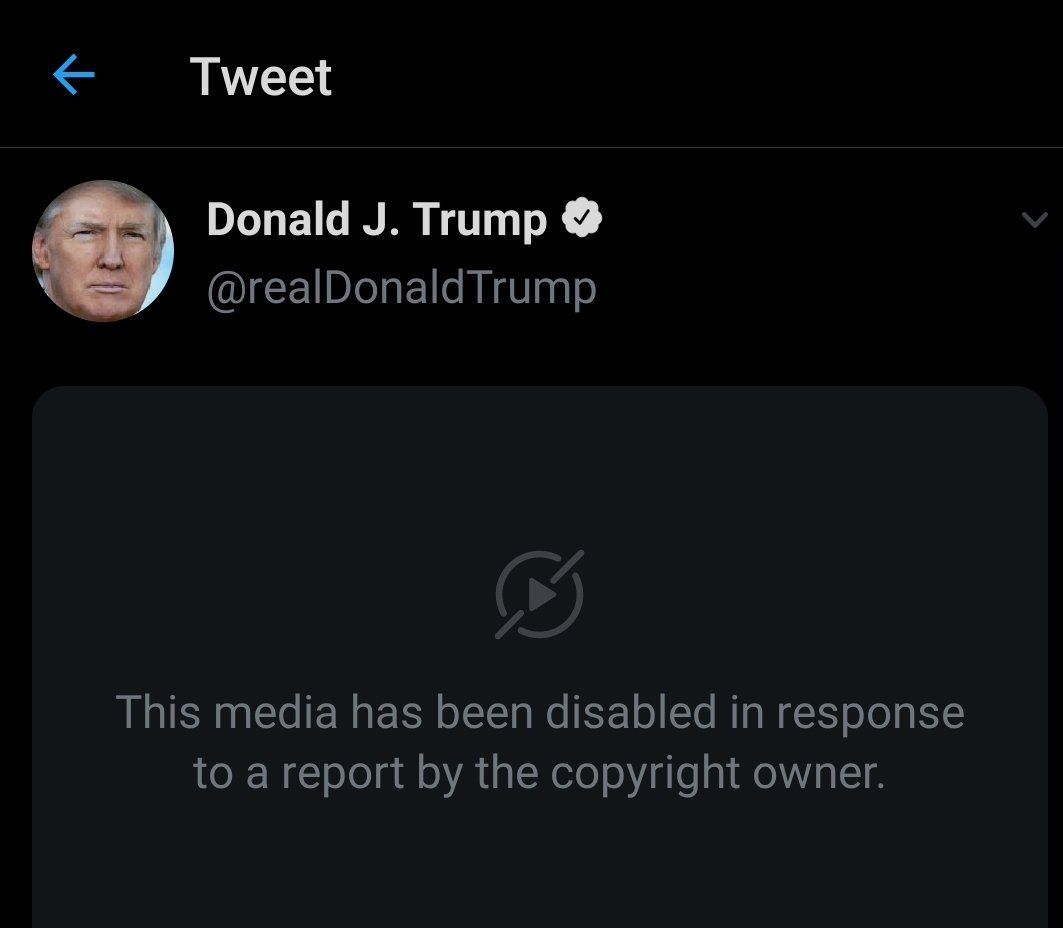 For a short time, the post was changed to say, "This media has been disabled in response to a report by the copyright owner," but the President has instead chosen to delete the post entirely.
The cover of the track had been performed by Jung Youth and "Fleurie". Jung Youth took to Twitter to express disdain for the President posting the fan-made video to Twitter.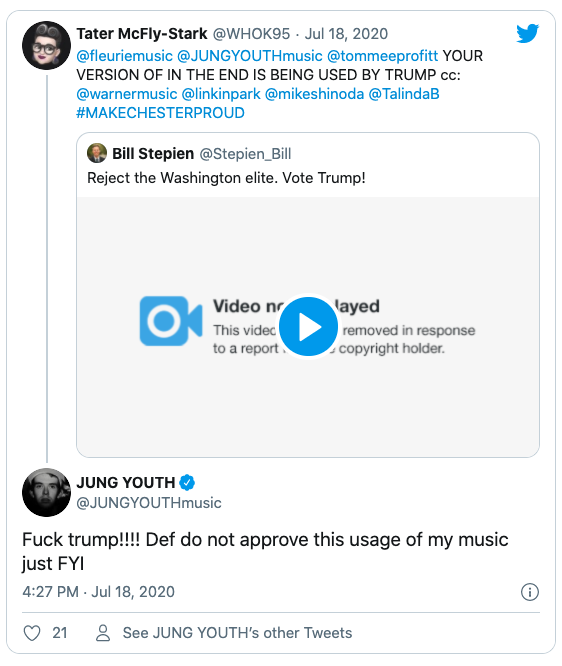 "Def do not approve this usage of my music just FYI," Jung Youth exclaimed on Twitter.
Jung Youth later expressed support for the video being removed. "Earlier today I found out that trump illegally used a cover song that I am part of in a propaganda video which he tweeted…anyone who knows me knows I stand firmly against bigotry and racism. Much love to everyone in the twitter community who helped get the video taken down fr!!"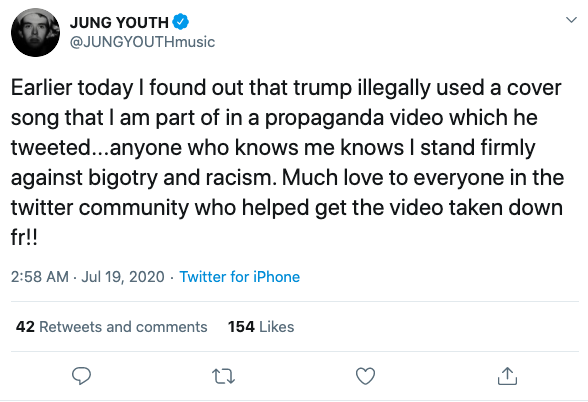 The campaign video showed clips of Trump's inauguration speech, intercut with dramatic imagery of Trump in front of the Lincoln Memorial, campaign rally speeches, Attorney General Bill Barr's confirmation hearing and more.
Soon after the President posted the video on on Twitter, Twitter users complained that the late Chester Bennington, the lead vocalist of Linkin Park, had expressed his anti-Trump stance and wouldn't appreciate the President using his track.
Twitter isn't new to receiving DMCA takedown notices over the President's content, with many rights holders choosing to file a DMCA request to get the content removed – even in cases that would most likely be fair-use.
This month, the New York Times filed a copyright claim against Trump's Twitter account for a meme that the President posted, but didn't file a copyright claim against others who used the same meme on the platform, causing many to believe that The Times was purposely trying to get the President's content taken down, rather than acting to protect their copyright.
Trump has been hit with copyright strikes frequently in recent times:
Twitter removes CNN "fake news" meme shared by President Trump after copyright claim from Jukin Media
President Trump's 'Healing, not Hatred' campaign video removed by copyright complaint