The latest Digital News Report, compiled by the Reuters Institute for the Study of Journalism, has found that trust in the news industry in the US is now at the lowest point, measured against results globally.
And while the study that covered 46 news markets around the world found that "trust in most news most of the time," as the question was formulated, was up six percent with the pandemic, returning to the 2018 level – in the US, this number is only 29% (against the global average of 44%, and Finland, where trust in the industry is the highest, 65%.)
On the other hand, 44% of respondents in the US strongly disagreed that "most news can be trusted most of the time," leaving 27% unable to decide either way.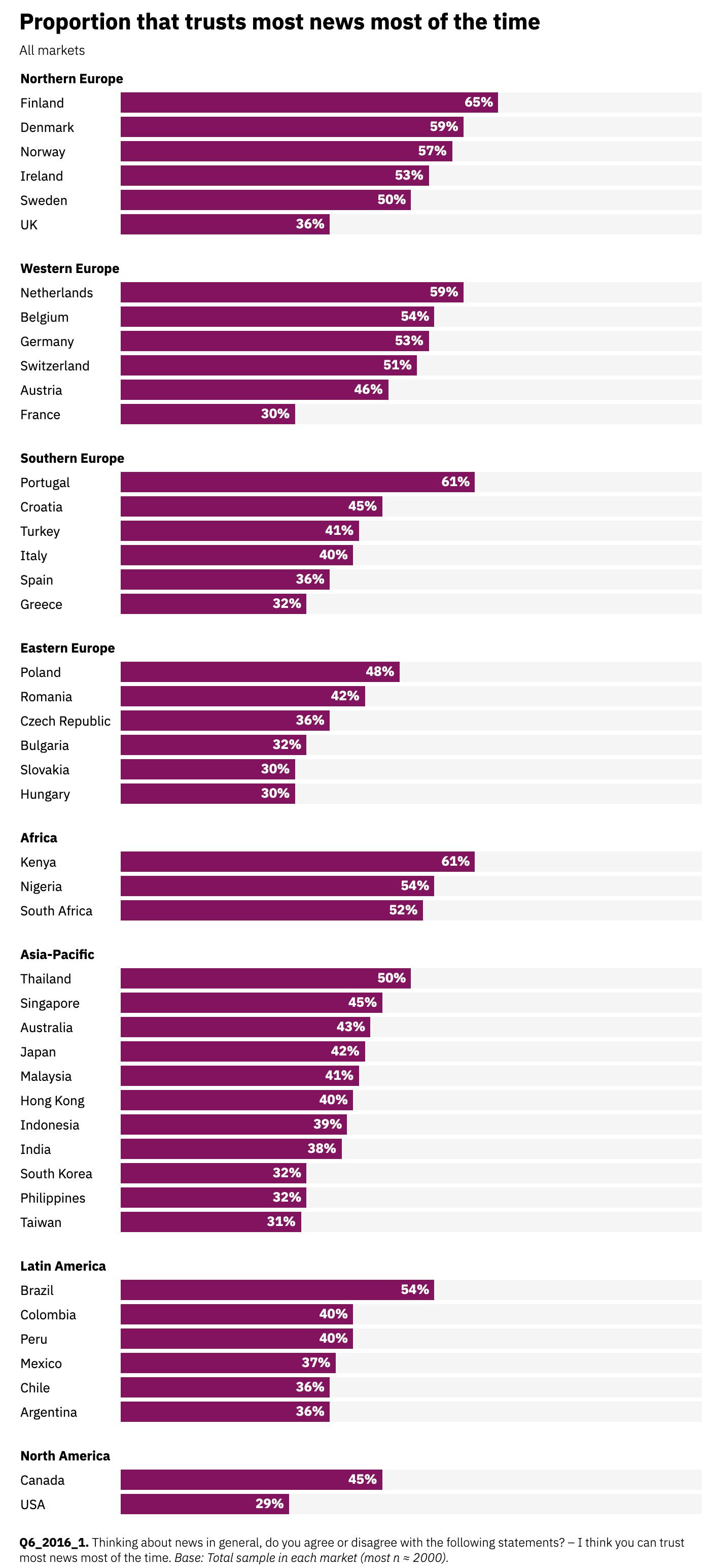 The study treats search and social media as "aggregated environments" – acknowledging they are curated, ranked and deranked rather than organic – and there, trust has remained "stable." This is interpreted as news consumers having more confidence in "trusted and reliable" sources – i.e., what online platforms are promoting as such.
But overall engagement with news media and interest in the news in the US in particular has seen a sharp decline after the presidential election.
Overall, the study found that the idea of news needing to be separate from commentary and opinion – i.e., neutral and impartial – is still holding, with 66% of respondents saying they believed this should be the goal of media outlets. But a trend seems to be emerging, particularly among "some younger groups," who think it is appropriate to sacrifice that principle on the altar of social justice issues.
Widespread use of messaging apps like Telegram and WhatsApp is singled out in the report as "creating most concern" – apparently since these (encrypted) tools of communication are seen as vehicles for spreading "Covid misinformation."
And while mainstream media attract attention in places like Facebook and Twitter, a new crop of influencers and alternative sources appears to be gaining much wider reach.
In Western countries – and this is still not reflected globally – the media scene has seen significant shifts towards paying for content through a variety of subscription models.