Twitch is notorious for banning streamers and imposing bizarre rules out of the blue. What we have now is something close to that. A gamer has now been temporarily suspended for playing a video clip of a game from the past where an opponent player uttered a homophobic slur.
Disguised Toast is a Facebook Gaming Partner who occasionally streams on Twitch to reconnect with his followers. This time, Wang was hanging out in the Just Chatting area of Twitch and watching an old PUBG clip. Almost 40,000 viewers were attending his stream of the past PUBG montage wherein the term "fag" was uttered by a random opponent player.
Here's what happened: Wang killed an opponent player who entered a building in the game that he was already in. The player who got killed followed by raging insults.
As the stream progressed and the aforementioned incidents took place, Wang was met with a temporary ban from the streaming platform.
"Got a temp ban from Twitch," read a part of his tweet.
"Not a big deal since I don't usually stream there but does mean I have to avoid playing with any friends streaming for a few days," Wang tweeted, while also sharing a screenshot of what Twitch had sent him as it informed about the ban.
Apparently Wang had permitted "hateful conduct on stream from another person or external source, such as guests or viewer participation."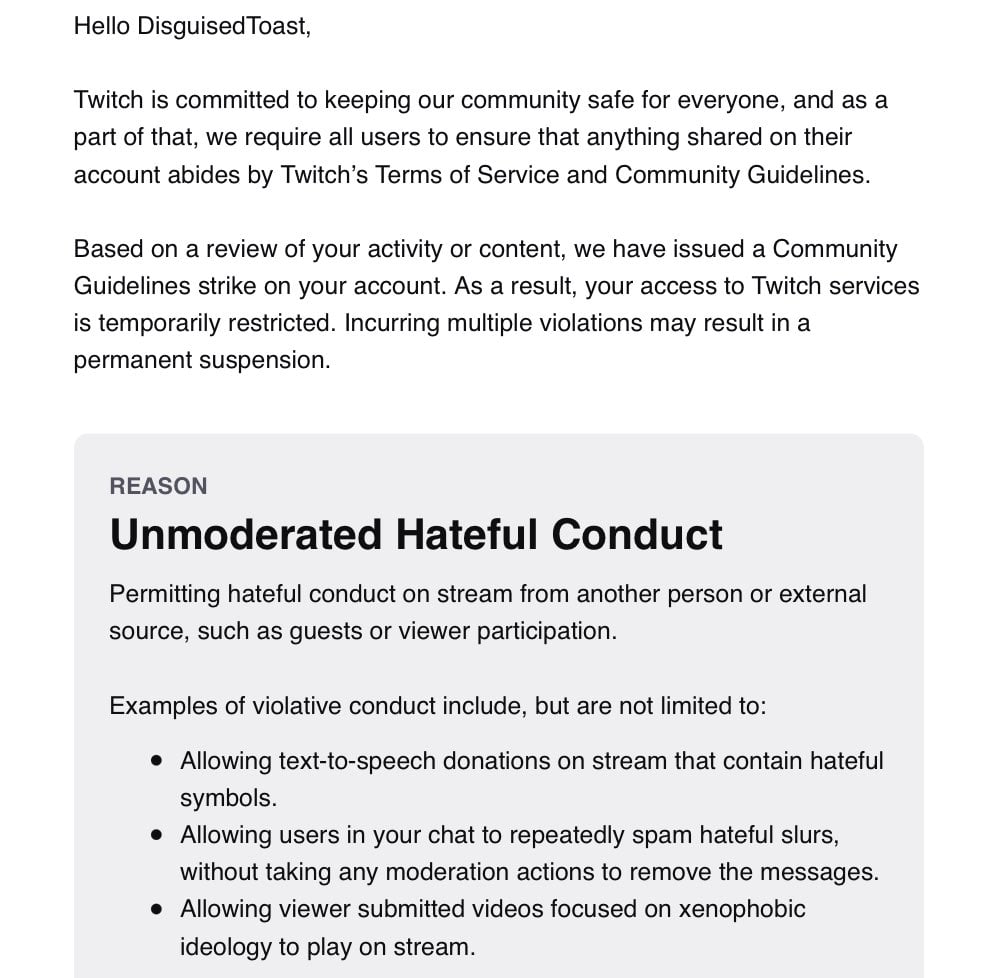 In short, Twitch called the issue, "Unmoderated Hateful Conduct," as though streamers are supposed to be liable for the speech of other players.
Furthermore, Wang was the one to hint at how the PUBG video may have led to the whole incident.
"I didn't get a specific reason but if I had to guess: I was watching an old Twitch clip of mine that includes a toxic player using the f-slur against me. Will try to be more careful in the future," he wrote on Twitter.