Racism, and resulting racial slurs, are justifiably a hot-button issue in the United States – but acting trigger-happy merely on unproven suspicion of such transgressions, reaching for bans and other heavy-handed policies is hardly the remedy – in fact, it is likely to prove itself to be counter-productive, focusing the attention on censorship and on overreaction instead.
This may be especially true in the world of gaming and related platforms and industries, that are prone to scrutinizing any perceived unfairness or injustices.
Cue in a controversial move by Twitch – the gaming-focused live streaming platform owned by Amazon – that has decided to ban a popular user for 30 days – later reducing the ban to just seven – for his alleged use of the "N-word" during one a stream.
But the League of Legends (LoL) streamer TF Blade maintains that he said "idiots" without working the "N word" into his commentary – and he appealed the service's decision to ban him as unfounded.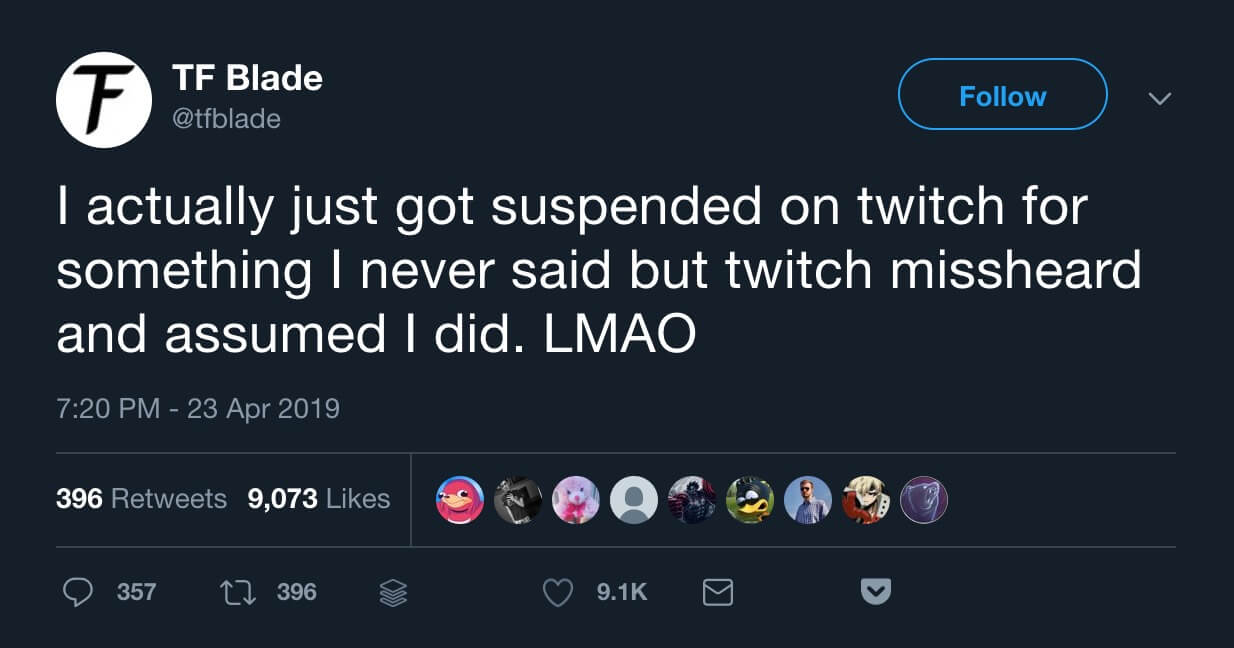 TF Blade shared Twitch's weird email sent to the user that confirmed the ban, and told the streamer that "numerous people" who apparently reviewed the video after the appeal somehow "also heard the N word."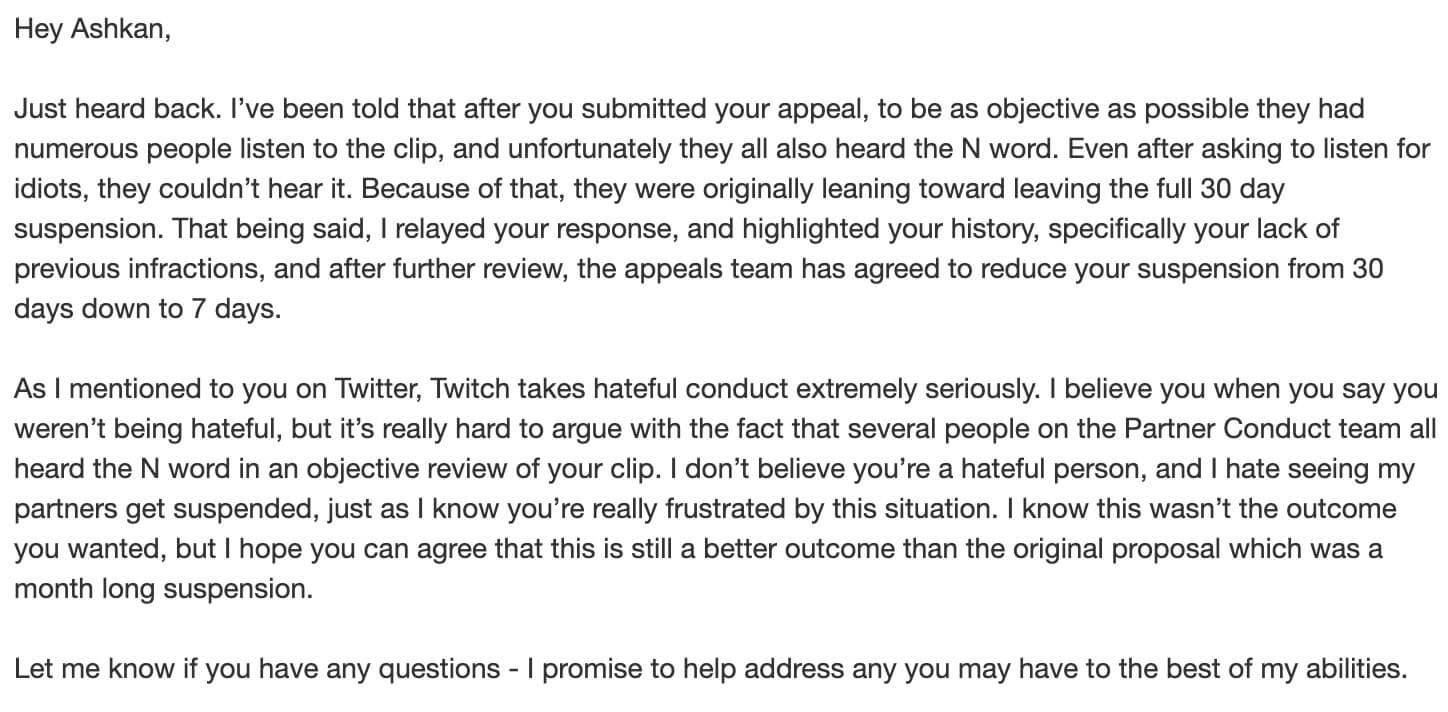 But as this user had no previous history of racist or any other violations, the platform informed him that the original 30-day ban would be reduced to a week.
Reports about the incident also note that the streamer is not a native English speaker – namely, he is from Iran – and that this may have been the source of the possible misunderstanding – with comments in the Reddit thread overwhelmingly supporting the notion that no racist abuse had actually taken place, and that the (over)reaction of Twitch had been unjustified.
Meanwhile, Riot Blaustoise [@RiotBlaustoise], gameplay data lead over at Riot Games – the LoL developer and publisher – took to Twitter to thank Team Liquid CEO and owner Steve Arhancet for taking "a hard stance" on the issue – and defending TF Blade.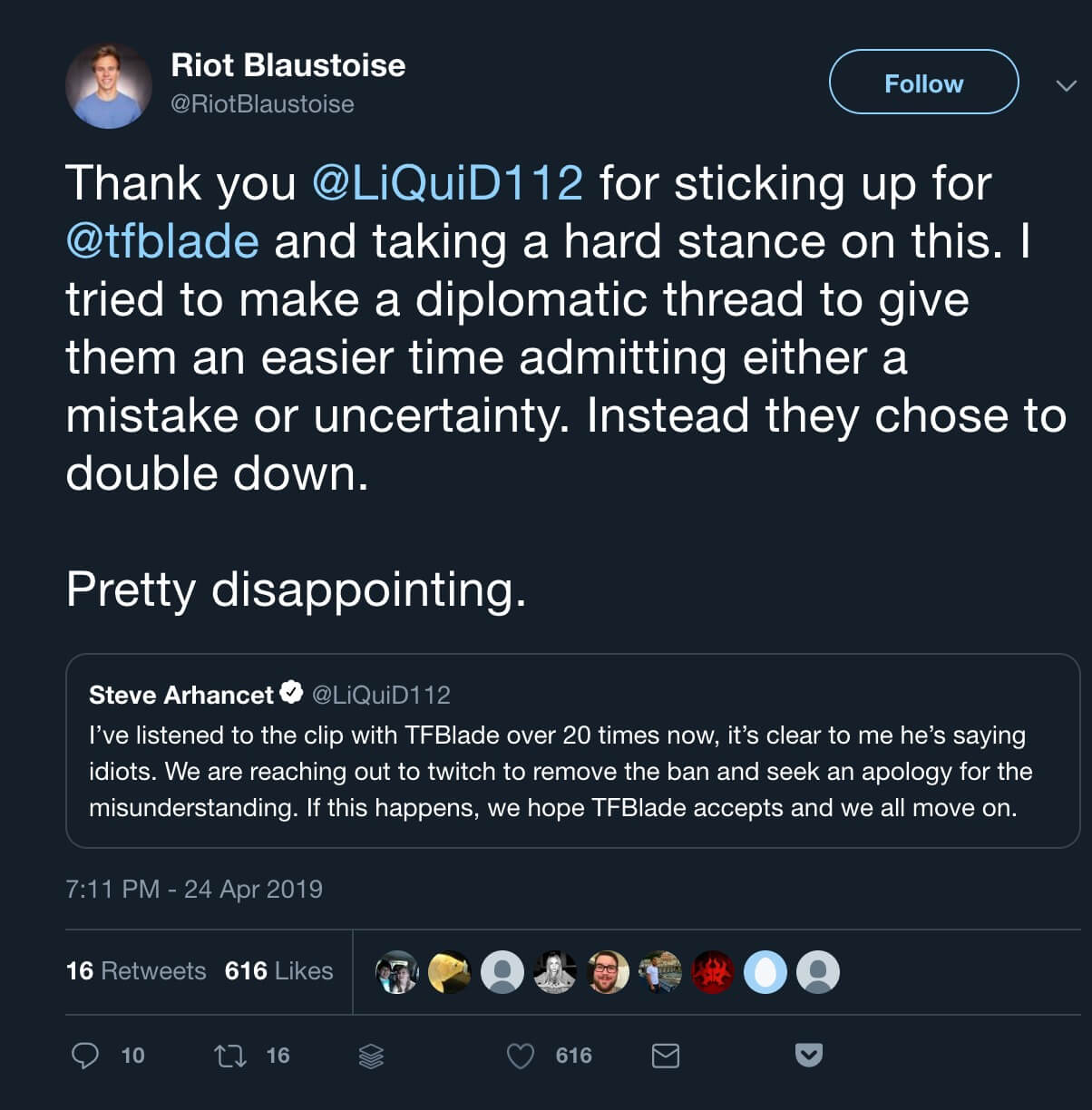 "I've listened to the clip with TFBlade over 20 times now, it's clear to me he's saying idiots. We are reaching out to twitch to remove the ban and seek an apology for the misunderstanding. If this happens, we hope TFBlade accepts and we all move on," Arhancet, whose company is a Netherlands-based multi-regional professional esports organization, previously tweeted.
This appears to be a case of Twitch making a mistake and refuse to admit they took the wrong action.
Listen to the clip here.