Twitch seems to be following in the footsteps of all those other large tech companies who are working to make content published on their platforms more palatable to brands.
Amazon's streaming giant has reportedly chosen to do this by adding what it calls a Brand Safety Score, that is automatic, security researcher Daylam Tayari found out while digging through the Twitch API.
Tayari announced this on Twitter, explaining that the system, meant to assess how brand-friendly streamers are, takes into account a number of points of reference.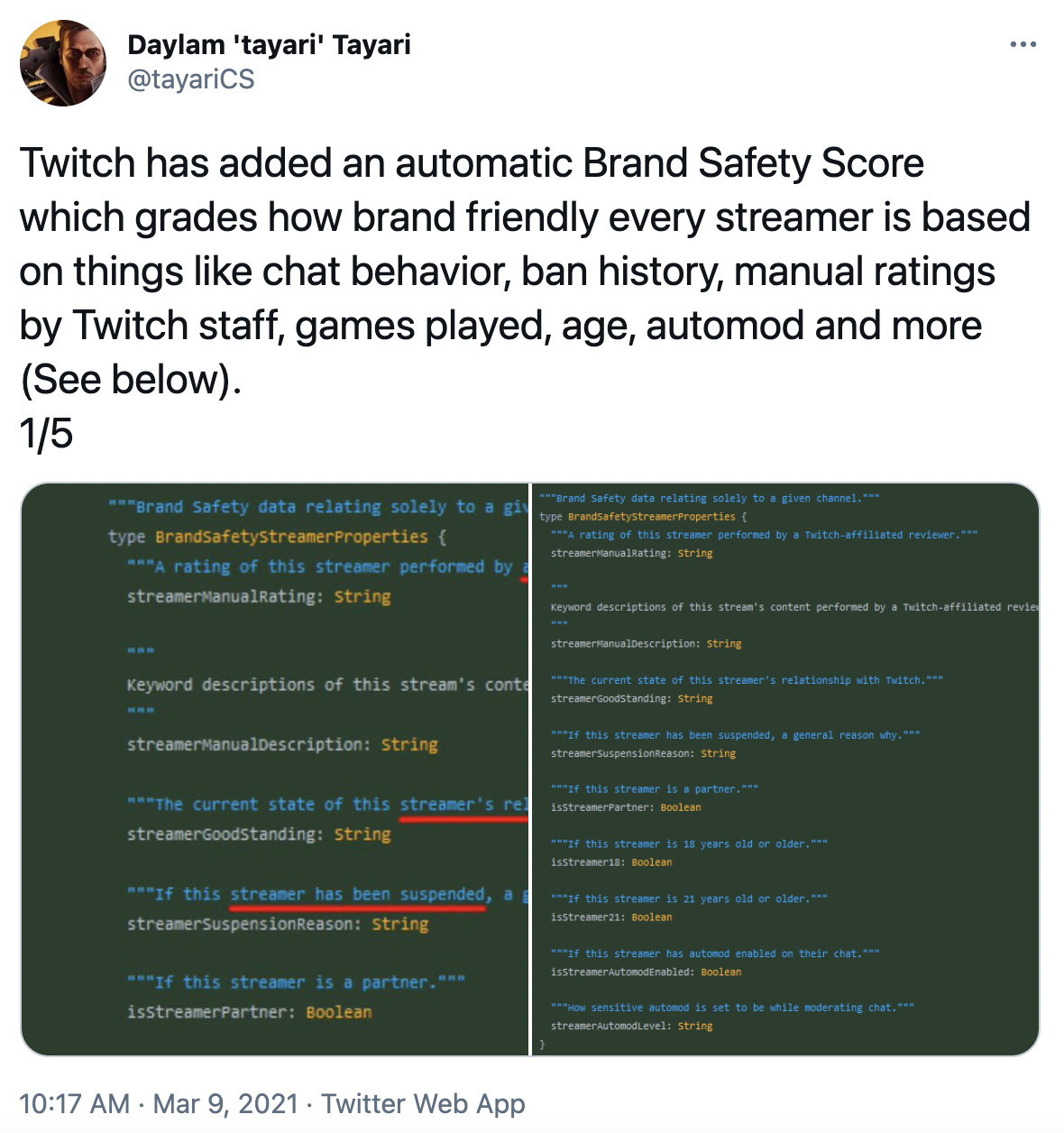 Among them are a streamer's age, ban history, chat behavior, the games they play, previous ratings by Twitch staff, partnership status, automod and its level in chats, the game's ESRB rating and if the stream is set to mature.
Tayari explained that the API received this change several days ago, and that advertisers and sponsors now have access to the score.
He also speculates that Twitch's new grading system will very likely also affect cost per 1000 views (CPM), as well as the platform's Bounty Board.
Until this change – which is yet to be confirmed by Twitch – Bounty Board played the role of ensuring brands were happy with content produced by streamers, allowing them to take paid sponsorships ("bounties").
Under this scheme, streamers were required not to, as stated on Twitch's website, engage in "bad mouthing" and "mean-spirited bashing" of content, while they were still allowed to express their opinion, even that which is not "entirely positive." Streamers also had an obligation to disclose to their viewers that they were watching sponsored content.
Reports say that this opportunity is to essentially become a Twitch influencer by "working" with brands is available to a select group of partners in four countries: the US, the UK, France, and Germany.
With the introduction of Brand Safety Score, Bounty Board will likely expand, they predict, and serve brands well, as the extensive data Twitch will track and collect about streamers would allow them to pick their "partners and affiliates" more easily. But the news is not so good for streamers, since a bad rating could prevent them from making money on the platform.