One of Twitter's most controversial rules is that, when you're using the platform, you're not allowed to "misgender" someone.
It works like this: if a person says they identify as a male, you're not allowed to refer to them in a way that suggests they're a female. And, vice versa.
The rule has resulted in people getting their account locked and even suspended – and has even been the subject of lawsuits after users have lost their account over the way they refer to someone on the platform.
Despite the controversy and pushback, Twitter has kept the policy in place.
But, ironically – Twitter itself appears to be violating its own policy behind the scenes.
It all comes down to ads.
Like many social platforms these days, you pay with your data. When you sign up and create an account, information is collected about you – including the information that you give it, as well as the information that platform learns about you. It all gets lumped together to build a profile on you so that you can be served personalized ads.
Twitter also uses this system.
And, despite Twitter's rule-makers believing that gender is fluid and that people should refer to people by the gender of their choosing, it seems that Twitter has already decided the gender of its users – and it works it out through building a profile on user habits for ad-targeting.
Your interests and user-habits can reveal to Twitter whether you're most likely male or female.
To find out what Twitter thinks you are, head to:
Settings and Privacy > Your Twitter Data > Account and take a look. You'll see this: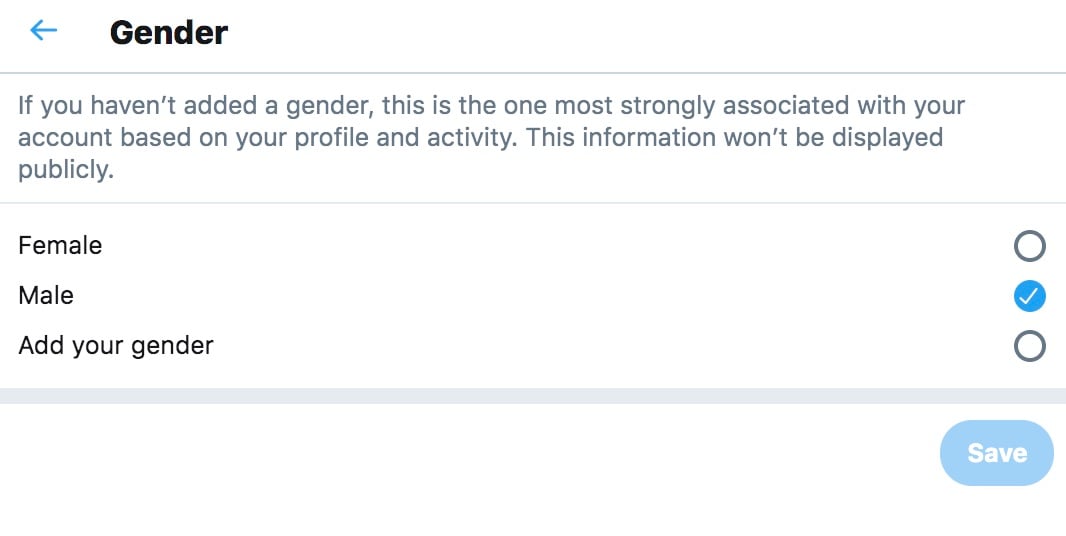 Twitter's reasoning for this is that it wants to find users' "legitimate interests" and characteristics – the interests that they really have; not just the ones they say they have.
"Without these inferences, people would have a harder time finding content that interested them, Twitter would have a more difficult time keeping the platform safe and enjoyable for everyone, and Twitter's advertising would be less compelling to those who saw it and less valuable to Twitter's business customers," Twitter states.
So, while Twitter is openly pushing the idea that gender is whatever you say it is, behind the scenes – it has already assigned each user a gender and is working to serve ads based on it.