Feminist journalist Meghan Murphy found out she was on the wrong side of the hive mind when she got permanently banned from Twitter last year in November. This was after she posted a tweet stating that "Women aren't men".
The tweet went on to state that there is no difference from a man and "transwoman", questioning the titles assigned to transgender people.
At Feminist Current, Murphy wrote about her ban:
What is insane to me, though, is that while Twitter knowingly permits graphic pornography and death threats on the platform (I have reported countless violent threats, the vast majority of which have gone unaddressed), they won't allow me to state very basic facts, such as 'men aren't women.' This is hardly an abhorrent thing to say, nor should it be considered 'hateful' to ask questions about the notion that people can change sex, or ask for explanations about transgender ideology. These are now, like it or not, public debates — debates that are impacting people's lives, as legislation and policy are being imposed based on gender identity ideology…
Responding to her ban, Meghan sued Twitter on Monday.
Her lawyers claim that Twitter made changes to their Hateful Conduct Policy around October without any official, public announcement.
Even so, the company ought to give at least 30-day notice of any changes to their terms of service, but they instead did it covertly and still enforced the policy on her.
It was due to this policy change that Meghan was found violating the crazy rule against "misgendering" transgender individuals. Add to that, her complaint states that she was simply expressing an opinion, which is shared by a majority of Americans.
In a 2017 Pew Research Poll, 54% of participants indicated that they believed an individual's gender is determined at birth.
The lawsuit also identified the individual who reported Meghan's posts as Jessica Yaniv, a transgender activist.
Apparently, Murphy had posted a screenshot of Yaniv's review of a waxing salon, but she had referred to her as 'him'. Jessica Yaniv was born Jonathan Yaniv but legally changed her gender to female, and she had publicly declared that she was responsible for getting Murphy's Twitter account suspended.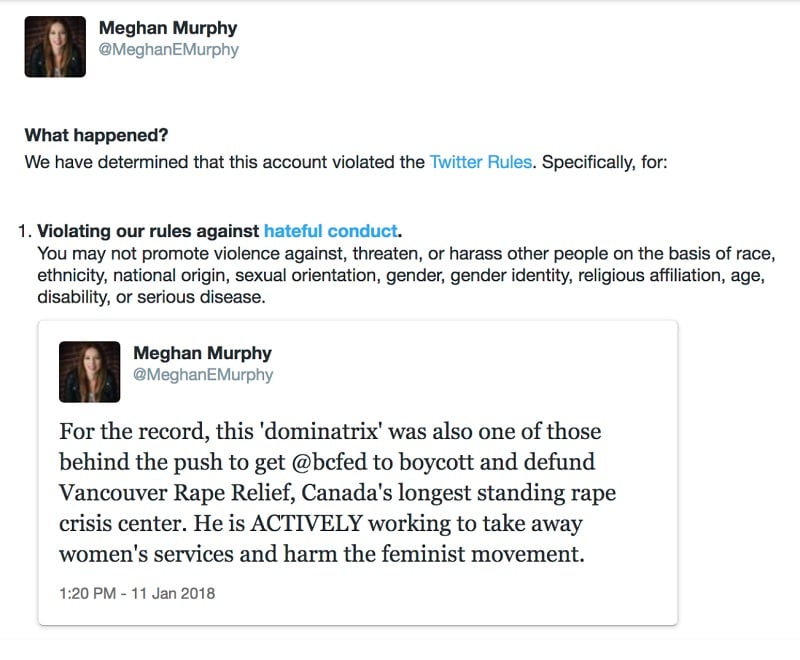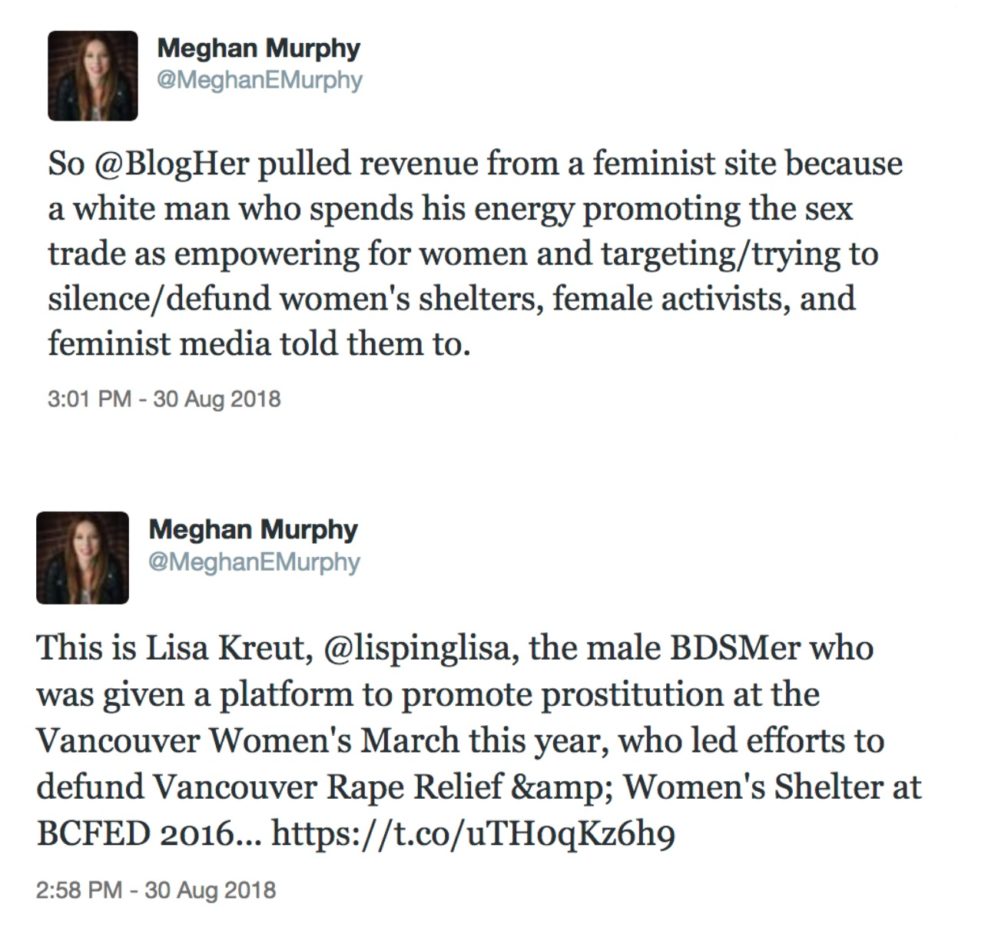 As you might expect, Twitter brushed off the lawsuit calling it "meritless" and promising to defend themselves. Anticipating the company's defense, Murphy took to Facebook to explain how Twitter exercises double standards by promising free speech on one hand and censoring the same on the other – a common tactic of authoritarian regimes.
Furthermore, she indicated that Twitter reported the change to their policy twenty minutes after her account was banned.
Support for Meghan's lawsuit seems to be building because the case has been trending on both Twitter and Facebook.
A website has even sprung up to allow for donations to be used in the legal battle at meghanmurphylawsuit.com
She is definitely going to need the support as this is going to be a David and Goliath situation. The lawsuit also brings to light the question of censorship and where companies need to draw the line, and whether there should even be a line to begin with.