Update – 6:12pm Eastern: Twitter CEO Elon Musk has already announced an adjustment to the policy, stating that only accounts whose "primary" purpose is to promote other platforms will be prohibited. "Policy will be adjusted to suspending accounts only when that account's *primary* purpose is promotion of competitors, which essentially falls under the no spam rule," Musk Tweeted, after feedback from YouTuber, The Quartering.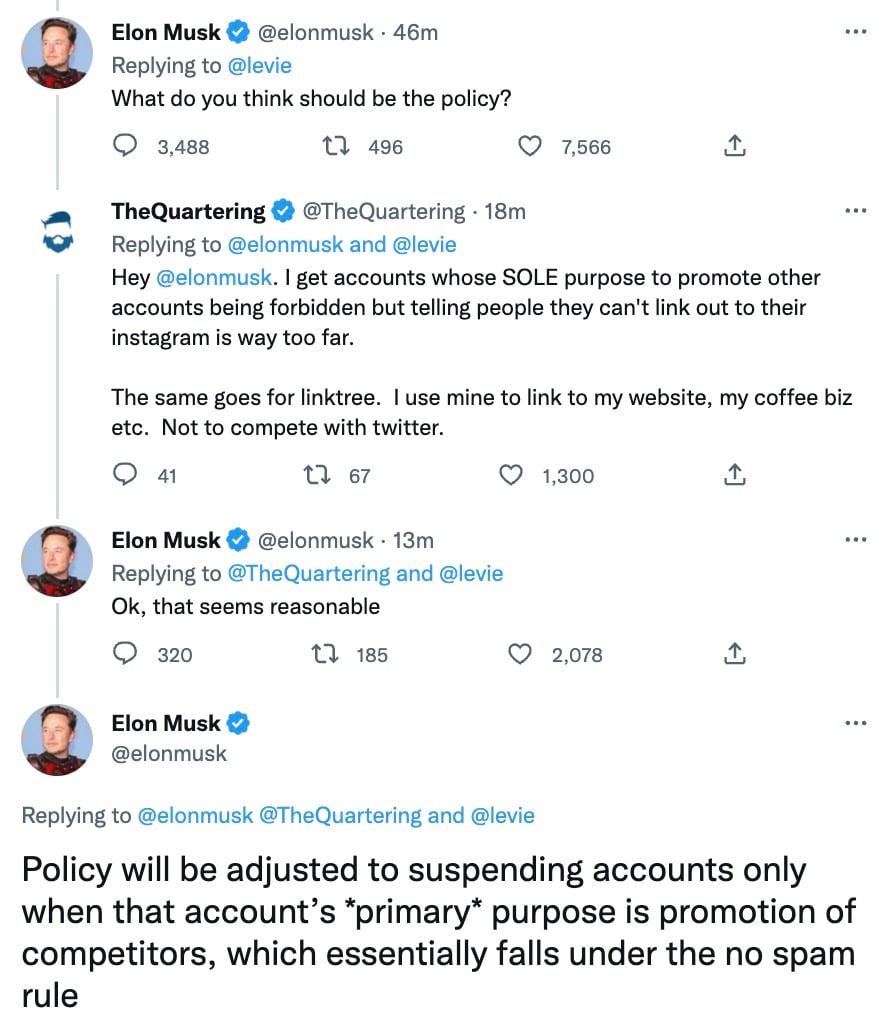 Elon Musk apologized for the sudden rule change, adding that in future there will be a poll for future major policy changes.
The original post is as follows:
Twitter has banned its users from linking to and promoting their profiles on other social media sites like Mastodon, Facebook and Instagram, and more.
"We recognize that many of our users are active on other social media platforms," Twitter announced in a tweet. "However, we will no longer allow free promotion of certain social media platforms on Twitter."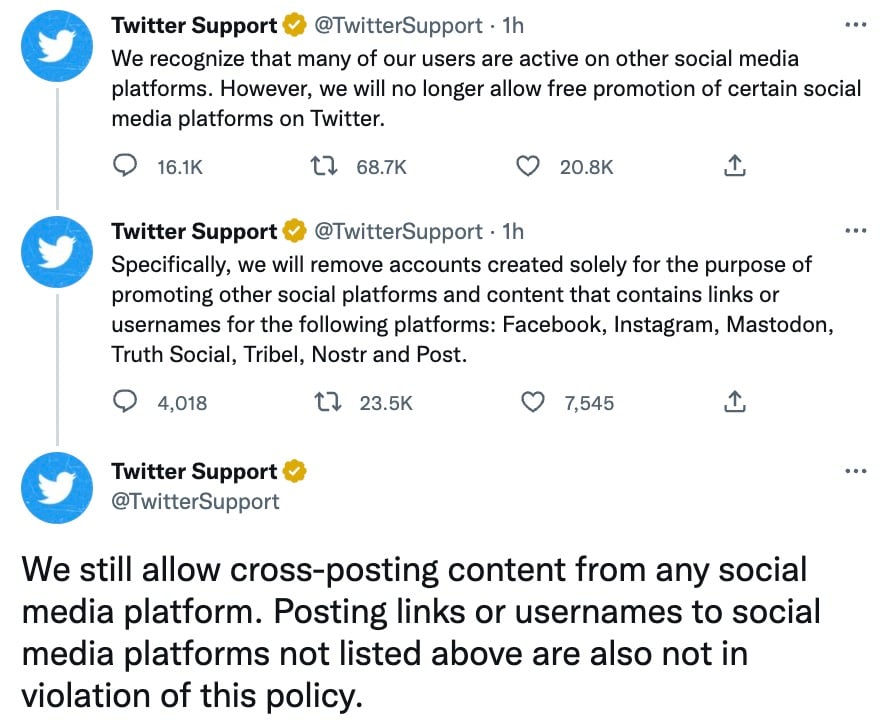 Twitter added, "Specifically, we will remove accounts created solely for the purpose of promoting other social platforms and content that contains links or usernames for the following platforms: Facebook, Instagram, Mastodon, Truth Social, Tribel, Nostr and Post."
While the tweet did focus on accounts "created solely for the purpose of promoting other social platforms," the actual policy page doesn't make this distinction. There, it says Twitter will remove "any free promotion of prohibited 3rd-party social media platforms." Emphasis ours.
The social media platform said that it will "still allow cross-posting content from any social media platform," but that, "posting links or usernames to social media platforms not listed above are also not in violation of this policy."
Twitter gave some examples of what was now banned:
Prohibited platforms:
Facebook, Instagram, Mastodon, Truth Social, Tribel, Post and Nostr
3rd-party social media link aggregators such as linktr.ee, lnk.bio
Examples of violative content:
"follow me @username on Instagram"
"check out my profile on Facebook – facebook.com/username"
The policy, for example, appears to mean that Twitter users leaving for Mastodon or Post aren't allowed to tell their followers to follow them there instead.
Penalties for breaking the rules include tweet deletions and account bans.
Twitter says it will also now ban links to social media profile pages such as linktr.ee. These services offer a page that users can use to showcase all of their social media profiles.
Trying to subvert the ban, such as replacing the . in a link with 'dot,' will also be considered a violation.