Twitter censored White House coronavirus response team advisor Dr. Scott Atlas' tweets about masks.
On Saturday, Atlas wrote on Twitter that masks do not work, referring to states and countries such as LA, Miami, Alabama, UK, Spain, and France where cases have exploded despite mandatory mask mandates. For these reasons, he supported President Trump's policy of using masks "for their intended purpose – when close to others, especially high risk."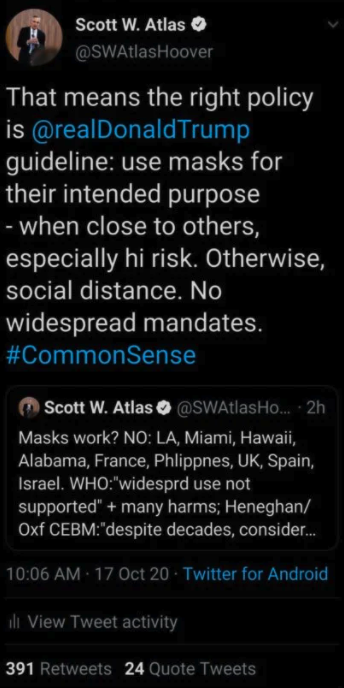 Atlas was also banned from tweeting. He was told that he would only be allowed to tweet again if he deletes the tweets the social media network flagged.
In an email to The Federalist, Atlas provided what he says is the scientific evidence supporting his tweet.
In the deleted tweet, I cited the following evidence against general population masks:

1) Cases exploded even with mandates: Los Angeles County, Miami-Dade County, Hawaii, Alabama, the Philippines, Japan, the United Kingdom, Spain, France, Israel.

2)  Dr. Carl Heneghan, University of Oxford, director of the Centre for Evidence-Based Medicine and editor in chief of British Medical Journal Evidence-Based Medicine: 'It would appear that despite two decades of pandemic preparedness, there is considerable uncertainty as to the value of wearing masks.'

(https://www.cebm.net/covid-19/masking-lack-of-evidence-with-politics/)

3) The WHO:  'The widespread use of masks by healthy people in the community setting is not yet supported by high quality or direct scientific evidence and there are potential benefits and harms to consider'  (http://bitly.ws/afUm)

4) The CDC: 'Our systematic review found no significant effect of face masks on transmission of laboratory-confirmed influenza.' (https://wwwnc.cdc.gov/eid/article/26/5/19-0994_article).

I also cited an article giving detailed explanation of the reasons why masks might not prevent spread:  https://t.co/1hRFHsxe59
Atlas and his supporters are accusing Twitter of baseless censorship, which Twitter will claim was done to reduce the spread of misinformation.
Twitter is already facing scrutiny for what happened just a few days after the social media company banned links to the New York Post's story alleging Joe Biden abused his powers as VP to pressure Ukrainian authorities to stop investigating an energy company that had employed his son Hunter.
Twitter is increasingly being accused of hiding behind disinformation policies to participate in politically-motivated censorship.