The eighth batch of the Twitter Files, released by investigative journalist Lee Fang on Tuesday, revealed that Twitter "quietly aided the Pentagon's covert online PsyOp [psychological operation] campaign."
"Despite promises to shut down covert state-run propaganda networks, Twitter docs show that the social media giant directly assisted the U.S. military's influence operations," Fang wrote, in the first tweet of a long thread. The internal files he reviewed revealed Twitter's role in the military's PsyOp aimed at shaping opinion in the Middle East and other regions.
Fang noted that for years, Twitter has claimed it attempts to identify and "thwart gov-backed platform manipulation." However, Fang's review found that "Twitter gave approval & special protection to the U.S. military's online psychological influence ops. Despite the knowledge that Pentagon propaganda accounts used covert identities, Twitter did not suspend many for around 2 years or more. Some remain active."
The journalist cited a 2017 email from the US Central Command (CENTCOM) that listed 52 Arab-language accounts it used to "amplify certain messages." Twitter gave the accounts additional visibility and exempted them from abuse and spam flags.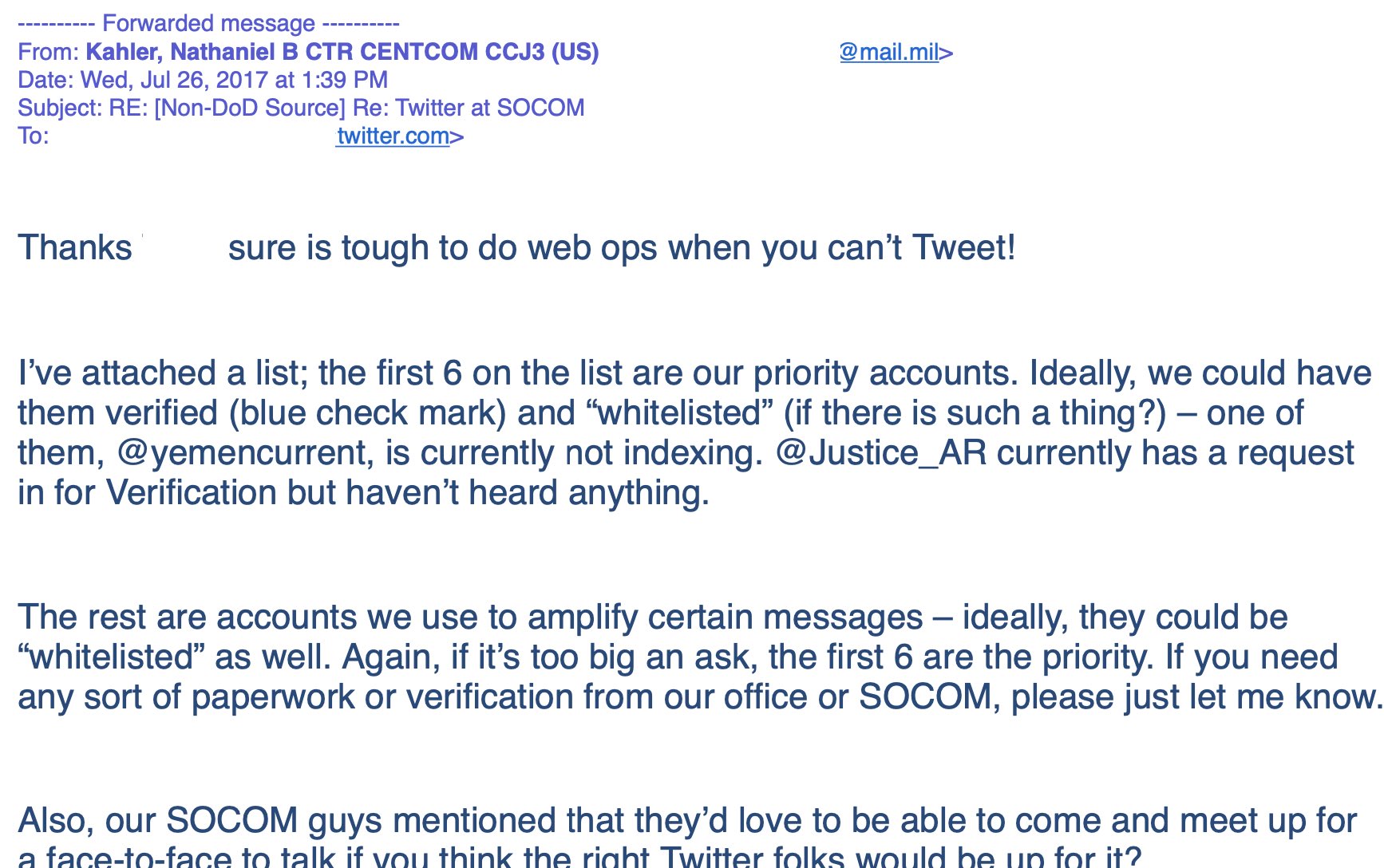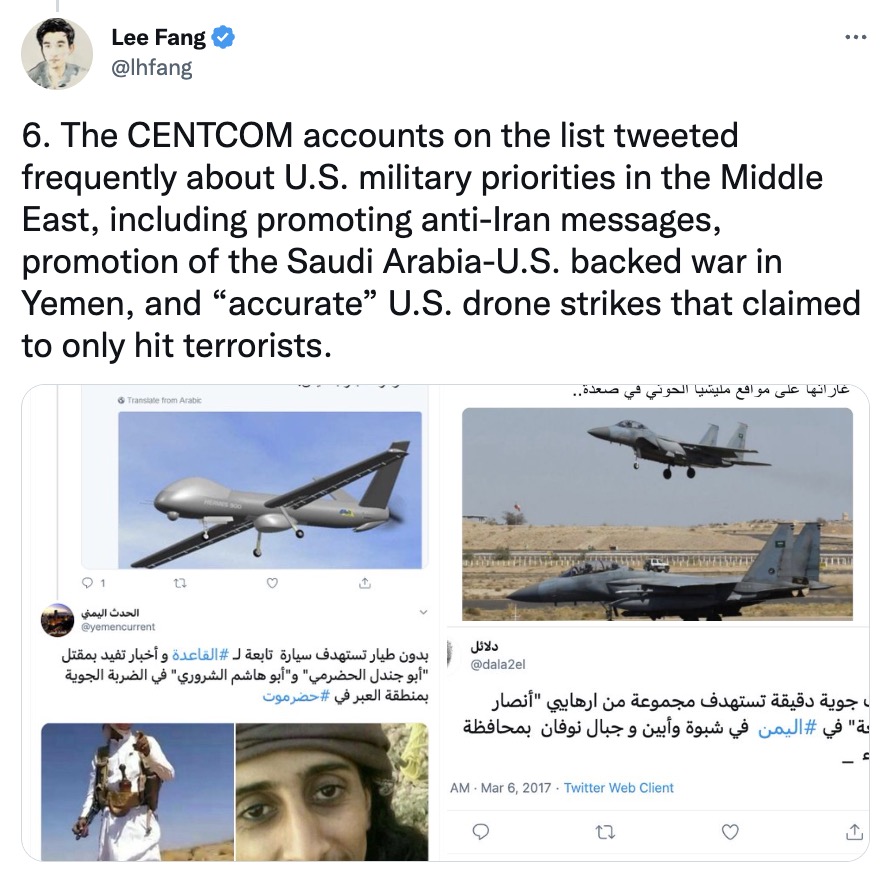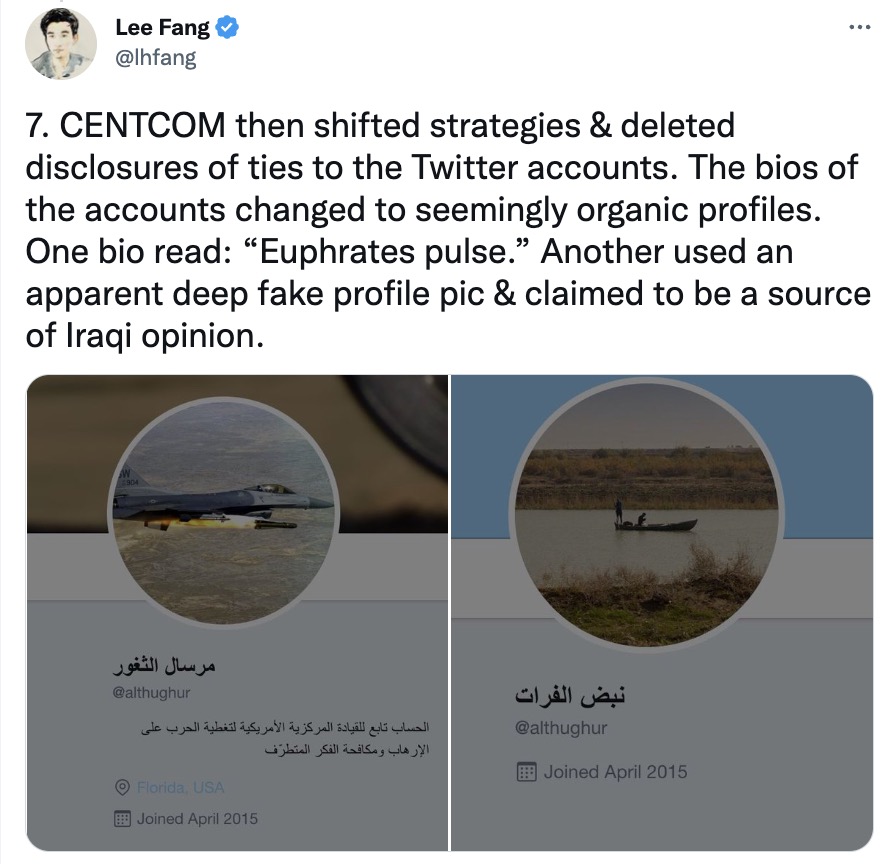 Initially, these accounts, which tweeted about "US military priorities in the Middle East," were affiliated with the government. However, eventually, this affiliation was hidden.
"CENTCOM then shifted strategies & deleted disclosures of ties to the Twitter accounts," Fang wrote. "One Twitter official who spoke to me said he feels deceived by the covert shift. Still, many emails from throughout 2020 show that high-level Twitter executives were well aware of DoD's vast network of fake accounts & covert propaganda and did not suspend the accounts."
Like in most other Twitter Files releases, former deputy legal counsel at Twitter Jim Baker, who was fired for vetting the internal documents, was implicated. Fang wrote: "For example, Twitter lawyer Jim Baker mused in a July 2020 email, about an upcoming DoD meeting, that the Pentagon used 'poor tradecraft' in setting up its network, and were seeking strategies for not exposing the accounts that are 'linked to each other or to DoD or the USG.'"

Other executives were also involved in severing the ties between the accounts and the Pentagon "to avoid embarrassment."
"In several other 2020 emails, high-level Twitter executives/lawyers discussed the covert network and even recirculated the 2017 list from CENTCOM and shared another list of 157 undisclosed Pentagon accounts, again mostly focused on Middle East military issues," Fang wrote.
"Many of these secretive U.S. military propaganda accounts, despite detection by Twitter as late as 2020 (but potentially earlier) continued tweeting through this year, some not suspended until May 2022 or later, according to records I reviewed."
Fang also noted that Twitter was labeled an "unbiased hero" by the media for removing "a network of fake user accounts promoting pro-Western policy positions." The media said that the platform evenly applied its policies by removing the DoD network.
However, as Fang wrote, "the reality is much more murky."
"Twitter actively assisted CENTCOM's network going back to 2017 and as late as 2020 knew these accounts were covert/designed to deceive to manipulate the discourse, a violation of Twitter's policies & promises. They waited years to suspend."
Fang noted that Twitter's communications team was in close contact with the media to "minimize" Twitter's role in supporting the network. For instance, when the Washington Post reported on the scandal, "Twitter officials congratulated each other because the story didn't mention any Twitter employees & focused largely on the Pentagon."
"The conduct with the U.S. military's covert network stands in stark contrast with how Twitter has boasted about rapidly identifying and taking down covert accounts tied to state-backed influence operations, including Thailand, Russia, Venezuela, and others since 2016," Fang continued.