Leaked internal chats reveal that Twitter employees are discussing permanently banning Libs of TikTok, a popular account that reposts controversial content and commentary from the left.
"Twitter employees are currently debating whether to ban us. We have screenshots of their internal discussion," Libs of TikTok wrote on Twitter.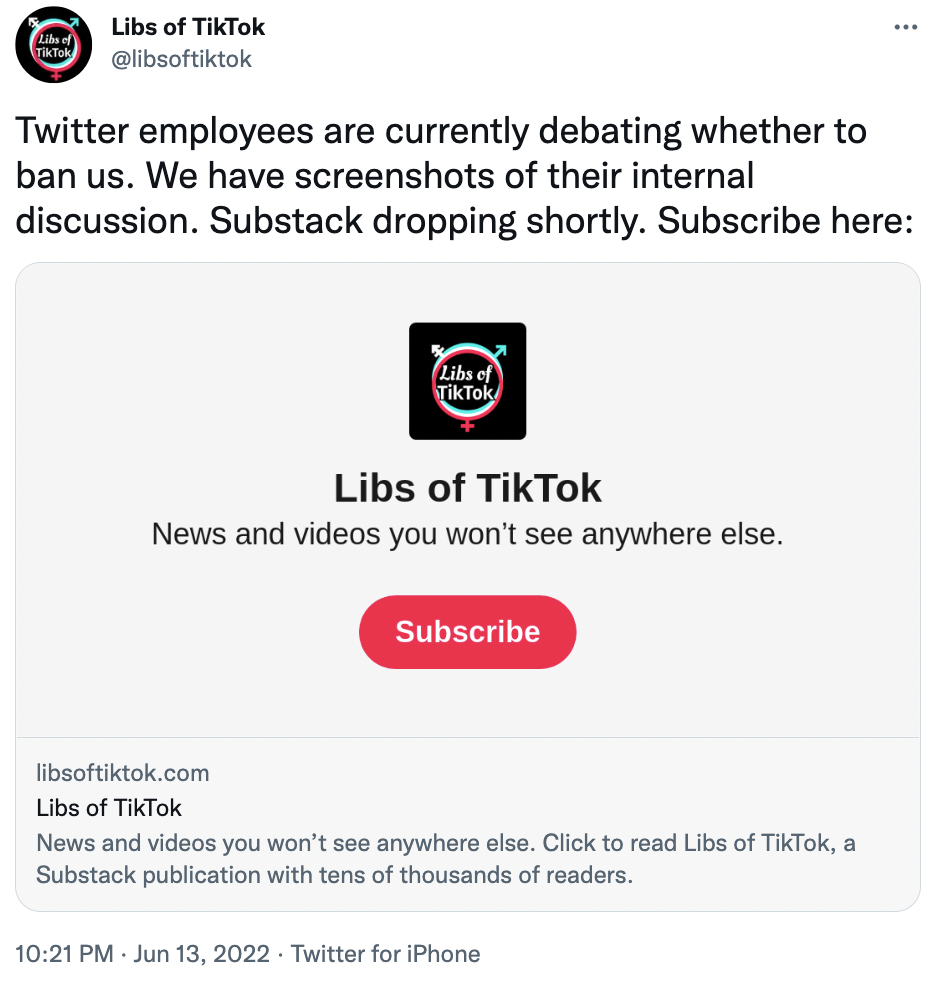 The screenshots were posted on their official Substack. The Libs of TikTok founder says that they verified the validity of the Slack messages, blurring out the names of employees who made the comments. Libs of TikTok said the screenshots were sent to them by a Twitter employee who wishes to remain anonymous.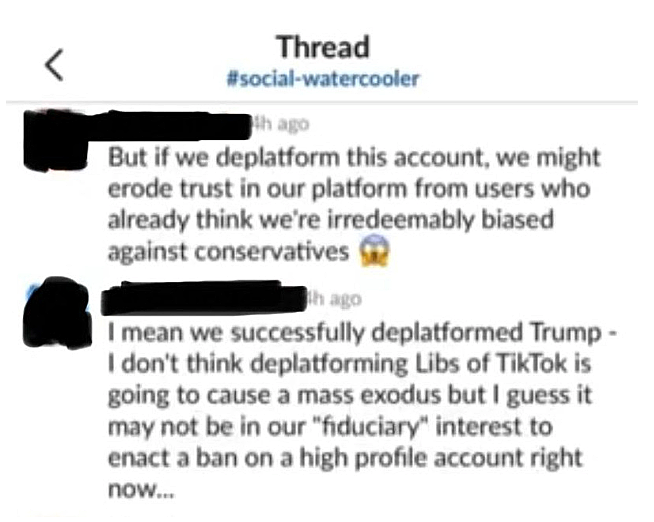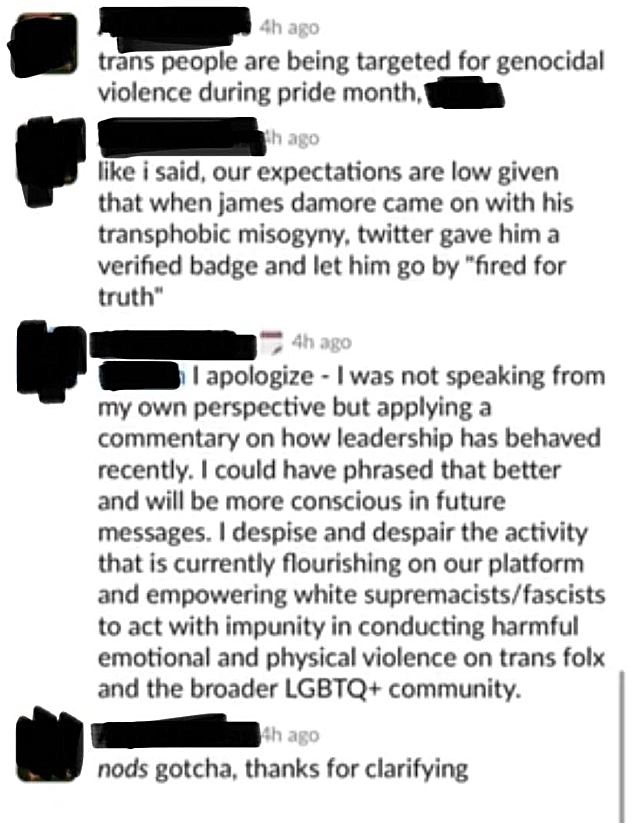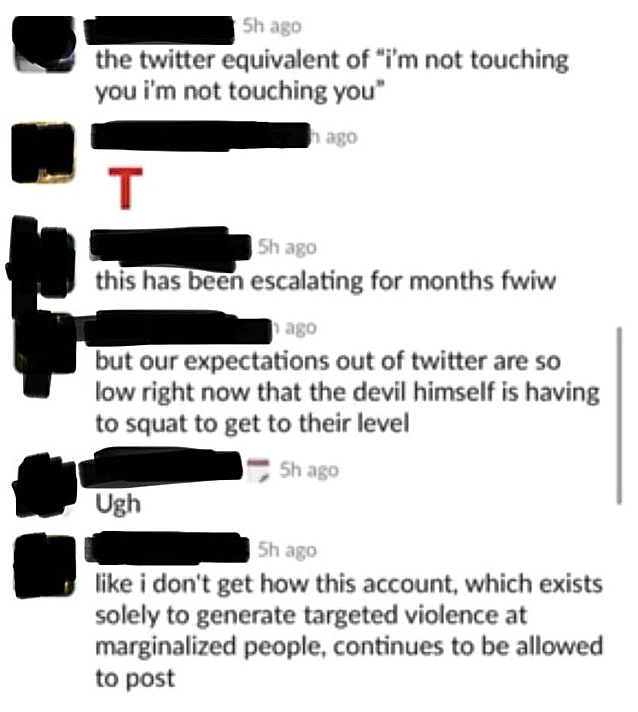 "There are a few tweeps (that's what Twitter employees call themselves) involved in this exchange. As you can see, they're weighing the pros and cons of banning us," Libs of TikTok wrote on Substack.
"One of them expresses concern that a ban will only validate the charge that Twitter is biased against conservatives," the account wrote, referring to an employee that said, "But if we deplatform this account, we might erode trust in our platform from users who already think we're irredeemably biased against conservatives."
"I mean we successfully deplatformed Trump – I don't think deplatforming Libs of TikTok is going to cause a mass exodus but I guess it may not be in our 'fiduciary' interest to enact a ban on a high profile account right now," another wrote.
Another employee weighed in, saying they don't see how Libs of TikTok, which they allege "exists solely to generate targeted violence at marginalized people," continues "to be allowed to post."
Libs of TikTok recently posted photos of ads for a series of drag queen events for kids. The tweet was mass-reported resulting in the temporary suspension of the account last week.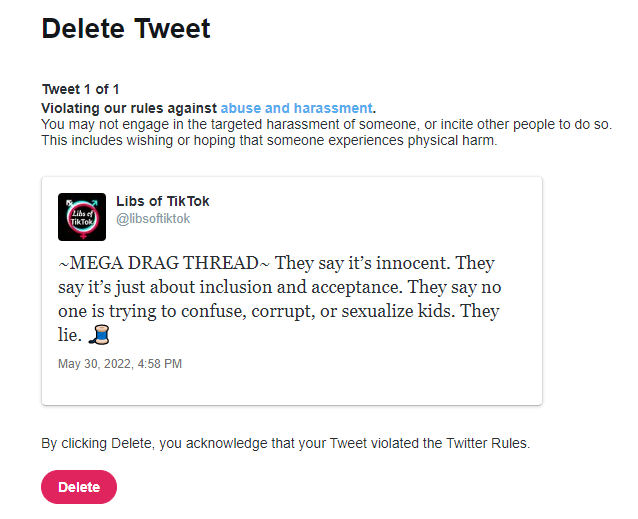 Media Matters employees took a particular interest in the tweets, alleging that the person behind Libs of TikTok was going to get someone killed.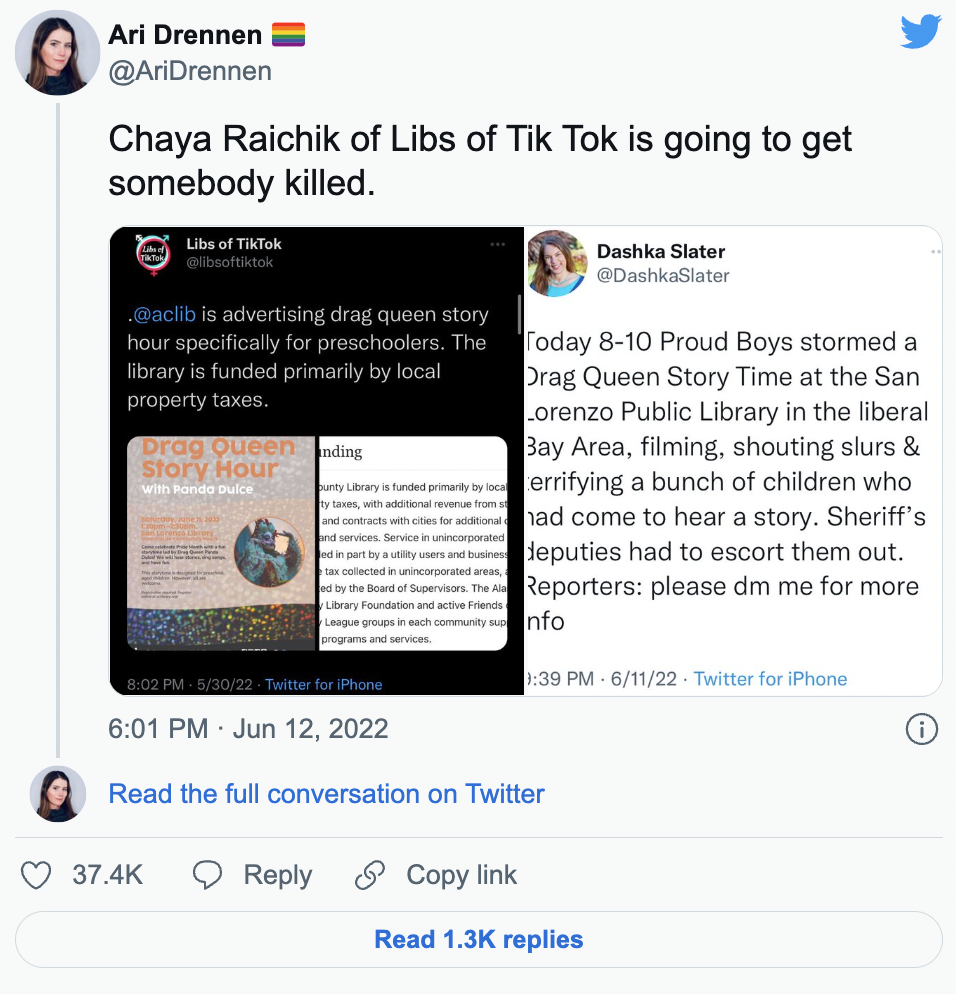 Ari Drennen posted a screenshot of the tweet that led to the suspension along with a screenshot alleging "Proud Boys" turned up at a Drag Queen Story Time event at the San Lorenzo Public Library.
The Libs of TikTok accounts posted that it is receiving death threats. Someone sent an Instagram DM that they had sent a "pipe bomb for literally supporting nazi bigots," adding "please kill yourself at your earliest convenience."
Tesla CEO and expected soon-to-be owner of Twitter, Elon Musk, has questioned Twitter about why the people aren't banned for making death threats against Libs of TikTok.