The rise of "fact-checkers" in recent years, as big social media companies struggle to appease critics who say they are allowing too much freedom on their platforms, has been one of the more fascinating developments in the mess created by politics interfering in tech, and tech interfering in politics.
Another fascinating rise to prominence has been that of memes as powerful tools of summing up big and complex messages into a single picture and a few words. Now these two worlds are colliding in a new Twitter meme making fun of fact-checking, that has gone viral.
Trillion-dollar giants using fact-checkers, if they really even have to, should be able to do their own fact-checking but, instead, possibly as a way to somehow wash their hands off the end result that often ends up in censorship – they are hiring third-party companies.
Many of them are completely obscure, others are attached to corporate entities like media companies and powerful NGOs, and then they tend to band together into associations – creating an industry of "fact-checker" nesting dolls that lacks transparency.
What this means is that the phenomenon is very serious and in need of investigation, but there's very little regular social media users can do about it – except ridicule it.
Twitter, in particular, has controversially led the way in weaponizing fact-checking to soft-censor content in the run-up to and beyond the US election. Now its users are "fighting back" with a slew of memes making fun of the platform's policy to slap "notices" on tweets it wants to discredit.
According to Twitter, "notices" are there to give users more context before they click through to the tweet.
But the new meme works to show how the result has often been to provide wrong or absurd "context," sometimes even misleading in itself – even as it's supposed to fight misinformation and misleading content.
Twitter users are now having a blast demonstrating how this works. Are you worried about potential ice? Twitter's notice might instruct you to "learn more about how icebergs are safe."
A tweet dumbfounded that the US might be invading Iraq with no proof of Saddam's involvement in 9/11 or having WDMs "received" this notice: "Learn more about Saddam Hussein's involvement in 9/11 and WDMs."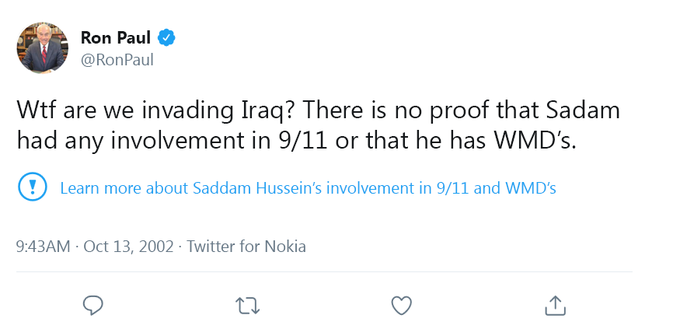 It goes on and on.