Twitter rolled out its new manipulated media rules on Thursday and now just days later, in its first high profile enforcement of these rules, a video clip of 2020 presidential candidate Joe Biden shared by President Trump has had a "manipulated media" warning applied to it.
Twitter's application of this label appears to have confused many users because the video clip itself is real and hasn't been manipulated but has been selectively edited to change the context of what was said.
After Twitter applied the label, several news outlets, reporters, and Twitter users seemed to believe the entire clip wasn't real and tweeted that it was "fake," "doctored," and even a "deep fake" – a term that describes fake videos that use artificial intelligence (AI) to replicate a human's voice or appearance).
The video clip that the label has been applied to shows Biden fumbling his words before saying: "We can only re-elect Donald Trump."
White House Social Media Director Dan Scavino had shared the clip and Trump had then quote tweeted it with the comment: "I agree with Joe."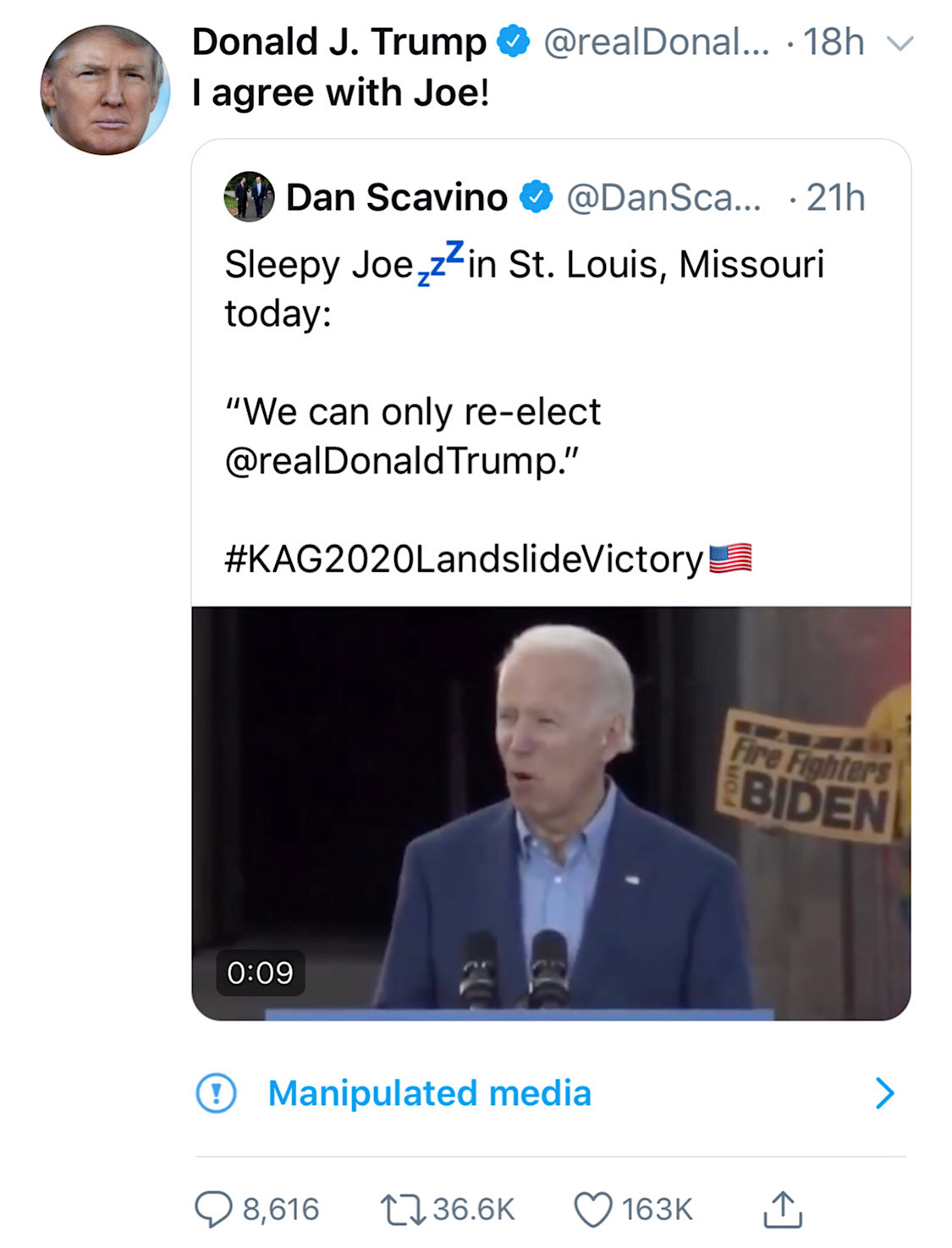 An extended version of the clip shows that Biden was talking about turning the Democratic primary campaign into something more positive before losing his train of thought, stuttering, and then saying: "We can only re-elect Donald Trump if in fact we get engaged in this circular firing squad. It's gotta be a positive campaign."
On a page warning that the clip is edited, Twitter suggests that the warning was applied after "journalists from The New York Times, CNN and Politico pointed out that the clip is edited in a misleading way."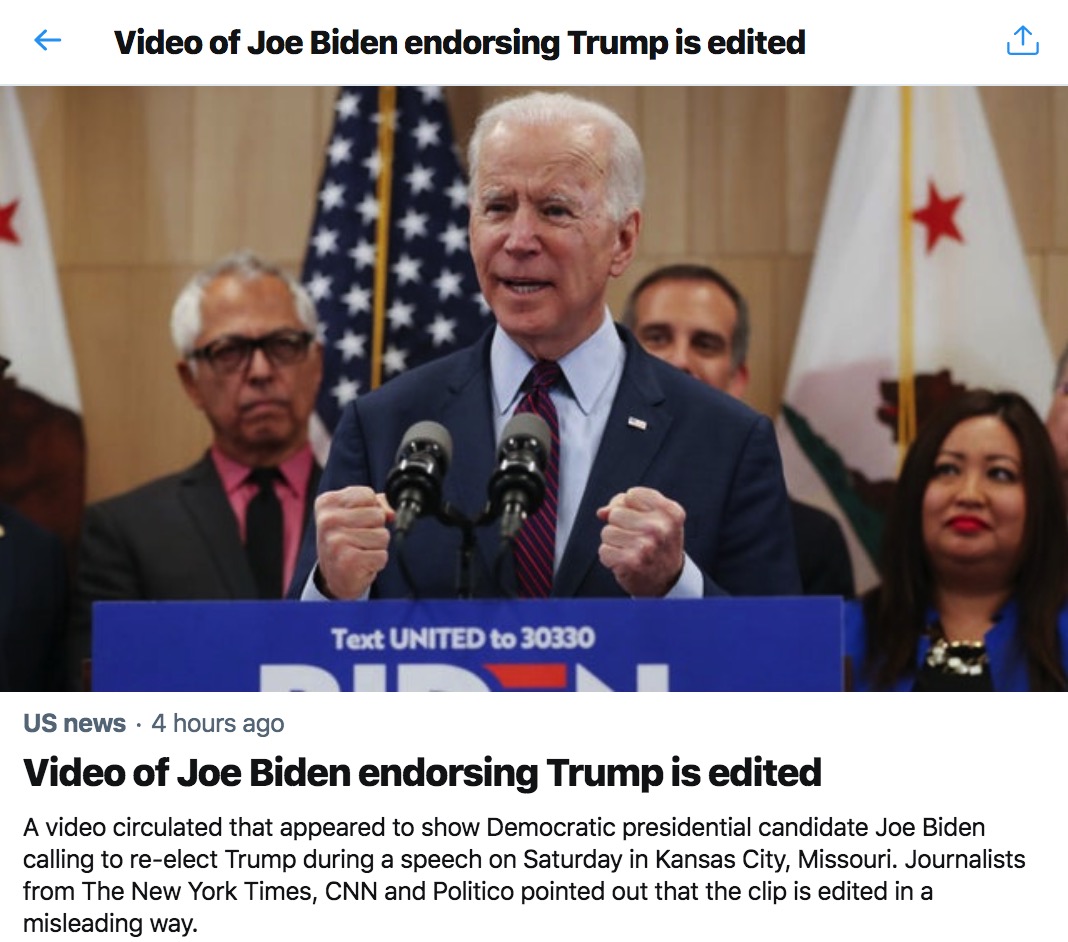 While the selectively edited clip does change the context of what Biden was saying, several Twitter users are arguing that editing a clip is not the same as manipulating it.
Ryan Saavedra, a reporter at The Daily Wire, tweeted that a video from Biden "manipulates numerous things that Trump has said and Twitter is not labeling it as manipulated."
Benny Johnson, the Chief Creative Officer at Turning Point USA argued that if shortening a video clip qualifies as manipulating it, then "every single clip on Twitter is "manipulated.""
The failure to make this distinction between manipulated videos and selectively edited videos appears to have resulted in some Twitter users now believing that the video clip is fake rather than selectively edited.
https://twitter.com/okourgiantakis/status/1236833534360408069
And even reporters at The Verge, who are usually more insightful when it comes to technology, are failing to make this distinction and are describing it as "fake" and "faked."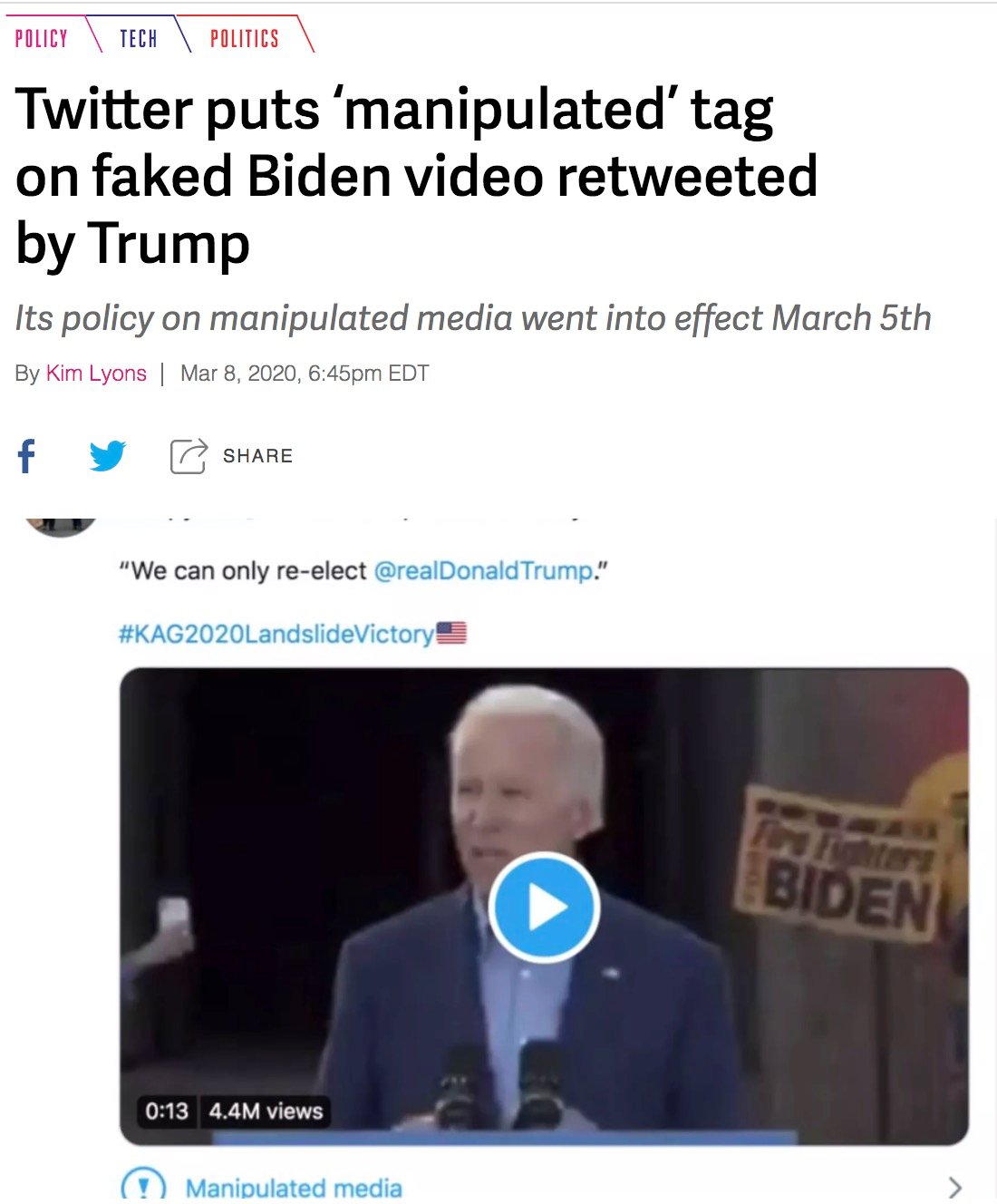 In addition to this label being applied to tweets that share the video clip, Twitter users may also see a warning before attempting to retweet or like Trump's tweet and any other tweets containing the video clip.
Twitter may also reduce the visibility of Trump's tweets and other tweets containing the video clip and remove these tweets from its recommendations.