In a bid to thwart Tesla and SpaceX CEO Elon Musk's attempted takeover of Twitter to make free speech changes, the company's board has announced that existing shareholders will be able to purchase additional shares at a discount if a person or group builds a stake of more than 15% in the company without board approval.
The move, which is known as a "poison pill," makes it harder for a person or group to take control of the company because their stake can be diluted whenever they own more than 15% of the company. However, it could also hurt existing shareholders because their stock would be diluted too and this dilution would lower the share price.
The poison pill will be in place for the next year.
Twitter's poison pill defense follows Musk announcing a 9.2% stake in the company earlier this month and then offering to take the company private to make free speech changes yesterday. Musk had offered to pay $54.20 per share in cash and the stock last traded at a price of $46.66 – 13.9% below Musk's offer price.
After offering to buy Twitter, Musk continued to defend free speech in an appearance at TED 2022.
"A good sign as to whether there's free speech is, is someone you don't like allowed to say something you don't like? If that is the case then we have free speech," the billionaire said.
"And it's damn annoying, when someone you don't like says something you don't like. That is a sign of a healthy, functioning, free speech situation."
During the interview, Musk said that his reasons for buying Twitter were not for profit.
"My strong intuitive sense is that having a public platform that is maximally trusted and broadly inclusive is extremely important to the future of civilization," said Musk.
"I don't care about the economics at all."
In his latest offer to Twitter to buy 100% of the company, Musk said "free speech is a societal imperative for a functioning democracy," adding that in its "current form," Twitter will "neither thrive nor serve this societal imperative."
In the interview, Musk did not wholly dismiss the need for content moderation, but said there should not be permanent bans.
"If in doubt, let the speech — let it exist," said Musk. "If it's a gray area, I would say, let the tweet exist.
"But in a case where there's perhaps a lot of controversy, you would not necessarily want to promote that tweet.
"I'm not saying I have all the answers here. But I do think that we want to be very reluctant to delete things, and just be very cautious with permanent bans. Timeouts, I think, are better than permanent bans."
The billionaire said there is a "plan B" if his offer to buy Twitter is rejected, but did not get into details.
News that Twitter's board was considering this poison pill defense circulated yesterday and Musk warned that this would be a breach of fiduciary duty and open them up to huge liability.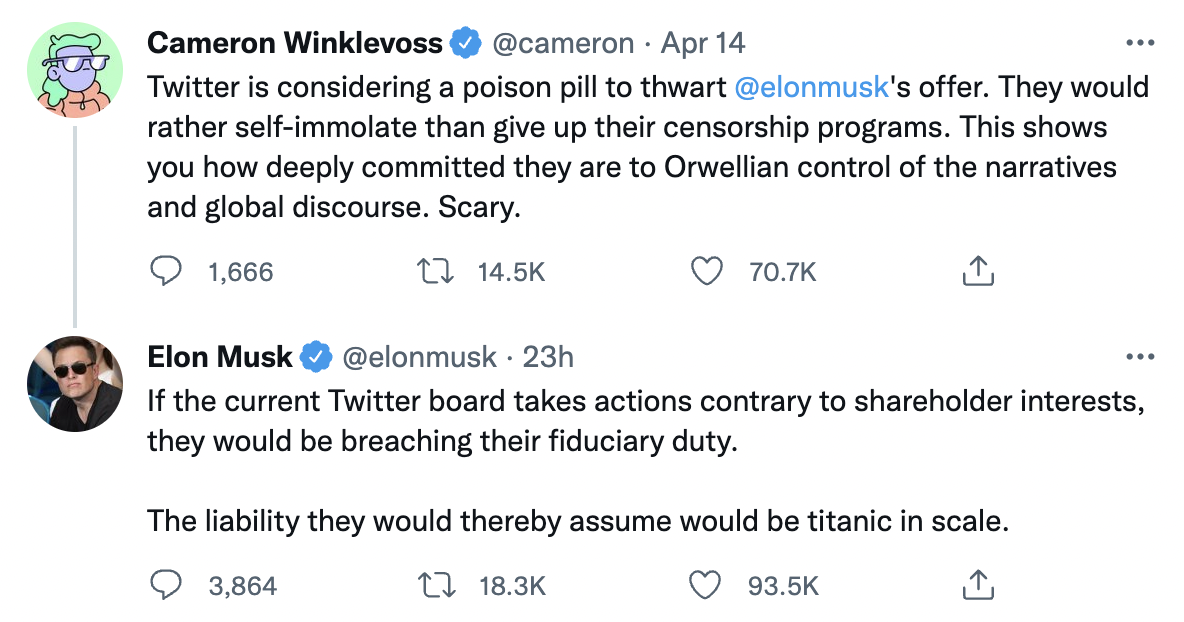 David Sacks, co-founder of PayPal and founder of the social podcasting app Callin, described the Twitter board's decision as "a blatant violation of fiduciary duty" that "should be illegal."
After Twitter announced the poison pill defense, Musk responded to a meme that mocked the Twitter board's decision. He also quote tweeted a poll where 73% of users had said they wanted Musk to buy Twitter and and thanked them for the support.