Twitter insists it does not suppress free speech on behalf of governments, following accusations of censoring tweets critical of China.
In the recent past, the Chinese Communist Party-led government, notorious for not taking kindly to criticism, has increasingly taken action against foreign critics, be they individuals or organizations.
Last week, the Chinese Communist Party (CCP) was celebrating 100 years in power. Anne-Marie Brady, of the University of Canterbury in New Zealand, posted several tweets mocking the celebrations. Over the weekend, Twitter restricted her account, and some of the tweets were marked as "unavailable."
In the tweets, Brady noted the CCP's celebrations lack of international recognition or validation. Russia's President Vladamir Putin, whose government is not so different from China in terms of silencing critics, was one of the few leaders who congratulated the CCP.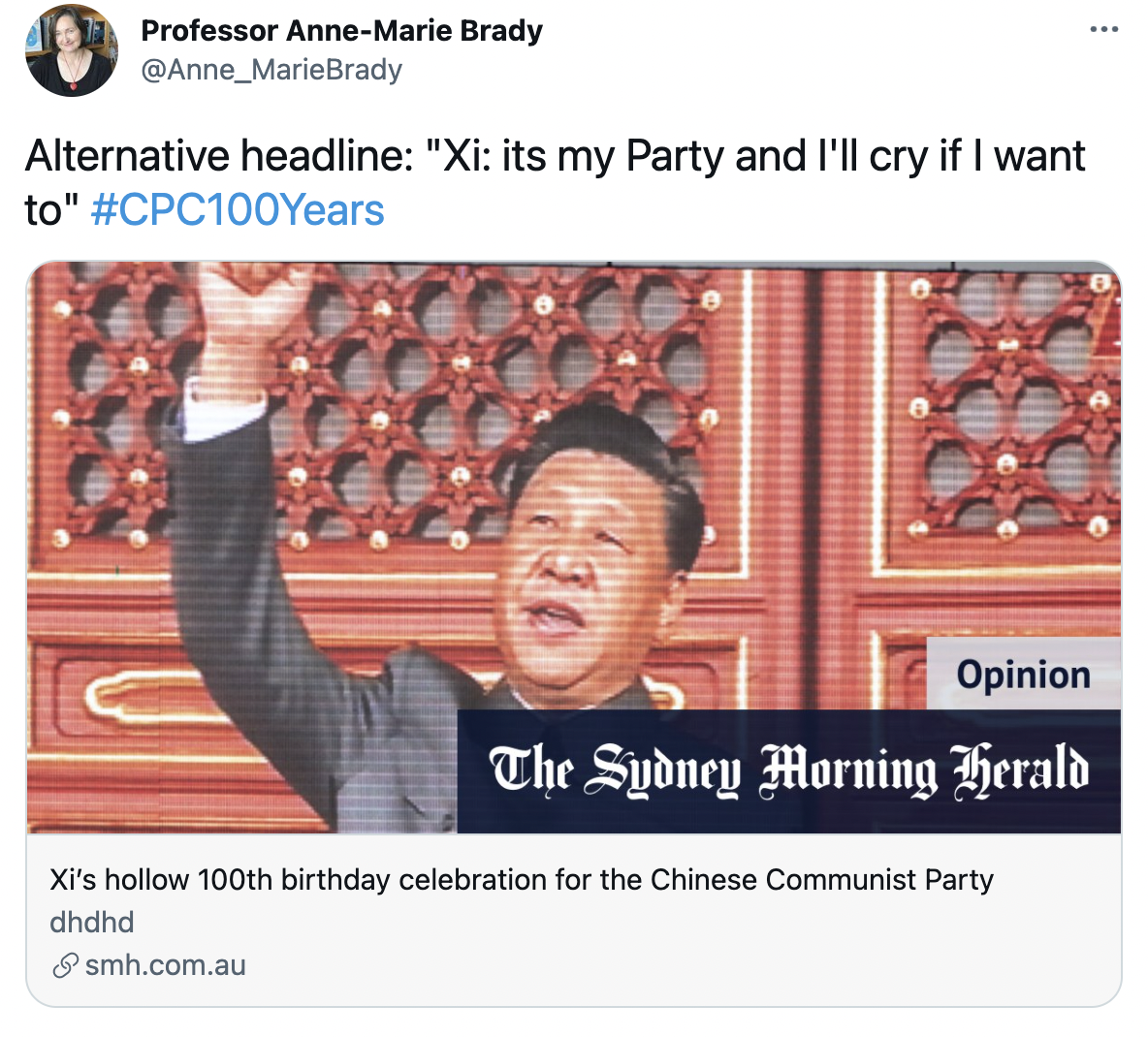 In one tweet, Brady mocked China's President Xi Jinping, saying an appropriate headline for a news story about the celebrations would have been: "Xi: it's my party and I'll cry if I want to."
Her account was restored on Monday morning.
"Opening my work laptop this morning I was greeted by a "Welcome back" message on my screen from @Twitter, as if I was the one who left them," Brady said.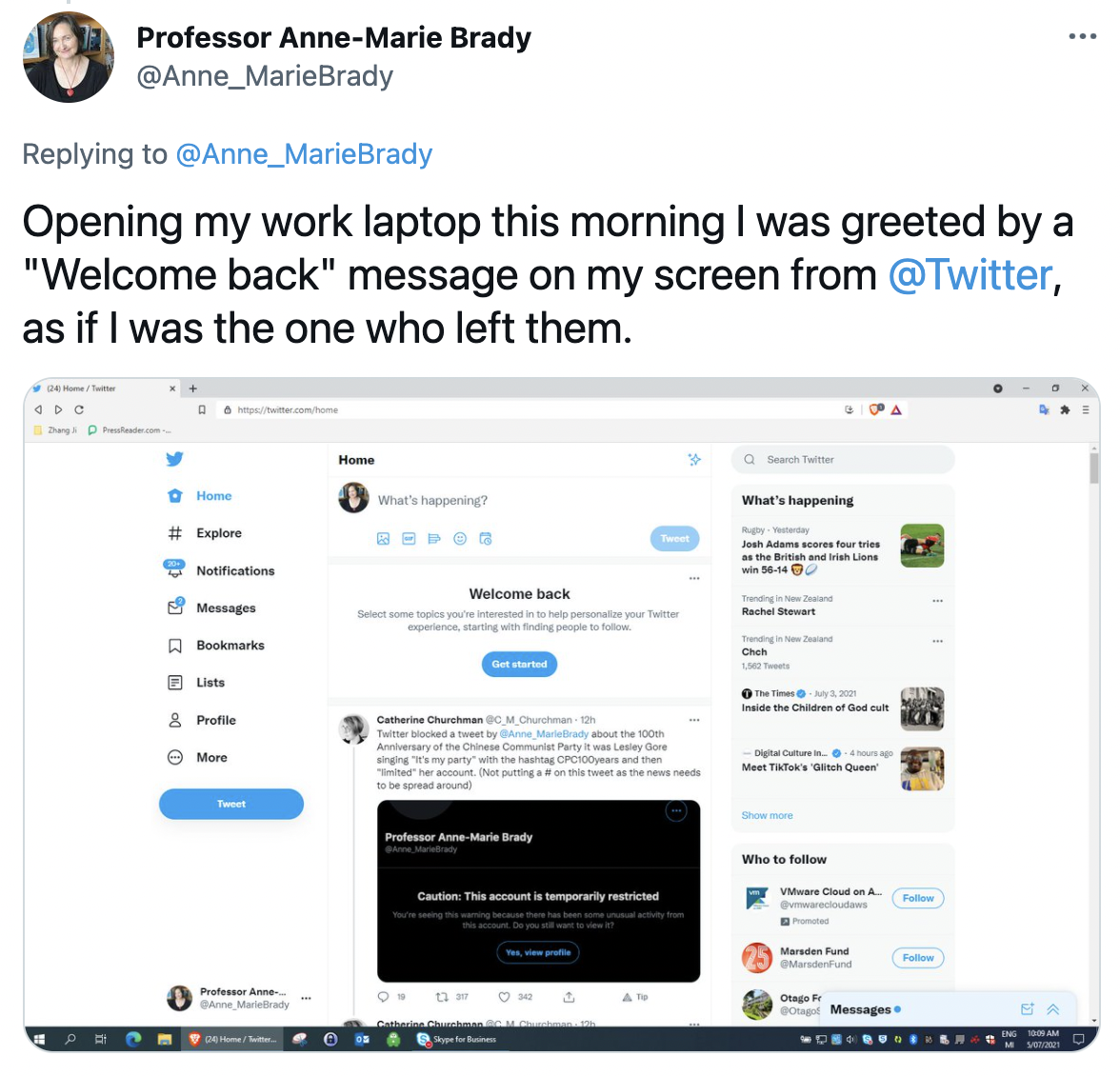 She criticized Twitter for the censorship, writing: "Seems like @Twitter may have briefly forgotten they don't work for Xi Jinping."
In another tweet, posted on Monday, Brady accused social media companies of silencing critics of the CCP.
"Some of the biggest names in social media, from @Twitter to @LinkedIn @Zoom & @Facebook, appear to be getting into a habit of silencing CCP critics. Yesterday it was my turn to be censored," Brady wrote.
Twitter responded to the criticism, saying: "To set the record straight, the assertion that Twitter is in coordination with any government to suppress speech has no basis in fact whatsoever. We advocate for a free global internet and remain a staunch defender of freedom of expression."
According to Edward Lucas, a columnist for the UK newspaper The Times, Twitter's automated systems might have been responsible for the censorship in response to multiple complaints by CCP agents.
"After I had stoked a furor on Twitter and sent umpteen complaints, her account was restored," Lucas wrote. "Less prominent victims of Chinese censorship would have scantier chances of redress."
Brady thanked Lucas, pointing out that Twitter would not respond to her complaints about the censorship.
Twitter, in a statement, said sometimes it adds temporary notices on Tweets when it detects unusual activity, before it investigates. The platform did not specify what exactly triggered the notices and restrictions.
China has not commented or confirmed any action taken against Brady for her critical tweets. Beijing has previously vehemently denied accusations of interference with foreign media or political systems, according to Newsweek. But in the recent past, especially under Xi's leadership, the Chinese government has increasingly taken action against foreign critics.