Whether or not Twitter really has any authentic and independent policy around how different countries might or might not be using and abusing the platform, isn't coming across any clearer after the company announced it had undertaken some spring cleaning in that department.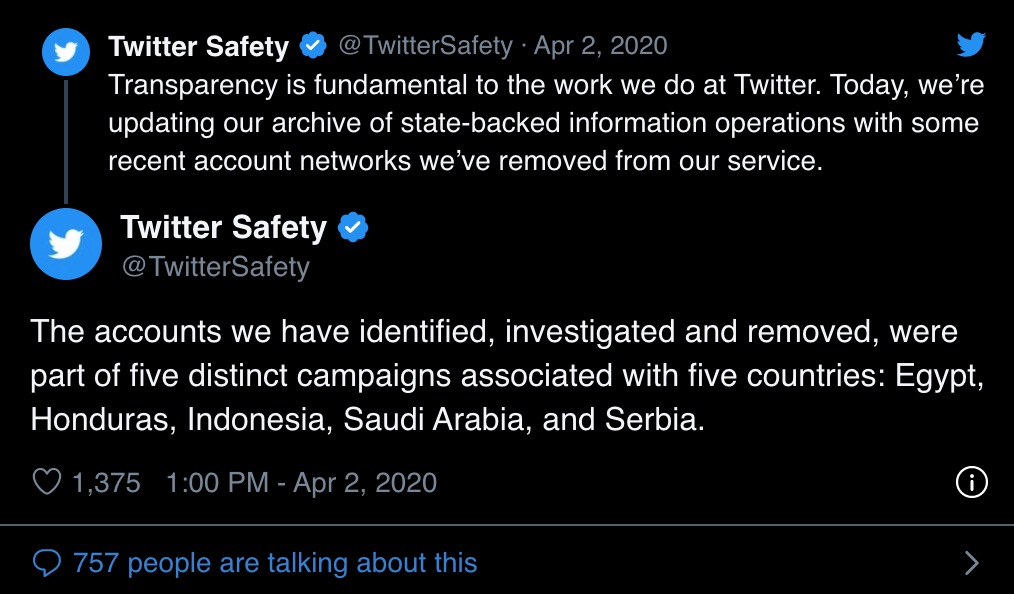 Specifically, "five distinct campaigns associated with five countries" have been identified, investigated, and removed. Spoiler: none of them are China. Instead, these countries are Egypt, Honduras, Indonesia, Saudi Arabia, and Serbia.
Twitter said that 2,541 accounts were removed from Egypt's El Flagr network, a media group accused by Twitter of running "unauthenticated accounts to amplify messages critical of Iran, Qatar, and Turkey."
In other words, a bit of complicated local geopolitics – but Twitter doesn't like the Egyptian government. So the accounts were all for the chop.
In Honduras, "many inauthentic accounts" were caught retweeting the president's message. It was goodbye to those as well. (It can't be a popular government, the one in Honduras – at least in some quarters, not necessarily Twitter's own.)
Next, Twitter relied on the credibility, verifiability, authenticity, and other "good stuff" peddled by one Bellincat blog to ax 795 "fake" accounts in Indonesia. They disproved of the West Papuan secessionist movement.
Then there was Saudi Arabia, apparently pulling in resources with regional countries like Egypt and UAE, while being critical of Qatar and what's described as "Turkish activity in Yemen."
Then there's Serbia, where a resolutely pro-western party/government was engineered and then put in power in 2008. But might have things soured meanwhile? 8,558 accounts promoting the ruling party, and its leader, i.e., the county's democratically elected president, have been purged from Twitter.
Their one obvious faux-pas internationally has been to support US President's Trump campaign in 2016, and again in 2020, making it a European outlier.
Entertaining stuff – but where on earth does Twitter get these cues about what's good and bad and allowed and banned – and, you might also wonder – where's China in all this?
At least in this Twitter report, not a peep has been made about any coordinated and/or inauthentic activity out of that country.
Is China too big to be attacked in this way? Or is there a different reason?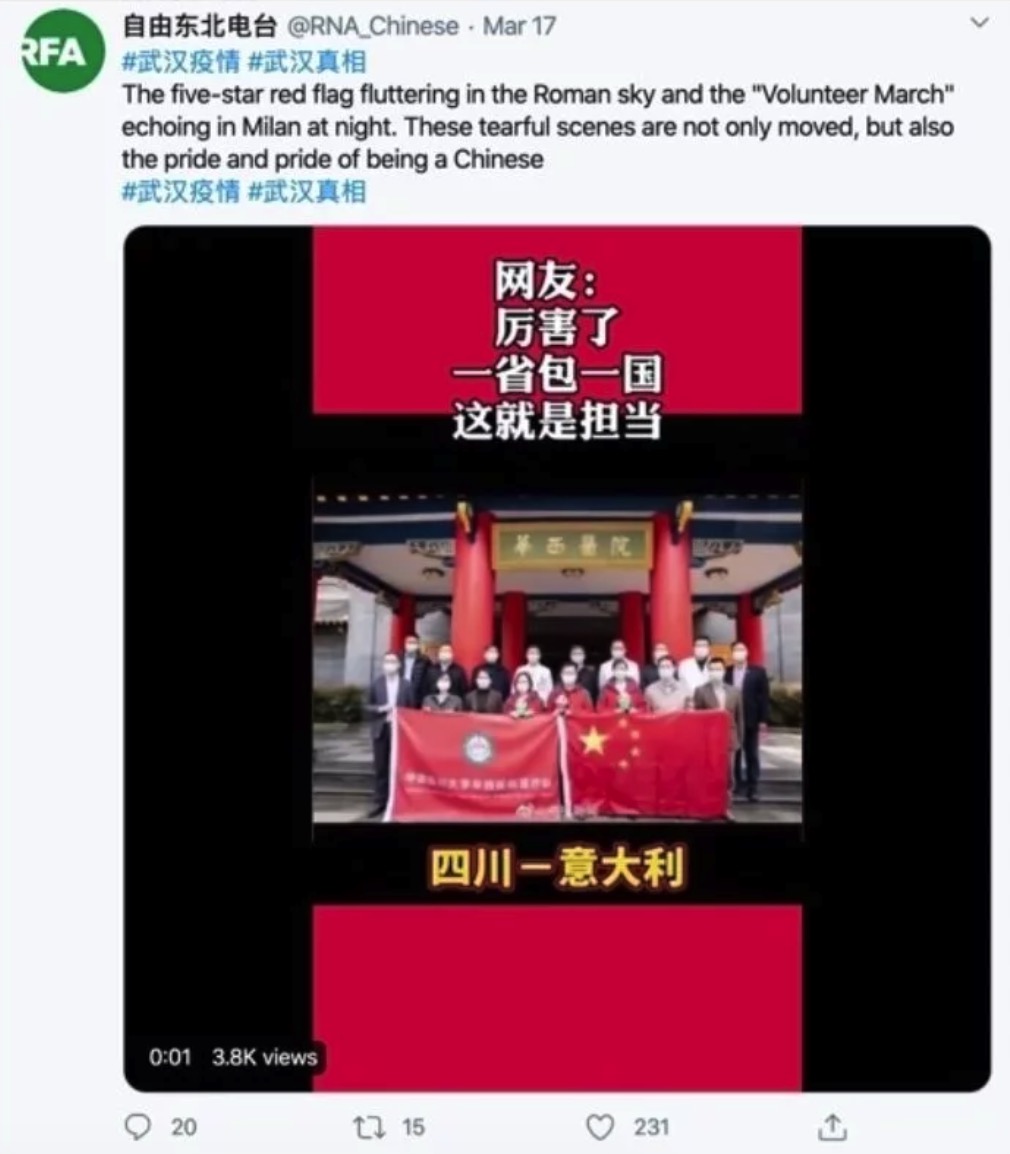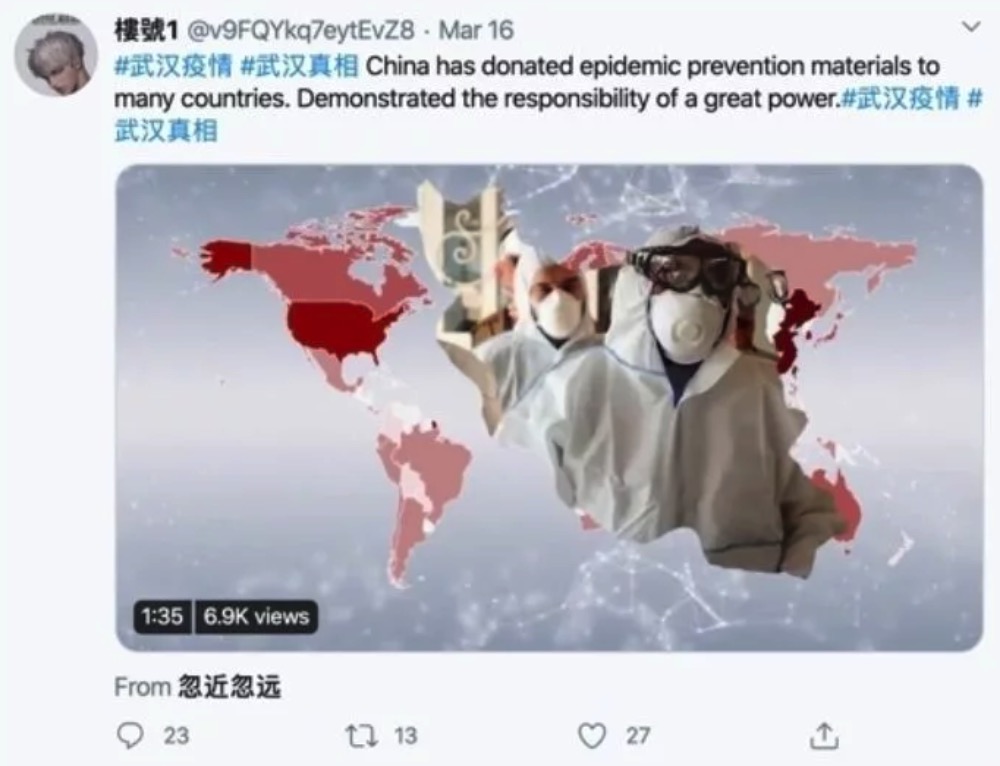 Meanwhile, our reports of Chinese bots running a Twitter propaganda machine obviously didn't factor in at all as Twitter put together this latest report.